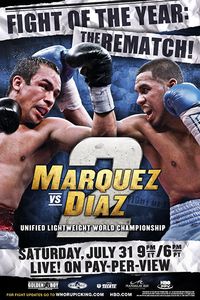 Welcome to SportsNation! On Wednesday, we're going inside the boxing ring when Juan Diaz stops by to chat about his WBO lightweight title fight this weekend.
Diaz (35-3, 17 KO) takes on Juan Manuel Marquez (50-5-1, 37 KO) for Marquez' WBO lightweight belt. The fight will be live from the Mandalay Bay Resort & Casino in Las Vegas Saturday at 9 p.m. ET/6 p.m. PT on HBO PPV. It will be Diaz' first fight in Las Vegas since 2006.
Diaz, dubbed the "Baby Bull," fought Marquez in 2009 for the vacant WBO lightweight belt and lost via TKO in nine rounds. Diaz won the first 33 fights of his career, before being stopped by Nate Campbell in 2008 via split decision in a title fight.
Send your questions now and join Diaz Wednesday at 3 p.m. ET!
More Special Guests: Previous chats | SportsNation
Buzzmaster
(2:58 PM)
Juan Diaz will be here at the top of the hour to take your questions!
Buzzmaster
(3:09 PM)
Juan is here!
Courtney Jackson (Lindenwold, NJ)
hi juan, how often do you train for a big fight coming up?
Juan Diaz
(3:10 PM)
I was training 6 days a week, about 2-3 times a day.
roc (houston)
wus up h- town hero .do u feel better in this fight than last fight and i really fell u will won this time
Juan Diaz
(3:10 PM)
I feel mentally, yes, better. In the first fight, I didn't know what to expect. In this fight, I know what to expect and I worked on the errors I committed in the first fight.
Jake (Richmond, VA)
Juan, you're known for your crowd pleasing, emotional style. Do you think you will be able to stick with your gameplan when the exchanges get heated and the crowd gets excited?
Juan Diaz
(3:11 PM)
I always like to give a good fight to the fans. At times it's hard to stay under control when I know there's a lull in the action or we start trading. Then I kind of lose focus at times. But that's one of the main things I've worked on in this fight.
scott (houston)
how do u feel mighting in las vegas ,good luck baby bull
Juan Diaz
(3:12 PM)
I feel great. It's a great experience to be coming back to Vegas. I remember specifically in one of the fights early in my career and now to be coming here and showcasing a fight is great.
Adriel (L.A)
What's the biggest change you have to make in order to prevent the same result?
Juan Diaz
(3:12 PM)
I have to be smart in applying the pressure. Not fall in with my punches and not square up in front of him.
David (Chico)
Juan I know you've said your going to be careful but do you expect if the opportunity is there to slug and get the knock out.
Juan Diaz
(3:13 PM)
If the opportunity comes up then definitely, I'm going to take it. But I'm not going to be looking for the KO.
Michael (Katy, Texas)
What will you do different this time around? Will you keep pressure on him this time for the whole fight?
Juan Diaz
(3:13 PM)
It was working for the first fight, so yes, I plan on putting the pressure on him. But in smart ways. Not squaring up and not falling in.
rolivero (Orlando)
sup juan!do you think it will go the distance or you going for the knock out?
Juan Diaz
(3:14 PM)
Well, I am ready to fight 12 rounds. I know that I'm going to win. If it goes less, then so be it, but I'm prepared for 12 rounds.
Nizzi (Des Moines, IA)
Juan, I am a huge fan. I was at your fight in Chicago against Paulie. It seemed like you were in control and were ahead on the score cards in the first fight against Marquez. Do you feel if you could have made it through round 9 could you have made the adjustments needed to get the victory against Marquez?
Juan Diaz
(3:15 PM)
I think that fight is one of the fights where I was 100% physically ready but not mentally. I wasn't prepared to listen to my corner. I wanted to do what I wanted to do. That's the difference between this fight and that fight. I am prepared to listen to my corner.
Julio (Illinois)
Juan , how do you plan to deal with marquez counter punchin? best of luck
Juan Diaz
(3:16 PM)
I plan on using a little bit of the first fight strategy, which is to apply a lot of pressure on him. In the first fight, it was working on him.
Michael Granados (New Jersey)
do you think you have improved since the last fight and are you confident on beating marquez
Juan Diaz
(3:17 PM)
I definitely have improved since the last fight. Every fighter has to improve the next time around. The most improvement I've made is in listening to my corner and following the strategy we've put together for the last two months.
Besim (Staten Island, New York)
What is your opinion on Antonio Margarito having the opportunity to fight Manny Pacquaio? Given what he was caught with, do you think he deserves to be able to fight again?
Juan Diaz
(3:18 PM)
Well, I don't really even know what to think about it. It's a little bit awkward, because it just hit me last minute because I haven't been following the boxing news. But overall, it should be an interesting fight.
Michael (Katy, Texas)
Who would you like to face after your victory ?
Juan Diaz
(3:18 PM)
I definitely haven't sat down and thought about it. I have to get through Saturday first. I have to win. My No. 1 concern is this fight.
Constancio Zepeda (Los Anegeles)
Marquez is a veteran fighter and has seen so many different styles of boxers. What style will you bring in this time that makes you believe you will win this fight?
Juan Diaz
(3:19 PM)
He definitely is a smart fighter, but I believe that my youth and willingness to adapt in the ring and not just slugging it out, I can also go in there and think smart and counter punch myself. That's going to be the key in success to this fight.
Kolbe (Lancaster)
Juan, thanks for the chat. In the first fight you started off hot, and then Marquez adjusted, what adjustments do you plan on making to make the second fight more like the beginning of the first?
Juan Diaz
(3:20 PM)
Yeah, that's where listening to the trainers and my corner comes in. If I adjust, they will help me to do so. I will be alert and ready to listen to my corner.
Nizzi (Des Moines, IA)
Juan, after you take out Marquez, do you plan to stay at 135 or move up to the deep 140 lb. division?
Juan Diaz
(3:21 PM)
I think right now, I plan on staying at the lightweight division. That's the weight class that I'm strongest at and where I belong.
Michael (New Jersey)
If you win this fight will you be considering a third fight?
Juan Diaz
(3:22 PM)
Yeah, he's been one of the guys who has given me the opportunity to avenge my loss. I respect that. If I win Saturday and he wants another fight, I will give it to him.
Besim (Staten Island, New York)
Juan, how long will you continue to fight? Unlike many other fighters, you have a "back-up plan" for your future, and a solid one at that.
Juan Diaz
(3:22 PM)
I'm looking to fight another 1-2 years. I definitely don't want to be 30 and still fighting in the sport of boxing.
Juan Diaz
(3:23 PM)
I want to let my fans know that I appreciate your support. I'm definitely 100% ready for this fight. I'm ready for the challenge. I'm looking forward to giving you a great fight and a victory on Saturday night.