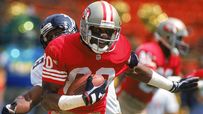 Rice earned his place in the hall of fame in his first year of eligibility.
Welcome to SportsNation! On Tuesday, NFL hall of famer Jerry Rice stops by to chat about Saturday's enshrinement ceremony as well as the start of the NFL season.
Rice, voted into the hall of fame in his first year of eligibility, played in four Super Bowls, winning three, and was selected to 13 Pro Bowls in his 20 seasons.
Rice retired owning many of the all-time receiving records, including: most total TDs in career (208), most receptions (1,549), most yards (22,895), most seasons of 1,000 yards or more (14), most yards in a season (1,848) and most receiving TDs in career (197).
For the 2010 NFL season, Rice is teaming up with Proctor & Gamble for their "Take it to the House" contest, which includes a "Football Family" photo contest and a texting compeition for fans with prizes including P&G products, donations to fans' local charities and a trip to the 2011 Pro Bowl.
Send your questions now and join Rice Tuesday at 3:15 p.m. ET!
More Special Guests: Previous chats | SportsNation
Buzzmaster
(3:08 PM)
Jerry Rice will be here at 3:15 p.m. ET to take your questions!
Buzzmaster
(3:16 PM)
Jerry's here!
Seth A (Orion, IL)
Obviously entering the Hall of Fame is an incredible honor, and yet a no-brainer for legendary player like you. My question is, does it mean more to you to be elected on your first ballot considering the other great wide receivers who took a while to be elected in or are still not elected in such as Art Monk, Cris Carter, Michael Irvin, Tim Brown, etc.?
Jerry Rice
(3:18 PM)
I think it's just important to get selected into the hall. If it's the first, the second, I never based my career on getting to the hall of fame, but based on my teammates and what I accomplished, I'm ready to join an elite group of guys.
Kyle (Austin)
Your thoughts of being inducted alongside Emmit Smith as two of the best to play the game at your repspected positions?
Jerry Rice
(3:18 PM)
With Emmitt, the leading rusher in the NFL, it's great. The battles that we competed against each other was amazing. San Francisco and the Cowboys, I think everyone was glued to the TVs when we played.
Marcus Cooper (Charlotte, NC)
Of all the receiving records that you still hold. Which one do you cherish the most?
Jerry Rice
(3:19 PM)
When I get asked that question, I never based my career on records. I just played the game and I loved it. Everything came with it. But off the top of my head, I would say Jim Brown and the TDs. I considered him the best player to play the game.
Kevin (Denver)
How did you get involved with Proctor and Gamble?
Jerry Rice
(3:20 PM)
Well, with Proctor and Gamble, just with every ball that I caught, I tried to take it to the house. This program is a part of the company's official NFL sponsorship. They have six products that really can take it to the house.
Jay (NO)
Did you ever have the chance to meet the great Eddie Robinson when you played against Grambling?
Jerry Rice
(3:21 PM)
I had a chance to meet him. We used to also do banquets together. He's a very very intelligent man. He knew how to get the best out of his football players. It was a big time rivalry.
Brandon (Boston)
Do you think Brett Farve is retiering for real?
Jerry Rice
(3:21 PM)
I think so. I think so. There's a lot going on TV right now. Everyone's talking about it. With Brett, he decided that he wouldn't be able to give 100% if he went back to Minnesota and he decided to step away.
Jerry Rice
(3:22 PM)
If he comes out of retirement again, I'm hunting him down, because I just went on record as saying he's done.
Jetfan82 (PA)
Was there anyone who just hated going one on one with ....anybody you got excitied about?
Jerry Rice
(3:23 PM)
I always looked forward to the challenge of going one on one. That way you can judge where you are. Even going against Deion Sanders or Darrell Green, you went against the best. And it brought out the best in me.
Alex Wickline (Xenia Ohio)
Jerry Rice, do you think that Chad Ocho Cinco and Terrell Owens will bring the best out of each other or the worst out each other.
Jerry Rice
(3:24 PM)
I think it's going to work out in Cincinnati. They're going to feed off each other. Ochocinco went to bat for TO. We'll have to wait to see how everything unfolds. TO gives that offense that threat that they need on the opposite side to take the pressure off of Ocho.
Clay (Charlotte)
How do you think that Mike Singletary is doing for your 49ers?
Jerry Rice
(3:24 PM)
Mike is doing a fantastic job. What he's trying to implement with the 49ers. He's trying to build confidence. He's doing a great job. To let those guys know that you have to be a professional on and off the field. And practice hard.
Will (Wisconsin)
Hello Mr.Rice, do you think the Saints have a chance to repeat.
Jerry Rice
(3:25 PM)
Well, because they won it last year, you have to give them their just due. I think with the players they have the coaches they have, they have a legit chance. They'll have to go prove themselves this year, because every game will be like a playoff game.
craig (Los Angeles)
Who do you think is gonna win the nfc north this year especially with brett favre not being on the vikings?
Jerry Rice
(3:26 PM)
That's hard to say if the Vikings are still the team to beat. We'll have to see if Tavaris Jackson can step in. I think with him deciding to make the announcement, the players know what they have to do now.
Josh (North Dakota)
Do you ever wish you were still playing?
Jerry Rice
(3:26 PM)
Every day. When I see football on TV, I would love to be able to put the uniform on and be on the field again.
Scott (South Dakota)
Jerry - thanks for taking my question and congrats on the Hall of Fame. I don't think there is a more deserving person! Have you ever thought of getting in to coaching and trying to pass on your legendary work ethic to some of today's wide receivers?
Jerry Rice
(3:27 PM)
Maybe if I didn't have other things I wanted to accomplish. Coaching is a full time job. It takes the same committment, just like when I played football. They spend the majority of the time at the facility. I really don't have an interest in it right now.
Clay (Charlotte)
Any of the younger wide receivers you look at and think they've got a little bit of Jerry Rice in them?
Jerry Rice
(3:28 PM)
That's hard to say, because I never try to judge or look at other WRs and say that he reminds me of myself. As receivers, we never wanted to be compared that way. If I looked at anyone, I would say Larry Fitzgerald, because of his work ethic. He comes prepared and puts the time in in the offseason.
Marc (Charlotte)
Jerry, how's the golf game?
Jerry Rice
(3:30 PM)
It's going as well as possible. I'm not doing it full time. Trying to balance everything with what I'm doing in my post-football life and still trying to work on my golf game too. If you're going to try to be good at this game, you have to be working on it from morning til night and hope to better your game and be competitive.
Will (Wisconsin)
Do you think that Mike Shanahan should make Albert Haynesworth keep running his test until he passes?
Jerry Rice
(3:30 PM)
I think so. All of the other guys did. You have to do exactly what your teammates did. They came in and passed the test. He's going to continue to do it until he passes it. Other factors come in now, with his swollen knee. I think Mike Shannahan should make him run the test over again when he's ready to go.
Jerry Rice
(3:31 PM)
Look for me this coming Saturday. It's going to be a great time. I'm looking forward to being up there and being able to say thank you to the fans.