Chat with Juan Manuel Marquez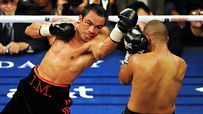 Welcome to SportsNation! On Wednesday, we will have the winner of last weekend's lightweight championship fight Juan Manuel Marquez stopping by to chat. Marquez vs. Diaz II will be replayed on Friday at 9 p.m. ET/PT on HBO Latino.
Marquez (51-5-1) defeated Juan Diaz (35-4, 17 KO) on Saturday in Las Vegas to retain his WBO lightweight belt. It was Marquez' first defense of his title that he won by defeating Diaz in February 2009 when they both fought for the vacant belt.
The win made Marquez 7-2 in his last nine fights over the last four years. His only two losses came at the hands of Floyd Mayweather Jr. and Manny Pacquiao.
Send your questions now and join Marquez Wednesday at 1:15 p.m. ET!
More Special Guests: Previous chats | SportsNation
Buzzmaster
(1:23 PM)
We're still trying to get Juan on the phone, he should be here shortly.
Buzzmaster
(1:32 PM)
We have Juan!
quincy (montreal)
Juan, all boxing fans respect you as a true warrior and great representative of mexican boxing. Now that you have had a fight at 147, how does the move up in weight affect your speed and power?
Juan Manuel Marquez
(1:37 PM)
Moving up in weight when I did it for the Mayweather fight affected my speed a little. But that's because I moved up in weight in just six months and Mayweather in known for his speed. But in general I feel that any move in weight would not necessarily affect my speed or punching power.
anton dhillon (west london, england)
if you were to fight Manny again for a third time, what would your game plan be? To me you won both fights, so would you change your approach to the fight?
Juan Manuel Marquez
(1:38 PM)
No, I don't think I would change my game plan at all. I would still fight with the same aggressiveness, speed and intensity that I fought with in my previous fights.
John (New Jersey)
Juan, first of all congratulations on your win last weekend, I'm a big fan. My question is how many more times do you expect to fight? If you don't get the Pacquiao fight will you hang around for a while and defend your Lightweight titles a few times? Would you entertain a jump up to the loaded 140 lb division?
Juan Manuel Marquez
(1:40 PM)
I think the most logical is to just continue e to fight at lightweight but if I don't get a third fight with Manny Pacquiao, I would consider moving up to 140.
Ryan V (Wichita, KS)
Great win this past weekend. I know you did some good things against Mayweather at 147 but obviously the outcome wasn't what you expected. What do you plan on getting accomplished at 140 with the stable of good younger fighters in that class?
Juan Manuel Marquez
(1:42 PM)
There are many good boxers at 140 pounds and I do think that I can move up. There will be a lot of good fights in that division.
Richard (pasco, WA)
Having a hall of fame worthty career how long are you gonna keep going?
Juan Manuel Marquez
(1:42 PM)
I put all the effort that I have into each fight and I train very hard. I think my body will let me know when it's time to retire. The rest is up to God.
JOSHUA MORALES (HONOLULU HI)
With boxing fans in America the hype is over the potential Mayweather and Pacquiao fight. People seem to forget you fought Pacquiao twice(GOT ROBBED!) and moved up in weight to fight Mayweather. Do you feel your under appreciated in Americ, and a third fight with Pacquiao or another title would solidify your popularity with boxing fans in America?
Juan Manuel Marquez
(1:46 PM)
I'm very happy with what I have achieved in boxing. The Latin fans have always been very supportive of me as well as the American fans. I don't feel like I'm under appreciated. I do feel like a third fight would be excellent for boxing, for all my Mexican fans and all boxing fans in the United States.
Jonathan Ramos (Chino,CA)
Marquez I think you were robbed in your two fights with the so called "pound 4 pound king". Right now though if you can't get the fight with the robber. Who else would you like to beat down?
Juan Manuel Marquez
(1:48 PM)
I would like to defend my belt at lightweight one more time and then move up to 140 to get my fourth belt in a fourth division.
Juan Manuel Marquez
(1:53 PM)
No, I don't think moving up five pounds is going to do to me what it did to me when I went up seven for the Mayweather fight. I don't think five pounds is going to be any different.
Aficionado (Fla)
Juan what goes on mentally when you are in the ring adapting your strategy?
Juan Manuel Marquez
(1:53 PM)
You have to think very quickly in the ring and I try to think about what my rival is going to do so I can anticipate what I will do. It's tough to explain because in a few seconds you have to think about defense and offense, so it's more about tactics.
Nathan (San Jose, CA)
You mentioned Floyd Mayweather Jr is faster while Manny Pacquiao hits harder. How do you think a fight between these two would play out?
Juan Manuel Marquez
(1:54 PM)
Mayweather would defiantly win against Pacquiao. Mayweather moves faster in the ring. He's offensive is superior and he knows the precise moment and how to win each round.
DRE (Nashville, Tennessee)
How many hours a day do you train when training for a fight; and what types of things do you do to lose weight in a healthy way while training?
Juan Manuel Marquez
(1:57 PM)
Well, I train about five and six hours a day between training and running. To lose weight in a good way I don't eat any tortilla but just greens and veggies. I also supplement with vitamins.
Juan Manuel Marquez
(1:59 PM)
I would like to thank my fans for all the support. I hope you continue to support me as I contiune to fight and hopefully I'll get my third chance at facing Pacquiao.