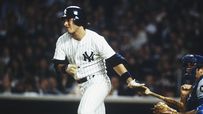 Bucky Dent was a 3-time All-Star.
Welcome to SportsNation! On Thursday, former Yankee Bucky Dent stops by to chat about MLB's stretch run and his work with Little League Baseball.
Dent spent 12 seasons in MLB, including parts of six with the New York Yankees. He is probably best remembered for his home run that led the Yankees to win the 1978 AL East tie-breaker over the Boston Red Sox. Dent won World Series titles with the Yankees in 1977-78, winning the 1978 World Series MVP.
Dent is working with Subway and Little League Baseball on their "Baseball DeSIGNS" tour, a unique traveling exhibit that includes 40 baseballs designed by Little Leaguers nationwide and autographed by celebrities. The balls will tour four U.S. cities before being auctioned on eBay starting August 20.
Send your questions now and join Dent on Thursday at 2 p.m. ET!
More Special Guests: Previous guests | SportsNation | Chat Index
Bucky Dent
(1:57 PM)
I'm just glad to be apart of the Subway DeSIGNS for the second year in a row. It's a great way to raise money. I think it's really really super.
Clay D (NY)
Do you view A-Rod as a true Yankee?
Bucky Dent
(1:57 PM)
Yes, he's atrue Yankee. He's been there, he's played and won a World Championship. So yes he is a true Yankee.
Chris Fiegler (Latham,NY)
What is the Best & the Worst MLB Stadium that you Played in?
Bucky Dent
(1:58 PM)
I old school so the best would have to be the old Yankee Stadium and the worst would have to be Milwaukee.
Mike (From Iowa)
Bucky! Just wanted to say I still have my first baseball mitt with your name on it! You are a living legend!
Bucky Dent
(1:59 PM)
(Laughing) Thank you very much. You don't see too many more of those around anymore.
Dave (Boston)
How does the percentage of fans stop you to just talk to you about your career versus the ones that just want to talk to you about your home run against the Sox?
Bucky Dent
(2:00 PM)
Of boy, more want to talk about the homerun than my career. They are more interested about that playoff game.
Kyle (VA)
The Yankees were in a little slump there for a few games. Do you tihnk they'll snap out of it?
Bucky Dent
(2:01 PM)
All teams go through a slump at one point in the season. They'll snap out of it because they have a good team.
Ryan (DC)
Why do you think your home run has had such an impact? It seems like if you talk to any baseball fan, you mention your name and everyone knows you want to talk about the home run.
Bucky Dent
(2:02 PM)
I think because it was a one game playoffs. We can from so far back in 1978 to get to that one game playoff. It was a Jewish holiday and New York and Boston are two big baseball cities.
Wilson (SF)
How did you get involved with this Subway program?
Bucky Dent
(2:04 PM)
I started with them last season. They called and asked if I would be intrested in joining them because I love to teach kids. I've been doing that for 30 plus years with my baseball school. It also helps that the money goes to support Little league Baseball.
Tom (Jacksonville)
So besides the 1978 season capped off by your epic homerun, what is your favorite moment as a MLB player?
Bucky Dent
(2:05 PM)
My favorite moment as a MLB player had to be putting on the Yankee uniform for the first time.
Michael (Greenville, SC)
Do you think the distraction of A-rod's 600 home run had anything to do with the Yankees slump?
Bucky Dent
(2:06 PM)
I wouldn't say that. I thin everybody on the team was pulling for him to hit it but I don't know how much of a distraction that would have been.
Frank Hendricks (Scottsdale)
Do you think that major league baseball will follow in little league baseballs footsteps and have more instant replay in the future?
Bucky Dent
(2:06 PM)
Oh, I don't know. They have been talking about that so at least they are talking about it.
ryan (stevens point, wisconsin)
what did it feel like playing in the mlb?
Bucky Dent
(2:08 PM)
Oh man, it's really special playing in the major leagues. It's something that you work towards as a kid and to finally get there is an awesome feeling.
Evan (NYC)
Do you do any coaching? Either professional, minors or Little League?
Bucky Dent
(2:09 PM)
Yes, I have my baseball school in Delray Beach. I coach a lot down there.
Bucky Dent
(2:11 PM)
If you would like to look at the balls go to www.subwaykids.com. You see all the balls that the kids designed and that celebrities are autographed. It's all for a good cause, Little League Baseball. Thanks for chatting with me today.