Chat with Elena Dementieva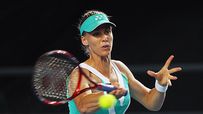 Dementieva won gold at the 2008 Olympic Games.
Welcome to SportsNation! On Monday, we will go on to the tennis court when top 10 women's player Elena Dementieva stops by to chat about this week's stop on the Sony Ericsson's WTA Tour.
Dementieva, currently No. 6 in the world, enters the Western & Southern Women's Open in Cincinnati as the No. 3 seed. She has won two titles this season, giving her 16 for her career. She has also reached the semifinals in five of the last eight Grand Slams in which she's played.
ESPN's coverage of the tournament begins Thursday at 3 p.m. ET on ESPN2.
Send your questions now and join Dementieva Monday at 2 p.m. ET!
More Special Guests: Previous chats | SportsNation
Buzzmaster
(1:56 PM)
Elena will be here at the top of the hour for your questions!
Buzzmaster
(2:00 PM)
We've got Elena!
Nick Flannery (Massachusetts)
How do you feel your playing since your first tournament back in Stanford? When do you think you will be back in top form? Good luck in Cincinnati, I know you can bring home the title.
Elena Dementieva
(2:00 PM)
I think it all depends on well I play the next few tournaments. I'm looking forward to having a few good matches to get my confidence back. I was out for a few weeks after Wimbledon, so I'm just looking to get my form back before the Open.
Pete (Cincinnati)
You had a tough Draw at Stanford having to play Maria in the QF. Do you think that match will help you in preparation for the US Open
Elena Dementieva
(2:01 PM)
Yes, I hope so. It was a good match. That's what I'm looking for, to play against the best players and see where my game is at right now. Here at Cincinnati, I have another tough draw, but I'm looking forward to it.
CJ (Pittsburgh)
Which surface do you feel best suits your particular skill set?
Elena Dementieva
(2:02 PM)
Hard court. I think it fits my game. I love to play the U.S. Open. I like to play on clay as well, but I think hard really suits my game.
pov (massachusetts)
Recently you changed your serve motion again. Yet about 2 years ago it seemed that your serve had become effective. What happened in those 2 years to lead to the latest change?
Elena Dementieva
(2:03 PM)
The serve was always something I was trying to improve on my game. Not changing it, but improving it. I felt I've made some good improvements and now I'm just working on keeping the freedom of the motion. I'm keeping on working on it.
Fabio (Italy)
Hi Elena..i know that your gold at the olympics games is your best victory, so i'm curious to ask, how much would be important for you to win a slam? ... i really think you deserve one :) Saluti dall'italia :)
Elena Dementieva
(2:04 PM)
It it important. That's the biggest goal left in my career. Winning a gold was very special to me and there was nothing like it, but as a tennis player, it's my goal to win a Grand Slam and become No. 1. That's my motivation at the moment.
Brian K (Greensboro, NC)
Elena, how do you prepare for an oppenent that you have never played before?
Elena Dementieva
(2:05 PM)
It's tough. If you've never played against someone, you might try to watch their latest match. But when you play, it might take a couple of games to see each other. It can be tricky when you play for the first time.
Rick (Melbourne)
How do players feel about smaller local tournaments? Do you try to play more of them or do you solely focus on the big tournaments?
Elena Dementieva
(2:06 PM)
Sometimes it's nice to play a small tournament before a Grand Slam, just to get some matches under your belt. It could be a good practice. You might be looking for some matches to get your form.
Joey (Texas )
Do you still feel like your having fun after all these years of playing tennis, do you still feel like you want to make a few more runs at the Slams? huge fan :)
Elena Dementieva
(2:06 PM)
Oh yeah. It's still very exciting for me. I don't feel like I've been playing that long. Every time I play, I feel nervous, excited. As long as I feel that way, I'll keep playing.
Mary (California)
What do you do for fun on your off days? What was the last movie that you saw?
Elena Dementieva
(2:07 PM)
I like to do something off the court. I like to go to the theater or the cinema with someone. Something besides practicing or playing tennis.
Barney (North East Philly)
What are your goals for the hardcourt season?
Elena Dementieva
(2:08 PM)
Right now, I'm just trying to play as many matches as I can. To get to my best form for New York. That's what I'm looking for.
Master Ace (Alabama)
Other than yourself, Serena, Venus, Kim and Svetlana, who do you believe is capable of winning the United States Open?
Elena Dementieva
(2:08 PM)
I think there are a lot of players capable of winning the U.S. Open. Of course Serena loves to play there. But anyone in the top 10 can do it. It's really competitive at this time.
Brian K (Greensboro, NC)
Elena, what string tension do you use and at what point in a match do you switch rackets for a different tension?
Elena Dementieva
(2:09 PM)
It depends on the weather conditions, how long the match is. Sometimes I like to change when we change the balls.
Elena Dementieva
(2:10 PM)
Thanks to all my fans for supporting me all this year. It's great to have that support.