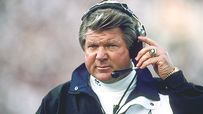 Johnson won Super Bowls XXXVII and XXXVIII.
Welcome to SportsNation! On Wednesday, NFL analyst Jimmy Johnson will stop by to chat about the upcoming NFL season.
Before taking on duties in Fox's Sunday NFL studio show, Johnson was an NFL and college head coach. He is the only person to win a college national title both as a player and coach, as well as coach a Super Bowl win. In nine years as a NFL head coach, Johnson had a 80-64 record, including 9-4 in the playoffs.
This football season, Johnson will be teaming up with Crown Royal for the Jimmy Bowl. Two lucky fans can win a trip for an all-expenses trip to Dallas and receive a VIP tour of the stadium and meet the Cowboys cheerleaders.
Send your questions now and join Johnson Wednesday at 2:45 ET!
More Special Guests: Previous chats | SportsNation
Buzzmaster
(2:43 PM)
We have Jimmy!
Jimmy Johnson
(2:44 PM)
Go to crownroyal.com were you can enter to win an all expense paid trip to Dallas to play in a flag football game coached by me at Cowboys Stadium.
Cody (NE)
Who do you have in the Super Bowl this season?
Jimmy Johnson
(2:45 PM)
I'm not the greatest at picking games but if I look at the strong teams in the NFC, I have to go with the Cowboys, Vikings and Saints. In the AFC, I like the Jets and Colts.
Michael, Lumberton NC [via mobile]
I know its only the preseason. Do you think Denver selected the best QB in this year's draft?
Jimmy Johnson
(2:47 PM)
I wouldn't say they picked the best QB in the draft (you can't really tell in preseason) but I will say this about Tim Tebow, he has great character and football skills. His intangibles are outstanding.
Chris Fiegler (Latham,NY)
Which Rookie Defensive Player do you think will be the Best in the NFL?
Jimmy Johnson
(2:48 PM)
I don't think I'm prepared to pick a defensive Rookie of the Year but I like Suh. You might not see it in his stats because he might not have as many sacks as someone coming from the outside might have.
Dave (NC)
Over Under, the patriots win 11 games this season.
Jimmy Johnson
(2:50 PM)
Bill Belichick is one of my better friends in the league and I don't want to get him upset at me. Because of the respect that I have for him and the fact that Brady is coming back healthy, I'll say over.
Matt (Spokane, WA)
How do you think Jerry Jones would do on Survivor?!?
Jimmy Johnson
(2:50 PM)
I think Jerry would do outstanding on Survivor. He would probably buy the network and make sure he's the winner.
Matt (IN) [via mobile]
Coach, you look like a guy who likes to grill. Which do you prefer, charcoal or gas?
Jimmy Johnson
(2:52 PM)
If I grilled at all, I would use gas. But i don't do any grilling. If anything, I would go with Bradshaw's Traeger grills.
Alan (South Carolina)
Did Survivor kick you but, or was it staged like all other reality shows? Plus My Lions, PLAYOFFS or NOT?
Jimmy Johnson
(2:53 PM)
Survivor was as difficult of thing that I've ever been through. Lack of sleep and food was tough. I think it would be difficult for anyone to go though.
Jimmy Johnson
(2:53 PM)
I think the not comes closer to it.
Yeej (Texas)
The Cowboys are a legacy progam, but how long is it going to take them to get a legacy QB (Joe Montana, Troy Aikman, John Elway) the fans deserve in order to lead them back to the Super Bowl?
Jimmy Johnson
(2:54 PM)
I actually like Romo. His success depends on how well the offensive line protects him. If they protect him, I think he can get to that elite status.
brady (minnesota)
Do you think the vikings will win the super bowl with Brett Farve?
Jimmy Johnson
(2:56 PM)
I think the Vikings can be as good as they were last year. Prior to the NFC Championship game, I thought they were the best team in the league. In order to get back there, Brett is going to have to do what he did last year and that won't come easy.
bill (san diego)
coach, just wanted to extend a heartfelt thank-you for all of the success you brought my beloved dallas cowboys. those rings came during my college years while living in virginia and few things were better than being surrounded by skins fans as dallas ascended. thank you, sir!
Jimmy Johnson
(2:57 PM)
Thank you to all the Cowboys fans. Thanks for sticking with me especially after that first year where we went 1-15. I'm glad to have come home with two Super Bowl wins.
Jason (Bmore)
Looking back on things, do you think you handled the beginning of your Dolphins tenure, specifically with Marino and the offense?
Jimmy Johnson
(2:59 PM)
When I look back, we did as well as we could do. Considering the age and talent of our team, it was disappointing that we didn't win the Super Bowl but we did have three straight years in the playoffs.
Quinton (Detroit,MI)
Two Questions Mr.Johnson, one what was your time like at The U, and how difficult was it to tranisition from the NCAA to the NFL?
Jimmy Johnson
(3:00 PM)
I really have a fantastic time at the University of Miami. I eman, did you see the players and coaches we had? We started out rough but we only loss two regular season games my last four years. It was a really good time at "The U".
Jimmy Johnson
(3:00 PM)
One thing that helped me go to the NFL is the pro-style offensive and defense we ran at Miami. I also attend a lot of NFL camps during the offseason.
Jimmy Johnson
(3:02 PM)
Please go to crownroyal.com for your chance to win an all expense paid trip to Cowboys Stadium and a chance to play in a flag football game coached by me.
Jimmy Johnson
(3:02 PM)
Thanks for all the questions. Enjoy the NFL season!