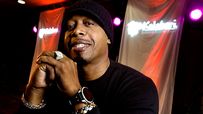 MC Hammer sold more than 50 million records in his career.
Welcome to SportsNation! On Monday, former rapper and dancer MC Hammer stops by to chat about his music career as well as his newest business, Alchemist Management, an agency for which he is CEO and represents 11 MMA fighters.
MC Hammer, born Stanley Kirk Burrell, was the first hip hop artist to hit diamond status, selling more than 18 million copies of his "Please Hammer, Don't Hurt 'Em" album. In his career, he sold more than 50 million records, while winning three Grammy Awards, eight American Music Awards, a People's Choice Award and a NAACP Image Award.
Send your questions now and join MC Hammer Monday at 2:30 p.m. ET!
On Twitter: @alchemistmma | @MCHAMMER
More Special Guests: Previous chats | SportsNation
Buzzmaster
(2:13 PM)
Send in your questions for MC Hammer!
Eamon McCaffrey (Yonkers, NY)
How did it feel to be the first hip hop artist to hit diamond status? and who do you think is the best rapper/hip hop artist right now?
MC Hammer
(2:30 PM)
It feels incredible to be the first hip-op artist to hit diamond. Some of my favorites right now are Kanye West, will.I.am, and I love what Eminem and Jay-Z are doing with their careers currently.
brett (louisville)
great to have you back in main stream Hammer, what got you interested in MMA?
MC Hammer
(2:32 PM)
I've been a fan of combat sports and martial arts for years. I see a great opportunity to consolidate management and be an asset to furthering the sport.
Michael (Baton Rouge)
Yo hammer! What happened to your reality series!?! Are you coming out with another season, or are you finished? was a great show!
MC Hammer
(2:32 PM)
My schedule just doesn't allow for it right now. Between being the CEO of Alchemist Management, and touring, my plate is full.
Sean (San Mateo, Ca.)
Are you a Niner, Raider or Falcon fan?
MC Hammer
(2:32 PM)
I'm a Raider fan! Oakland forever!
Adam (Saint Cloud, MN)
Hammer, I was a huge fan of yours back in my youth. My question is, would you ever consider going on Tour one last time? The NKOTB just finished up a tour, and with hollywood remaking every decent 80's flick, I think it would be a big hit! I know my friends and I would be first in line to see the Hammer one last time.
MC Hammer
(2:33 PM)
I'm currently on tour right now. I just did a show in Raleigh on Saturday.
Adam (Albany)
I watched the All-Star celebrity softball game when you "hammered" a home run. DId your experience as an A's batboy contribute anything to your swing?
MC Hammer
(2:34 PM)
Yes, because I got to take batting practice every day with major leaguers, so it helped refine my swing.
Gary (The Villages, FL)
How did your time in The Navy affect your life and your drive?
MC Hammer
(2:35 PM)
It helped me with discipline and organizational skills.
Joey Mac (New Jersey)
Hammer, as a die-hard 49er fan I just wanted to thank you for getting Crabtree signed and in camp last year! My question is what exactly did you have to do with the whole situation? How were you involved? Thanks for your time!!
MC Hammer
(2:36 PM)
My position is, I'm a fan of the 49ers, and anything I did, I did to help the team.
Kevin (Orlando)
Hammer - saw you in Orlando a loooooooong time ago with Kool Moe Dee - Bell, Biv, Devoe and a few other acts. Awesome show!!!! With your background in baseball, any chance you get into representing baseball players too or will you be sticking with MMA?
MC Hammer
(2:37 PM)
I'm going to stick with MMA. I don't really have a desire to branch out into other sports at this time. I want my focus a hundred percent on MMA.
Josh Waters (Lebanon Junction, Ky)
If you could choose one person out of the UFC to fight, who would it be and why?
MC Hammer
(2:38 PM)
I'm not here to fight, except on behalf of my fighters.
Terry (New York)
If you had the choice between being a rapper and a pro athlete what would you be?
MC Hammer
(2:39 PM)
Hands-down, a musician. Longevity's the reason -- the Rolling Stones are still touring, and they're 70 years old!
Drew (Indy)
What do you think about Shaq's comments about wanting to fight Hong Man Choi?
MC Hammer
(2:40 PM)
Shaq has good hand-eye coordination and throws a heavy punch. My concern would be the grappling and on his wrestling skills. I don't know the extent of his wrestling skills.
Mike (Texas)
Who are some of the fighters your company represents?
MC Hammer
(2:42 PM)
Nate Marquard, Tim Kennedy, James McSweeney, Vladimir "The Janitor" Matyushenko, Alex Soto, Brendan "The Hybrid" Schaub, Stefan "The Skyscraper" Struve.
Christian (Los Angeles)
What are your thoughts on the Couture - Toney fight?
MC Hammer
(2:43 PM)
It turned out as expected and predicted. Randy Couture is a master from the floor, and we knew that he would submit James ultimately.
MC Hammer
(2:44 PM)
Thanks for the questions, and I look forward to chatting with you again! Follow me on twitter.com/MCHammer.