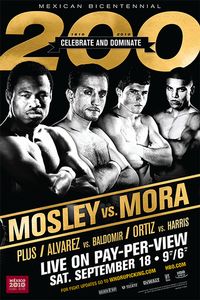 Welcome to SportsNation! On Thursday, we're going inside the boxing ring when Vivian Harris stops by to chat about his upcoming fight on September 18.
Harris (29-4, 19 KO) takes on Victor Ortiz (27-2, 21 KO) as a part of the undercard for the Shane Mosley vs. Sergio Mora main event. The card will be live from the Staples Center in Los Angeles at 9 p.m. ET/6 p.m. PT on HBO PPV.
Harris, a native of Guyana, didn't start boxing until he was 12, before turning professional in 1997 at the age of 19. By 2002, Harris was the WBA junior welterweight title holder, a belt he held for three years, making three title defenses. His last fight came in February when he lost via TKO in four rounds to Lucas Martin Matthysse.
Send your questions now and join Harris Thursday at 3 p.m. ET!
More Special Guests: Previous chats | SportsNation
Buzzmaster
(3:03 PM)
Vivian Harris should be here any minute to take your questions!
Buzzmaster
(3:15 PM)
Hang on folks. We're tracking Vivian down.
Los (Harlem, NY)
Whats up Harris, what will be the gameplan come sep 18 against Ortiz? Will you anticipate a ko victory? Good luck at that fight
Vivian Harris
(3:21 PM)
Whatever God has in plan for me. I know he has a W in mind for me, I just don't know how. My gameplan is to bring back the old Vivian Harris and put some fear into him.
Dave (Boston)
Are you happy with how your career has progressed?
Vivian Harris
(3:21 PM)
Yeah. I'm happy, but there have been some ups and downs. They make you stronger. I definitely didn't want anything given to me easy. It helps me to raise my kids. I'm making them more strong minded.
Urbana IL [via mobile]
Hello Vivian, how are ya, how are you feeling health wise going into the fight this month. What are you future plans in boxing.
Vivian Harris
(3:22 PM)
I definitely feel good. I feel strong. I think God put me into this position for a reason. I feel good. I'll do OK.
Los (Harlem, NY)
Do you see this fight as a stepping stone to bigger and better fights and paydays? Whats next in terms of your career? Good luck ma brother
Vivian Harris
(3:23 PM)
Yeah, definitely. I'm always wanting to fight the guys that everyone talks about. I will definitely be in a position for bigger and better things.
Gt45(los angeles,ca) [via mobile]
How would you match up with today"s great fighters, like pacquiao or mayweather how would you fight them?
Vivian Harris
(3:24 PM)
Those guys are great fighters. But while watching them and studying them, you put a game plan together. I'm focused on Ortiz. I have someone in front of me that I need to take care of.
Steve (NH)
Are you interested in other sports?
Vivian Harris
(3:24 PM)
I love baseball. I used to play soccer when I was kid. That's about it.
Ace san antonio texas [via mobile]
Mr harris, seeing victors previous fight against miadana how could and how are you gonna use that for your advantage? he plain out got bullied and gave up will you pressure him the same as miadana
Vivian Harris
(3:25 PM)
It's definitely going to be the old Vivian Harris. Very smart and if there's pressure, it will be a smart pressure. I will fight hard from 1-10. Hard and smart. I'm prepared for whatever.
james (uk)
As hard a puncher as you are, can you make Victor Ortiz quit - the way he did the last time he met a true banger?
Vivian Harris
(3:26 PM)
Every fight is different. Styles make fights. Once I hit him, it will be up to him what to do. I know I have the punching power to do it. I don't know what he's fighting for. I know what Vivian Harris is fighting for. It's up to him if he wants to do it or not.
Andrew (Atwater, CA) [via mobile]
Did you see James Toney's MMA debut? Would you ever try it? Do you think any boxer will try again after watching Toney?
Vivian Harris
(3:27 PM)
No. I don't have an interest in that. I am not thinking about that. You can't take an MMA fighter and bring him to boxing. And you can't take a boxer into the MMA. I am not thinking about that.
AW (PHX)
IF you beat ortiz who do you have your eye on next?
Vivian Harris
(3:28 PM)
My focus is on winning this fight for my fans and for my kids and to let people to not give up on your training. That's all I'm thinking about. I'm thinking about Victor Ortiz and that's it. I will figure out where to focus next after the fight.
Nick (Seattle)
Big fan... As someone who is ordering the PPV, please don't do what so many boxers do these days. Take it to him!
Vivian Harris
(3:29 PM)
It's going to be a good fight. I don't think I will be doing anything like that. I come to fight. I give the fans the work. That's my goal. To fight to win.
kerron (Brooklyn, NY)
Hey Viv, i actually attend the same primary school (South School) with you in Guyana and have followed your career. I remember you bringing your boxing gloves to school and having guys fight against each other. When you were/are at your best you utilize your jab, when you get away from it you tend to fight the other fighter's fight. Why is that? Please utilize you jab on Sept. 18th and I promise you it will be an easy fight. Also please put the use of that combination that you ko'd Urkal with.
Vivian Harris
(3:29 PM)
I definitely notice that. I'm working on it. I just want to fight. My goal is staying focused and staying smart.
ryan, slc utah [via mobile]
Who is your favorite fighter and why? also idealy whos next when you get ortiz out of the way?
Vivian Harris
(3:30 PM)
I definitely have to go with Sugar Ray Robinson. After that, Tommy Hearns. In the last few years, I've fallen in love with Trinidad.
james (uk)
Vivian, how many of Ortiz's fights have you studied in getting ready for sept 18th?
Vivian Harris
(3:31 PM)
I watched the majority of his fights.
Vivian Harris
(3:31 PM)
I knew at some point in time I was going to fight him, so I kept watching him even years ago. I would watch him, thinking about him.
Vivian Harris
(3:32 PM)
Thanks everybody for your support. Come Sept. 18, it will be a great fight. We'll give the fans around the world a great fight.