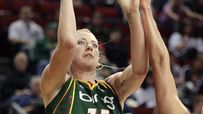 Jackson helped Seattle to the 2004 WNBA title.
Welcome to SportsNation! On Tuesday, 2010 WNBA MVP, and Seattle Storm forward, Lauren Jackson stops by to chat on the heels of the Storm advancing to the WNBA Finals on Sunday.
Jackson won her third WNBA MVP by averaging 20.5 points and 8.3 rebounds per game. She has made a huge impact on the league and her team since entering the WNBA in the 2001 draft. In addition to the three MVP awards, she also is a seven-time all-star and was named to the WNBA all-decade team. She has also won three silver medals as a member of the Australian Olympic basketball team.
With Sunday's win over defending champion Phoenix, Seattle advances to the WNBA Finals and will play the winner of Atlanta and New York. The WNBA Finals start Sunday at 3 p.m. ET on ABC.
Send your questions now and join Jackson Tuesday at 12:45 p.m. ET!
More Special Guests: Previous chats | SportsNation
Buzzmaster
(12:44 PM)
Lauren is here!
Mia (Philippines)
How do you feel about getting a sweep on the finals and going back to the WNBA finals? Do you feel like you're gonna win it all this season?
Lauren Jackson
(12:45 PM)
Yeah, definitely. We haven't played the best that we can play, but we feel pretty confident going in. Not overly confident, but like we can pull it off.
JP (Sydney, Australia)
How were you feeling when Diana exploded for 28pts in game 2?
Lauren Jackson
(12:46 PM)
Yeah, absolutely. After Game 1, there was so much talk about her coming out in Game 2 and being amazing, which she was. From the very first shot that she hit, it was obvious that she wanted to put the team on her back. But fortunately, we have Sue Bird.
za (vancouver,bc)
hi LJ, i know you'd probably like to get both, but if you could choose just 1 to win, which would it be..the WNBA championship or another gold medal in the World Championships?
Lauren Jackson
(12:47 PM)
Oh, that's a difficult question. I'm greedy, so I want both of them pretty badly. Everyone knows that I'm very patriotic and that I would do anything to win a gold. But the same can be said for the Seattle Storm. At this very moment, I can only focus on what we are doing here in America. Win this championship and then go on to win the gold.
kevin (macon ga)
Who would you rather face in the finals, Atlanta or New York?
Lauren Jackson
(12:47 PM)
Either, or. I think they're both great teams. They're both on a mission. I would like New York to win, because I want their coach to do well. But I don't care who wins.
Ana (Spain)
How do you feel about going to the finals?
Lauren Jackson
(12:48 PM)
Oh, when the final buzzer went off, I just remember running to the bench and hugging everybody. I think everyone will be focused. It's been a long road. A tough season. I think we know what we have to do.
kevin (macon ga)
Which do you prefer, the Opals bodysuit or a more traditional uniform?
Lauren Jackson
(12:49 PM)
Me, personally, the more traditional uniform. I think the jersey and shorts is a better way to go. The bodysuits were rather uncomfortable. I'm glad they're gone.
Ken (Syracuse, NY)
Hi Lauren, congratulations on your 3rd MVP award and the great season you and the Storm are having. Do you see any similarities between this Storm team and the 2004 team that won the WNBA championship? All the best in the finals.
Lauren Jackson
(12:50 PM)
First of all, thank you. I think that the similarities is that we're a much older team than we've been in a while. Sue and I have grown together. Then to bring in players like Swin. We have more offensive players than we have in a while. We're pretty deep with people that can score. It feels different, but it's one of those things that we just go in every day and work on the game and work on ourselves.
kolaroo (Los Angeles)
BIg L'Oz - Exciting win over Phoenix in Game 2. Why do you think the Mercury's run-and-gun style has worked in the women's game as opposed to the men's and do you think up-tempo basketball is here to stay for the next few years at least?
Lauren Jackson
(12:51 PM)
That style of basketball when Paul Westhead introduced it to Phoenix, it made them the best team in the league. With Diana there, it makes them impossible to keep up with them. They can score. They are a great team. We are so fortunate to have beaten them.
Denise (Seattle)
Hi Lauren, How are you feeling health wise?
Lauren Jackson
(12:52 PM)
I'm good. Physically I feel great. I slept all day long after the game. There's a bit of tiredness setting in, but we have all of this week to focus on the finals. I'm excited about that.
Mary (San Diego)
Are there one or two non-basketball spots in Seattle you'll miss the most when you're done playing?
Lauren Jackson
(12:53 PM)
Yeah, definitely. There is so much about Seattle that I love. Kiwi, I love that place. I'll probably be back here. I don't know what I'll do, but there will be points in my life where I'll be back here. Seattle is a beautiful place.
Kay (Virginia)
Is there anything in particular that the team needs to work or focus on to ensure you win the WNBA Finals?
Lauren Jackson
(12:54 PM)
I would just say what we've been working on all year, which is to not get complacent. We have to get better. Whoever we play in the finals will be very motivated and passionate. Running hte offenses better. Getting fresh. That's the main thing.
Derrick (Pulaski, tn)
What was your 1st impression of seattle when you got there and do you think we will ever have another mens team there keep up the incredible work Lauren...
Lauren Jackson
(12:55 PM)
I was so scared. I just remember being with my mom and flying over the city. It was so green. But I remember being scared. I hadn't been to a big city like that before. Seeing all of the SUV trucks driving around. But I love it here. I've had 10 years to get used it. And driving on the wrong side of the road.
Rich (London)
How many more years do you think you'll play in the WNBA? Are you thinking about skipping it in 2012 to prepare for the Olympics in London?
Lauren Jackson
(12:56 PM)
I think so. It depends on how my body holds out. I've been playing professionally since I was 16. It depends on how much my body holds out. I would also like to finish my career in Seattle as well. THat's probably the one thing that I want to say is I finished where I started.
Kim (Hartford)
Admit it, you secretly want to play for Geno Auriemma after hearing Sue talk about how much fun it was, don't you?!
Lauren Jackson
(12:57 PM)
I really like him. I have hung out with him once with Sue. He seems like the coolest guy. I'm not sure I want to play with him, but I would definitely like to have a glass of wine with him. He's a funny man.
Rose (Olympia, Wa)
Hi Lauren, Congrats. I was wondering what it's like working and playing with all the wonderfull women on the Storm?
Lauren Jackson
(12:58 PM)
It's been awesome. Everybody was so focused on winning right from training camp. There have been ups and downs like with every team. It's just been a real pleasure to be a part of. With our chemistry, that's definitely a driving force in getting us to win.
Lauren Jackson
(12:59 PM)
Thank you to the fans for this season. We have one more step to go. Get out to the Arena for the games. Thank you for a great season.