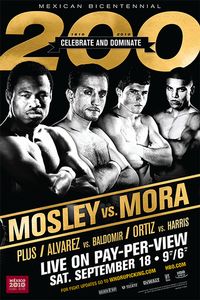 Welcome to SportsNation! On Thursday, we're going inside the boxing ring when Victor Ortiz stops by to chat about his upcoming fight on September 18.
Ortiz (27-2-1, 21 KO) takes on Vivian Harris (29-4, 19 KO) as a part of the undercard for the Shane Mosley vs. Sergio Mora main event. The card will be live from the Staples Center in Los Angeles at 9 p.m. ET/6 p.m. PT on HBO PPV.
In the last five years, Ortiz has lost just one fight in 22, going 20-1-1 during that time. He has won his last three fights, including two by KO. This fight in the Staples Center will be just Ortiz' second appearance at the arena and third in Los Angeles overall.
Send your questions now and join Ortiz Thursday at 2 p.m. ET!
More Special Guests: Previous chats | SportsNation
Jovany (Jasso)
Vicotor ortiz, What does it take to become a boxer?
Victor Ortiz
(2:02 PM)
I've never had the question asked before but it takes a lot of dedication, patience and time. It's something that you have to love in order to keep up with it.
steve monts (riverdale)
what is your take on the ongoing mayweather and pacquaio situation? how do you think that is affecting the sport for you and everyone else?
Victor Ortiz
(2:04 PM)
I just recently heard about Mayweather comments. Mayweather is making the sport look bad. It makes it seem as if he's disrespecting the sport. I think he needs to calm down a little bit but that's just my opinion.
Tyler (Wichita, KS)
Once you beat Harris do you feel your ready for a title shot? I believe you can hang with the 140lb titleholders. Good luck.
Victor Ortiz
(2:05 PM)
Defiantly, I'm ready for one now. I'm really looking forward to fighting Harris and depending on the outcome of this fight; I'm ready to take on the world. I just want to take things step-by-step and not get ahead of myself.
Steven Segura (Edinburg Texas)
In your first loss you went against a hard puncher and that was enough to end the fight, Vivian Harris is just as hard of a puncher how will you overcome his strength and win this fight?
Victor Ortiz
(2:07 PM)
This is a whole new fight with a whole new game plan. I'm ready to fight Harris and we shall see how things turn out September 18.
Erick(l.a.) [via mobile]
What's the difference between the boxer u r now and the one that got ko'd by miadana
Victor Ortiz
(2:08 PM)
I've learned quite a bit in a year. I never arrived that night. Emotionally and mentally I wasn't there and I faced the consequences. Now I'm back and doing well.
Sal Rangel (El Paso, TX)
After you beat Harris LOL, who would you like to fight next?
Victor Ortiz
(2:09 PM)
I'll answer that question after the fight. I have a big fight to look forward to and that's what I'm focused on right now.
Kris (Orange County, CA)
when we getting the Maidaina Rematch??
Victor Ortiz
(2:10 PM)
September 18 was supposed to be the rematch. My team agreed to a deal and then two hours later I got a call saying that Maidaina turned it down. I guess you better ask him why it didn't happen and when it will happen.
David (LA)
Do you think you could beat anyone at 140? for ex. like bradley, alexander, khan, judah etc.
Victor Ortiz
(2:12 PM)
Oh yes, I defiantly can. They are all great fighters that have something I want.
David (LA)
Do you still eat Taco Bell after a fight? lol
Victor Ortiz
(2:12 PM)
Yes, I love it! I can't do it all the time so I take advantage of it when I can.
R! (Bay Area)
What do you say to the fans that label you a quitter?
Victor Ortiz
(2:13 PM)
To each it's own. Everyone has their own opinion. I just don't have anything to say to those who think I'm a quitter.
Paul (Amsterdam, Netherlands)
Hey Victor, how's life treating u? what do u want to achieve eventually in the boxing world?
Victor Ortiz
(2:15 PM)
What every fighter wants. I want to be World Champion in multiple divisions. I want to be the best fighter that I can possibly be.
Victor Ortiz
(2:20 PM)
Thanks to everyone who sent it questions, I enjoyed answering them. Tune in to Pay-Per-View Saturday, September 18 as I take on Vivian Harris live from the Staples Center in Los Angeles.