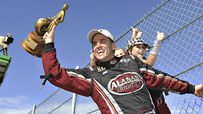 Dixon leads Top Fuel by 46 points.
Welcome to SportsNation! On Friday, we'll have drag racer Larry Dixon, fresh off of his win at the Mac Tools U.S. Nationals, stopping by to chat.
Dixon defeated Cory McClenathan in the Nationals finals last weekend, increasing his lead in NHRA's Top Fuel points standings to 46 points over McClenathan. Dixon will look to maintain his lead in the final five events of the season-ending "Countdown to the Championship."
Dixon, 43, owns 58 career wins, including a perfect 10-for-10 in final rounds in ithe 2010 season. Having won championships in 2002 and 2003, Dixon is in search of his third career title.
Send your questions now and join Dixon Friday at 2 p.m. ET!
More Special Guests: Previous chats | SportsNation
Buzzmaster
(1:51 PM)
NHRA drag racer Larry Dixon will be here at the top of the hour to chat about the 2010 season.
Larry Dixon
(2:02 PM)
Hello to everybody out there. I'm glad to chat with you today. I'm at a race in Rocky Hill, NC so even on our days off, we're out here racing!
your nameCarol Worth (Sabina,Ohio)
Who inspired you the most to be a top fuel drag racer?
Larry Dixon
(2:03 PM)
Without question, my dad. He raced top fuel in the 60's. I've never seen myself doing anything else after watching him race.
Mark Loe (Victorville, Ca)
Of your 10 perfect round wins in 2010, Which one is the most memorable for you?
Larry Dixon
(2:04 PM)
Without a doubt, Indy. That race is such a special to win. I think that there were others that I had more input in as far as driving but Indy was just an awesome weekend.
Jamie (CA)
What was it like winning the US Nationals for the fourth time?
Larry Dixon
(2:06 PM)
(Laughing) It was very special. Racing with Alan Johnson and having the entire Johnson family there was a special moment. To see Blain and Allen's mom smile with the win, was a great moment that I'm proud to have been apart of.
Jimmy White (Buda Tx)
During the off season what do you do to keep your edge on your reaction time at the tree and do you practice this every day?
Larry Dixon
(2:07 PM)
I have three kids and that's plenty enough to help me work on reaction time. But I do workout regularly throughout the winter and during the season.
Aaron Husted (Strattanville ,Pa )
Hi Larry, I went to Norwalk This year it was the best time of my life do you think the NHRA will add more races if the sport keeps growing? Thanks
Larry Dixon
(2:09 PM)
I guess the public has a bigger part in the decision making process than anybody. If the demand is there, hopefully NHRA can give fans what they want. I know we are trying to get more up into the Northeast area and hopefully New Hampshire is next.
Ellie (Rancho Cucamonga, CA)
Who do you think will be your biggest competition in the Countdown these final 6 races?
Larry Dixon
(2:11 PM)
I think are the cars in the top 10 are there for a reason. They are all good cars. At the moment, the Schumacher team, specifically Cory is running really good right now.
Steve (Urbandale, Iowa)
Can you compare the safety of racing top fuel today, as compared to the 60s when your dad raced? Did guys back then need more guts than drivers today?
Larry Dixon
(2:12 PM)
The times are certainly different and the cars aren't as safe as they are now but they weren't as fast as they are now. I think racing back then or racing now you have to have some type of guts.
Corey (Ohio)
The NHRA races from coast-to-coast and each track has its own personality and is inherently unique. If you were only allowed to race at 5 stops on the tour, which tracks would you make sure that you made it to?
Larry Dixon
(2:14 PM)
Hard question but a good question. I would take the tracks that have been on the tour the longest like Pomona, Gainesville, Englishtown, Indy and I'd bring Columbus back.
Larry Dixon
(2:16 PM)
I enjoyed chatting with the folks for SportsNation today. Thanks for thinking enough of me to write in. I'm looking forward to getting back on the track next week in Charlotte.