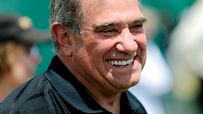 Lauria, who starred in "The Wonder Years," now takes on the role of Vince Lombardi on Broadway.
Welcome to SportsNation! On Friday, actor Dan Lauria is here to talk about his latest project, playing Vince Lombardi in a new play on Broadway "Lombardi."
Lauria is probably best known for his role as TV dad Jack Arnold in the show "The Wonder Years," which aired from 1988-93. He has had more than 70 roles on television over his career and nearly 40 movie credits. Lauria is no neophyte on stage either, having worked on more than 50 productions.
September 3, 2010 marked the 40th anniversary of Lombardi's death at the age of 57. The play "Lombardi" is the story behind the coach - his inspirations, passions and ability to drive people to achieve what they never thought possible. The show is based on the best-selling biography "When Pride Still Mattered: A Life of Vince Lombardi."
"Lombardi" online: @lombardiplay | Faceboook
Send your questions now and join Lauria Friday at 2 p.m. ET!
More Special Guests: Previous chats | SportsNation
Buzzmaster
(2:03 PM)
We've got Dan!
Richard (Point Pleasant, NJ)
Vince Lombardi is one of those icons in the sports world. How excited were you when got the role? And who was your favorite football team? I've been a Packer fan since 1960.
Dan Lauria
(2:04 PM)
Well, I was very excited. It's a role any actor would give his right arm for. I was a Giant fan and still am, which did not go over well in Green Bay. However, the Giants had him first, he was the OC for the Giants while I was in high school.
Randy (Portland)
Dan, loved you in wonder years. What your favorite role you've played?
Dan Lauria
(2:06 PM)
Well, I won a lot of off-Broadway awards for playing Al Capone. It was a lot of fun doing the play. On stage, the father in Bill Mastersimone's play "A Stone Carver." But on screen it would be The Wonder Years.
Dan (Philly)
First off, loved all the work you have done, especially The Wonder Years. Second, you bear an uncanny resemblence to Joe Torre. Have you ever been contacted about portraying him in any sort of medium, be it a movie, television show, commercial, ect?
Dan Lauria
(2:06 PM)
No, but in LA, they had lookalikes, and they always had me with Joe Torre. I was able to go to dinner with Joe and Yogi a few times. Kiddingly, I used to introduce him as my son, Joe. A very nice guy.
Steve (Yellowstone)
What attracted you to the role of Vince Lombardi?
Dan Lauria
(2:08 PM)
Well, I wasn't offered the role, I had to audition. I had to do readings. I was very good friends with the director, so that helps. You know with Broadway and Hollywood, they would rather have Julia Roberts play him to sell tickets. But I looked like him and I knew football. So when I had to diagram the Packers sweeps, it looked like I knew what I was talking about. It's not like I just walked in and said I wanted the part. Everyone did.
Randy (Portland)
Who do you like better Kevin or Wayne?
Dan Lauria
(2:09 PM)
I am Switzerland. But since Fred was the star, I would have to say Fred. He was there every day. But my favorite was Winnie. She's about to have a baby. She's like a daughter to me. She's wrote three books.
Clay (Charlotte)
Dan, huge fan, how did you prepare for this role? Were you able to talk to some people who knew Mr. Lombardi?
Dan Lauria
(2:11 PM)
Yeah, most people think it's hard, but this has been one of the easier roles to research because of all of the players. They've been great. I've talked to Paul Hornung. I played some golf with Jim Brown, who didn't play with him but knew him. I talked to Fuzzy Thurston on the phone. He's not doing too well, I wish him well. I'm going to be sitting down with Bart Starr. It's been like hog heaven for an old ball player.
J.B. (Dunmore, PA)
Do you keep in touch with your former cast mates from, "The Wonder Years?" (Daniel Stern included)
Dan Lauria
(2:13 PM)
Yes. All of them. Fred and I were very close. We even toured in a play. The last couple of years we haven't seen each other much. USC at their TV and film school, they were showing three episodes and they asked me if I could come. They asked me if I could e-mail some of the others and see if they could come. When I got there, everyone was there, the actors and creatives directors, expect for Fred, who was out directing.
Pat (Moonachie)
What's it like being one of the stars of one of the most beloved TV shows of all time?
Dan Lauria
(2:14 PM)
A little frustrating, because they screwed up the rights to the music, so they can't do reruns. If you buy a DVD, it's probably pirated. It's been frustrating. It's the most asked for DVD.
Diane Catley (Kissimmee, FL)
What is the most useful insight you have been given, while preparing for this role?
Dan Lauria
(2:16 PM)
To be honest with you there are things that Judith Light and I are doing on stage that are not explained. They would lock pinkies when they talked or walked. The thing that's not in the books, everyone knows about the rages and the talks, but everyone said he had a great sense of humor. Everyone liked to tell him jokes because he had this great laugh, but he wasn't good at telling him. I knew he coached high school in New Jersey. I always assumed he taught PE, but he taught Latin, Chemistry and Physics.
Matt (IN)
So do you actually say "What we need is a seal here and a seal here and we run it right through the alley"? Classic Vince from NFL Films..
Dan Lauria
(2:18 PM)
Yes, we diagram the power sweep and we use his words. It's "in the alley" and we use it. There is a DVD of him teaching the fundamentals of football, which is interesting because the great players in there are props. They don't say anything.
Anthony (Compound)
What's the highest level you played competitive sports at?
Dan Lauria
(2:18 PM)
College. I played football at Southern Connecticut State. I played the Marine Corp, the last year they played a college schedule.
Dan Lauria
(2:22 PM)
I appreciate your loyalty over the years. And I wanted to say that the biography of the Wonder Years is not true, we did not go off the air because of the ratings slipping. We were No. 26 the last year out of over 125 shows. You can check it. I want to thank all of the fans for your support.