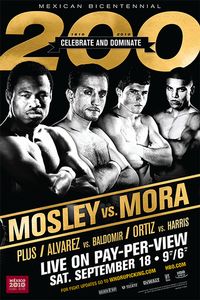 Welcome to SportsNation! On Thursday, we'll go inside the ring when legendary boxing writer Bert Sugar stops by to chat about Saturday's Shane Mosley-Sergio Mora fight.
Mosley (49-6, 39 KO) takes on Mora (22-1-1, 6 KO) in a junior middleweight fight live from the Staples Center in Los Angeles Saturday at 9 p.m. ET/6 p.m. PT on HBO PPV.
Sugar has written over 80 books and from 1979-83 he served as editor-in-chief of The Ring. Sugar also, according to his bio on HBO.com, founded Fight Game magazine in 1998. Sugar has also appeared in a few movies, including recently in "Rocky Balboa," the final chapter of Sylvester Stallone's Rocky boxing movies.
Send your questions and join Sugar Thursday at 2 p.m. ET!
More Bert Sugar: Chats | Search | Boxing index
Bert Sugar
(2:00 PM)
Welcome to what I think is going to be an excellent card on Saturday night. You have what I think is going to be a tree top flight fights. So like Michael Buffer says "Let's get ready to bumble!"
Woody (C-Ville)
Who is stronger, Mosley or Mora?
Bert Sugar
(2:01 PM)
Stronger would be Mora. He's a natural middleweight but of course strength is not the whole issue here.
Woody (C-Ville)
Will Kimbo Slice succeed in boxing?
Bert Sugar
(2:03 PM)
Not really, I don't think he has the skill or tools. He's more of a street fighter. Of course, as you might have heard me say, I'm not a big fan of Mixed Martial Arts. It's a Frankenstein sport piecing all fighting styles together. Kimbo was what? 6-1 in MMA. That's hardly a top flight record for a fighter.
Bert Sugar Fan (Pittsburgh,PA)
Mosley or Mora ? Whats next for these fighters after this fight ?
Bert Sugar
(2:06 PM)
Mora has Mora to gain (that's 2/3 of a P.U.) He's 10 years younger and can shoot to the top if have wins. Heretofore, Mosley has a great career but is on his way out. If Mora wins, he can become a star and on the other hand, Mosley's star is starting to dim.
eric Godoy (Los Angeles)
if sergio mora beats mosley you think will see mora vs maywether
Bert Sugar
(2:07 PM)
I don't know if Mayweather is ever going to fight again. To me he's Floyd "Maynever". I don't know what he's thinking or doing so I don't know if Mora or anybody will be on his radar. Right not he's trying to fall into his own volcano and doing a damn good job.
Erick(l.a) [via mobile]
Bert ...its an honor....do u give margarito more of a chance than anyones giving him?
Bert Sugar
(2:09 PM)
I think he has a great punchers chance, underline puncher. I think Pac-Man is the overwhelming favorite. Margarito has a chance if he throws a knockout punch but the problem is he throws wide and that will let Manny in. There in lies the problem.
E R I C (Dallas Texas)
Do you think Roy Jones will ever get any credit in boxing history after staying so long past his prime? Is Mosley going to do the same?
Bert Sugar
(2:12 PM)
Roy Jones was one of the greatest light heavyweights of all-time. Budd Schulberg even called a "genius" fighter. He has to be considered one of the greatest light heavyweight championships of all time. The fact is, he is a shadow of his previous self like so many other fighters that have fought past their prime. But that shouldn't take away from what they have done, it should just put it all in perspective.
Bert Sugar Fan (Pittsburgh,PA)
Whats the latest on Floyd Mayweather ? Who should he fight next ?
Bert Sugar
(2:17 PM)
Right now, Floyd is fighting with himself, and doing a bad job at it. It is my belief that he feels left out and in a corner having twice walking out on a fight with Manny Pacquiao. And I wonder what his rant and rave on YouTube means to his claim and creditability that Manny was on steroids. Not only does it not support anything that he might say about Manny, it looks like he doesn't want the fight. If the offer him the fight again, Floyd just might ask Manny to take Pap test and a mammogram as an excuse. And shame on those writers and fans who thought that Floyd's claims that Manny was "dirty" and on steroids was right on.
Geoff (Burlington, ON)
In your opinion, which prospect(s) is going to be the next star of boxing?
Bert Sugar
(2:22 PM)
I might be looking at him on Saturday night and his name is Saul Alvarez. He is 33-0 with 25 KO's and fights Carlos Baldomir on the undercard of the Mosley/Mora fight. Many of his fan base in Mexica thinks he is the second coming of boxing great Julio Cesar Chavez Sr. He's a good looking kid both in and out of the ring. By the way, he is also dating Mrs. Universe from Mexico. Another is Victor Ortiz, who is also on the undercard and is fighting Vivian Harris. In that fight, you gotta love it that both Ortiz and Harris are named "Vicious" which might tell you something about the fight. Going out on a limb, I'm going to pick the winner of the fight and his name is Vicious. And I know you can't climb into the ring without a nickname but why do both of them have to have the same one?
Jerrell ((Huntsville,Al))
how much potential do you think andre dirrell has?
Bert Sugar
(2:24 PM)
I think he has a large amount of potential. He's a good fighter with a knockout punch. I'm just waiting for the Super 6 or whateverthehell it's called. But all in all, I think he has great potential.
Bert Sugar Fan I (Inland Empire)
Whats Juan Manuel Marquez' Legacy???
Bert Sugar
(2:27 PM)
Besides being one half of the greatest boxing brother combos, Juan Manuel Marquez will go down in history as a great fighter. His two fights with Pac-Mac cement that, especially the fight where he was knocked down three times and got up to draw. In fact, many people like myself, think he even won the second fight. But whatever the results, he is a surefire Hall of Famer. And his legacy is as one of the great fighters of this era.
Ruben (Seattle, WA)
How would the Klitschko brothers do against the top heavyweight fighters in history?
Bert Sugar
(2:30 PM)
Probably as hard as there names are to pronounce. The only thing they have is height and reach. They are the most unexciting things I seen since watching grass grow. They will never fight each other as brothers (which I don't know if they really are two different people, just one guy walking in and out changing his clothes). Height and reach can only take you so far and I don't see it talking them far enough against the great heavyweights.
evan (venice, ca)
Bert -you're great. what's the best KO you've seen live in person?
Bert Sugar
(2:34 PM)
Well the best fight of all, I think was the Pacquiao-Hatton fight. It was one of the most definitive KO's I've ever seen. Hearns's KO of Duran was great, when Duran went down on his nose like a two point landing. Another one was Marciano's KO of Jersey Joe Walcott. In each of these cases, it was one-punch knockout. There also have been great knockouts due to multiple punches like Haggler's KO of Hearns, Joe Lewis' KO of Billy Conn and Forman's KO of Joe Frazier.
Bert Sugar
(2:38 PM)
Well gang I'm appreciative of your questions. It's always nice to talk boxing with its fans. If you want a special night, watch the cards on Saturday night. They have an excellent undercard where there will be actual fights and not just two peanut vendors going after one another. Look forward to chatting with you again. -Bert "The Hat"