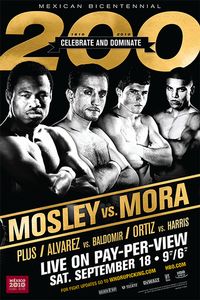 Welcome to SportsNation! On Wednesday, we're going inside the boxing ring when Sergio Mora stops by to chat about his upcoming fight on September 18.
Mora (22-1-1, 6 KO) takes on Shane Mosley (49-6, 39 KO) as the main event live from the Staples Center in Los Angeles at 9 p.m. ET/6 p.m. PT on HBO PPV.
On April 3, in his first fight in over eighteen months, Mora defeated Calvin Green by 7th round TKO on the Bernard Hopkins-Roy Jones Jr. undercard. Mora dominated Green, hurting him several times before the referee had seen enough and stopped the fight.
Before fighting Green, "The Latin Snake" split two bouts with the late Vernon Ferrest. In the first fight, Mora won the WBC Light Middleweight Championship belt but then later lost it in a rematch.
Send your questions now and join Mora Wednesday at 2 p.m. ET!
More Special Guests: Previous chats | SportsNation
Sergio Mora
(1:59 PM)
I'm glad to be back!
Michael Cook (Memphis, Tn)
Mora good luck on your Fight!!Mora who was your favorite fighter growing up?
Sergio Mora
(2:01 PM)
Growing up, I din't know anything about older fighters so I'll say Oscar De La Hoya. After I started fight and watching tapes it was Roberto Duran and Sugar Ray Leonard.
James (Kentucky)
Sergio good luck!! Mora what would be your advice for a young up and coming fighter?
Sergio Mora
(2:02 PM)
I know this might sound negative but it's the truth. A lot of up and coming boxers or any athletes for that matter put all their eggs in one basket. So my advice is not to do that. Have something else to fall back on. Not everyone becomes a professional athlete. Also, you have to know when to give up on a dream that isn't working for you. You don't want to be old still fighting for something that hasn't come true just because you have nothing else to turn to.
Tim (Pittsburgh,PA)
Sergio, do you feel that this is the biggest fight of your career?
Kevin (Philly)
Sergio, what will you need to do to beat a legend like Shane Mosley?
Sergio Mora
(2:04 PM)
Yes it is. Even though it's not for a world title, it's a big event on a big stage against one of my toughest opponents.
Sergio Mora
(2:05 PM)
He has a lot of tools like speed and power. So I will need a bit of everything to beat him especially intelligence. I have to know when to use what and I have to out smart him.
Pam (San Jose, CA)
Sergio, how does it feel to have a huge Mega Fight vs. a legend like Shane Mosley on HBO PPV?
Sergio Mora
(2:06 PM)
It's what I live for. It's what I've always wanted. I feel comfortable under the pressure.
Los (Harlem, NY)
Hey Mora. How has your training camp prepared you for your fight this saturday? Good Luck!
Sergio Mora
(2:07 PM)
I've had a great training camp. I'm physically and mentally prepared. I'm making weight comfortably. It's going to be a great event so bring it!
Eric Bad Boy Godoy (east los angeles)
How are you going to deal with mosley speed and are you going to box or bang with him?
Sergio Mora
(2:08 PM)
Do you really think I'm going to answer that question? You have to tune in Saturday night to find out how I'm going to beat him.
Tony (Las Vegas)
As a taller technical southpaw, do you feel that you have an advantage given the success of Winky and Vernon in the past?
Sergio Mora
(2:09 PM)
I hope so. Both were bigger and taller and in this fight, I'm the bigger fighter. Whatever Shane brings I'm going to try and adapt and use my size to my advantage.
Erick (l.a.) [via mobile]
Will u b goin for the k.o.? Good luck the razas pullin for u
Sergio Mora
(2:10 PM)
Of course I'm going for the knockout! I think Shane is going for the knockout so why shouldn't I?
Ramiro (Moreno Valley)
What is your biggest motivation for winning this fight?
Sergio Mora
(2:11 PM)
Greatness, doing something great.
Patrick (Pittsburgh,PA)
How did it feel to win against Vernon Forrest ? What was your relationship like with Vernon Forrest ? Good luck against Mosley.
Sergio Mora
(2:12 PM)
I didn't have a relationship with Vernon. I knew he was a great fighter and I had much respect for him up until he started bad mouthing me before the fight. I won in a great fight against a great fighter. It was a dream come true.
Laura (mexicanrose2006-purchases@yahoo.com)
Good luck Sergio, you can make it all Mexican around the world we will be behind you...Yes you can!
Sergio Mora
(2:13 PM)
Yes I will!!! Thanks Laura
alberto (los angeles)
when are you gonna fight sergio martinez
Sergio Mora
(2:14 PM)
Maybe after this fight but it's up to my promoters. Sergio is a great fighter and I would love to fight him. Hopefully we can get something done.
Sergio Mora
(2:16 PM)
I would like everyone to tune in Saturday especially all the Mexican and Mexican Americans who have never seen Shane get beat by one of us. It's for sure going to happen this Saturday. Thanks for all the questions. Talk to you before my next fight.