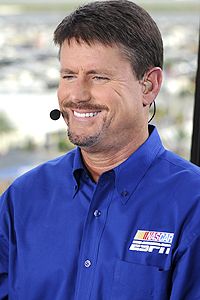 Welcome to SportsNation! On Monday, NASCAR Now analyst Andy Petree will stop by to chat about this year's season. He will appear on NASCAR Now at 5 p.m. ET on ESPN2.
Petree, a NASCAR veteran who has been a driver, car owner and two-time Cup-winning crew chief for the late Dale Earnhardt, made his television debut in 2007 as an analyst on ESPN and ABC's NASCAR coverage.
The former short-track driver turned owner has experienced his share of the ins and outs of the sport. Petree occasionally raced from 1988 to 2004, with career-best finishes of 16th in the NASCAR Busch Series (1998) and 10th in the NASCAR Craftsman Truck Series (2003).
Send your questions now and join Petree on Monday at 1:30 p.m. ET!
More NASCAR: NASCAR index | Previous chat guests
Buzzmaster
(1:30 PM)
Andy is here!
Ryan (Ventura CA)
Logano's run on Sat was: A) anomaly or B) a preview of things to come
Andy Petree
(1:31 PM)
Well, if you look at the way the Gibbs cars ran on Saturday night, it has to look good for the future, for all of their teams. He had the fastest car in the race for the last part of it. I think they're starting to figure some things out.
Dave (Boston)
Andy, we have four guys who won races and did not get into the Chase....is this good or bad for the sport?
Andy Petree
(1:32 PM)
Well, I don't think it's either one. The rules for the Chase are filled out in the beginning. You can still win races and not make it and that's still going to be there. I don't think it's bad for NASCAR. It's still competitive. There are teams out there that are consistent and can lock you out of the Chase.
Howard (VA)
I was at the race Saturday night. My issue with start and parks is this Joe Nemecheck didnt have a pit crew. That is a joke. NASCAR needs to tell teams if you dont have a pit crew you cant qualify. That would end the joke that Front Row Joe pulled Saturday.
Andy Petree
(1:33 PM)
That wouldn't necessarily end the start and park. It's an economic driven thing that we've seen. I think there were five cars that didn't finish. It's still fair. You still have to qualify for the race. The other teams that didn't qualify had the same chance and didn't get it done.
terrylee vaughn (ware shoals,sc)
hows dennys performance saturday affect other drivers in the chase and who u got sunday ya top 5
Andy Petree
(1:34 PM)
Denny ran so good Saturday I think that going into Loudon, you have to consider him a favorite. He's not intimidating anyone, the top 12 are all great drivers. They'll all be gunning for him. I think most of these teams in the top 12 are ready for him.
Wade (Florida)
Andy, Kurt Busch has the 2nd most top 10's all season, but also has finished very poorly in a few races this year. If he gets a win at Loudon, one of his best tracks, is he a legitimate threat? It would make for good tv, with his ongoing fued with Johnson.
Andy Petree
(1:36 PM)
I do. I think Kurt Busch is a threat to win the Chase. He is going to have to address the issue of the bad finishes. I think he's a contender. If you watch the NASCAR Now show tonight, we'll talk more about that. I'm picking him as a contender in the Chase.
Justin M (Boone, NC)
We've seen in a few Chases where one major contender usually has a string of mechanical failures that's puts him out of contention before he even had a chance to win the whole thing. My question is: are these failures just pure bad racing luck or is it the teams pushing their equipment harder for the Chase?
Andy Petree
(1:37 PM)
It's the latter for sure. Every team knows that they have to perform at a level higher than before. They're pushing their programs to produce. Their engines, chassi, aero programs. You're going to have failures. That's exactly what you see.
Chuck (Cleveland)
As everyone's been saying for weeks that this is the most wide open Chase that there's been in years, I'm wondering is it? Can someone who's not won all year but been around the top 5 or 10 really win the Chase? And if not Jimmie Johnson, who's the driver(s) to dethrone the champ?
Andy Petree
(1:38 PM)
The reason people are saying this is going to be the most wide open Chase in a while is Jimmie Johnson's team. He's not crushing the competition like he has before. He still may be the champion before the year is out. He's just not coming in with the hype he has before.
Andy Petree
(1:38 PM)
It looks like Denny Hamlin made a statement on Saturday night about who the favorite should be.
Marco (NH)
How could Junior have run so bad. He was passed by every car last night at least once. It was awful to watch?
Andy Petree
(1:39 PM)
It was. That's a good question. I have to think there are still a lot of questions in the Hendrick camp about what's going on there. That team is way better than that. He has more talent than that. They need to get to the bottom of it and get this team going in the right direction.
Emily (NJ)
Andy, of the 5 winless guys in the chase, who has the best shot of running the best and winning it all?
Andy Petree
(1:40 PM)
I have to say Jeff Burton. They had winning cars, half a dozen times, they just didn't pull it off. They have had the performance. Childress has shown they have the performance.
Dave B (Boston)
You say that there are 12 great drivers in the chase, which I agree with, but who do you think has no realistic chance to win the championship?
Andy Petree
(1:41 PM)
Well, driver wise? No, I think all of the drivers are good enough to win the title. But if you look at the teams, I think Matt Kenseth's team has come into the Chase flat. I don't think they have a shot at the championship.
Mark (Mount Airy,MD)
Hello Andy, Thanks for the chat. How similar are the car set ups for New Hampshire and Phoenix???????
Andy Petree
(1:42 PM)
They're real close. The tracks are not shaped the same, but they have some of the same characteristics. Years ago, we ran really well in New Hampshire and ran well and then went to Phoenix with similar set ups and ran well again.
JD (Boston)
If you made all the big decisions for the series, how would you approach the Nationwide series...let the Cup drivers run and win cash only- or go for the points too...?
Andy Petree
(1:43 PM)
Well, if it was up to me, I would let everybody compete on a level playing field. I would encourage more of the Cup drivers run and get more of them to go for the championship. Anything you do to get the best drivers in a race is a good thing. I think NASCAR will have a good middle ground where they don't let them compete for points, but just for wins.
Bart (PA)
Did you think in the post race interviews, Gordon, Burton, Kenseth and Stewart all sounded pesismistic about their chances of winning the championship or just realistic?
Andy Petree
(1:44 PM)
It's hard to be optimistic when you have a lot of facts facing you. But I also heard in Tony Stewart's voice that he was still optimistic about their chances. There is reason for optimism from Stewart and I could sense it from him too.
Chris (Dallas)
Hamilin has had JJ's number at alot of the chase tracks, Is there one specific area that the 48 needs to improve on to beat the 11?
Andy Petree
(1:45 PM)
Yeah, I think the mile and a half tracks have not been good for Jimmie Johnson. They have to figure out a way to make the car better during the race. They have not done that yet. That's one area that he has to get better in.
Clay (Charlotte)
Is JGR making the move into to being the premier organization in NASCAR?
Andy Petree
(1:45 PM)
I think they have always been one of the premier teams. If you talk to JD and Joe, they would probably say that one of the things they'd like to do is get Logano into the Chase to have all three in there. But yes, they are definitely a power house.
Mike (Nijmegen, Netherlands)
Why is/made NASCAR the new Nationwide car so much slower than the current one?
Andy Petree
(1:46 PM)
That's by design. You saw the same thing when NASCAR moved the new car into the Sprint Cup. The car is bigger. There's more room in there for the driver. It's by design that the car is slower. By slowing it down, you enhance the way the cars race each other.
Dave (Norfolk VA)
the season is toooo long, get it down by 8 weeks, finish Labor Day weekend at Darlington, start Super bowl Sunday
Andy Petree
(1:47 PM)
I'd vote for that. NASCAR fans, diehard fans want to see as much racing as they can. I wouldn't be opposed to making each race more important by having fewer, but I'm not the guy that makes those calls.
JD (Boston)
As a past NASCAR owner how do you asses this: does the fact the the Nationwide and Cup chassis are now identical tempt any of the lower division to jump up and run a race or 2 just by putting a new Cup body on?
Andy Petree
(1:49 PM)
Possibly. We'll have to see how that goes. I like the fact that they run the same chassis. The older chassis from the Cup can get filtered down to the Nationwide teams. Maybe we'll see a Nationwide team try a Cup race because the cars are similar.
Rob F (Hoboken, NJ)
Hi Andy, if Harvick loses this year will The Chase officially be considered a bust? The 29 has been the class of the field all year and deserves the cup.
Andy Petree
(1:50 PM)
No, because, I've even heard Kevin Harvick say this week that they knew the rules of the Chase going into the season. The Chase has been a success. They're continuing to tweak it. They didn't change any rules in the middle of the game. Harvick and his team knew what it took to win it.
David (ATL)
Can someone please explain why NASCAR doesnt rotate the last 10 tracks for the so called "playoffs"? There should be 10 different tracks each year to be a true playoff.
Andy Petree
(1:51 PM)
I agree. I would like to see the same thing. The only problem with that is the geographic location of some events. A November race in New Hampshire is hard. It's complicated, but I agree with you David that we should put different tracks in the Chase.
Bart (PA)
Is it possible that Dale jr's attitude has brought down the entire Hendrick organization?
Andy Petree
(1:52 PM)
Well, certainly they haven't contributed much to the development of the other teams. But I don't think they're a drag on the organization. But when you're limited to four teams, you need everyone to contribute and they haven't done that much this season.
Andy Petree
(1:52 PM)
I appreciate all of the good questions. Sounds like everyone's pretty in tune with how this season has gone so far.