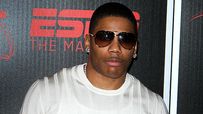 Nelly's album, 5.0 hits stores on November 16.
Welcome to SportsNation! On Monday, rapper/actor Nelly stops by to chat about his "Celebrity Sweat," DVD and his upcoming album "5.0" due out this November.
Nelly knows how important it is to promote health and wellness and how music and sports play a big role in motivating him to work out. In his new DVD "Celebrity Sweat," Nelly takes you through an exclusive workout, highlighting the best of his bicep and tricep routines. It also includes workouts from pro football, basketball, R&B and hip hop personilities.
Nelly's latest album "5.0" will be released on November 16 and his two new singles "Tippin' In Da Club and "Just a Dream" are out now.
Nelly online: @Nelly_MO | Facebook.com/nelly
Send your questions now and join Nelly Monday at 1 p.m. ET!
More Special Guests: Previous chats | SportsNation
Buzzmaster
(12:51 PM)
Nelly will be here shortly to take your questions!
Buzzmaster
(1:01 PM)
Nelly is on his way!
Buzzmaster
(1:06 PM)
He's here!
Tim (Boston)
How long did you work on the new workout DVD?
Nelly
(1:08 PM)
We probably worked on it for a couple of hours, physically doing the work. The taping was probably 4-5 hours and another hour for the photo shoot, so about 5-6 hours.
Stefon (NYC)
What's your favorite sport? Favorite team?
Nelly
(1:09 PM)
My favorite sport to watch, I would probably say football. Favorite sport to play would probably be football also. Even though I was more successful at baseball. When I was young, I had more of the build of a baseball player until I started to work out. But I like all the sports. Whatever season it is, I like that sport.
Willie (SF)
what do you make of the Cardinals this season?
Nelly
(1:10 PM)
Well, we tried. It's a little disheartening. When you have two great pitchers in Carpenter and Wainwright. We never got out and got that extra bat. I think we were a little arrogant in that we thought we could just ride Pujols and Holliday into the sunset.
Matt (IN)
Nelly do you ever grill out? If so what do you prefer, charcoal or gas?
Nelly
(1:10 PM)
We're charcoal guys around here. We want the pure flavor. I'm not mad at gas. Of course we grill out! Nothing like St. Louis barbecue.
Freddy (New Orleans)
How long were you working on the new album?
Nelly
(1:12 PM)
The new album is due out Nov. 16. The title is 5.0 I worked on it for about a year and a half. You're always recording. It's a process. Even though this one is done, I'm still recording.
Steve (KY)
Would you rather be in the studio working on an album or in the gym hitting the weights?
Nelly
(1:12 PM)
Definitely working on the album. Music is my life. Even though working out is a lifestyle and one that I've chosen, but music is my life.
Peter (Miami)
Do you have a team of people that help you put your songs together? Where do you come up with the beats and the words?
Nelly
(1:13 PM)
No, no, no. We get beats from select producers that you choose to work with. They submit songs and you decide what you want to work on. But the main selection is made by myself.
KEvin (LA)
Nelly, what got you so motivated to get into working out?
Nelly
(1:14 PM)
I've always been into sports. As you get older, you want to make sure that you're keeping your body as healthy as possible. I still do some things that I would say are not as good for my body as it should be, such as alcohol. But you try to have that balance. Your body takes a lot of wear and tear when you're in entertainment.
Marc (Charlotte)
Carolina BBQ > St. Louis BBQ
Nelly
(1:15 PM)
So you say.
Nick (LA)
what was your favorite artist(s) growing up?
Nelly
(1:15 PM)
I had an array of different music playing in my house. My father was a big music fan. Stevie Wonder, Michael Jackson. Then this thing called hip hop started taking over the world. Run DMC, LL Cool J, NWA. Scarface.
Brad (Gadsden,Alabama)
Nelly, Who is your favorite college football team?
Nelly
(1:16 PM)
Right now, I'm still rolling with my guys, Mizzou, baby! I'm not saying we'll win the national title, but we're doing good. Keep hope alive.
Tony (Texas)
Nelly, will you make a rap about Boise state getting no respect?
Nelly
(1:17 PM)
That would be kind of hard, but I agree with you. I definitely agree with you.
Tom (Kingston Ont)
Are you a boxing fan if so favorite fighter past and present.
Nelly
(1:17 PM)
I am a boxing fan. My favorite fighter of all time....it's hard. It's kind of hard to go against the greatest. I was probably more of a Sugar Ray Leonard type of guy.
Jay (Bloomington, IN)
Nelly, it's good to see you back man. Missed your music.
Nelly
(1:20 PM)
I think you'll like this new album. I think it will be a classic Nelly album when it's all said and done.
Josh (Math Class)
Can i get your current college football top 5?
Nelly
(1:20 PM)
I pretty much agree with the top 10 that's out there. But I also think that Boise also deserves a shot at the national title, if they continue on.
Nelly
(1:21 PM)
Thank you. Be on the look out for 5.0 on Nov. 16. Be on the look out for the St. Lunatic album which is also due out in November.