Chat with Miami's 'Sebastian'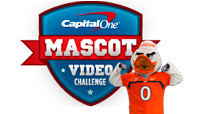 Welcome to SportsNation! On Tuesday, we start look ahead to Week 4 for the college football season with members of the Capital One All-America Mascot Team, who will compete each week to be named the Capital One Mascot of the Year, awarded on Jan. 1 at the Capital One Bowl on ESPN.
Each week of the season, the 16 mascots will face off in eight matchups with fan voting deciding the winner. At the end of the season, the mascots with the best win-loss records advance to the playoffs.
But, why mascots? Why not! They are the unappreciated glue. Plus, the winning mascot earns $20,000 for the school and the praise of the United Coalition of College Mascots.
This week, we've got Miami's "Sebastian The Ibis." In 1957 he beat out a 65-pound canine to become the Hurricane's mascot. He's a bad mamma jamma and has some intriguing thoughts on his chances for 2010, if he enjoys a leg of duck, the Miami football program and why he's superior to his competition.
Send your questions now and join "Sebastian" Tuesday at 4 p.m. ET!
More Mascot Madness: Capital One Bowl | All-America Mascots | NCAA FB Index
Buzzmaster
(4:03 PM)
We've got Sebastian!
Jessica (Coral Gables, Fl)
What is your usual game day preparation schedule?
'Sebastian'
(4:04 PM)
That's a good one. I wake up to the rooster crowing and gets going. If it's a noon game, there is probably four hours of stretching getting ready for the game. The rest of the time is spent making sure the smoke machine is ready for the team to come out on the field.
Nathan (Kentucky)
What are your expectations for this season? Do you expect to the Mascot of the Year this year and why?
'Sebastian'
(4:05 PM)
Expectations for this year for the football team is like every year, that we win every game. And, just like our players, I feel like I should win every Mascot Challenge.
Steve (Boston)
As a mascot, what are your comments on this past weekend's Ohio-Ohio State mascot brawl?
'Sebastian'
(4:05 PM)
I think there was good form on the tackle, but poor decision making.
Monte (Montana)
So do you think you have a good chance of winning the Mascot Challenge and being named Mascot of the Year, over, say, me?
'Sebastian'
(4:06 PM)
Of course, that's U swagger, that's what we're all about. Any time we're in the arena of competition, the U and Sebastian, we feel like we're winning.
Mathew (Coral Gables)
How did it feel to be in the horseshoe in front of 100,000 people who don't like you?
'Sebastian'
(4:07 PM)
Well, any Miami fan knows that the Ibis and my fellow species were the last ones to go into a storm and the first ones to come out afterwards. I didn't notice it. I enjoyed the atmosphere. I wish our team could have gotten the win.
FRED (New Jersey)
Your definatley underrated.....Whats up with Harris?
'Sebastian'
(4:08 PM)
Jacory is my boy. He's got my back. He runs alongside me on the field. I do everything I can to get the fans riled up and get their most fervent reaction.
Mark (Fort Lauderdale)
It's obvious your better looking but what is the one thing you can do better than any other mascot in the Mascot Challenge?
'Sebastian'
(4:08 PM)
Well, who else has the trademark crossin of the lips and the U?
Brutus Buckeye (Ohio)
Oh, that beating we gave you must have hurt. Now I'm gonna take it to you in the Mascot Challenge. How does that feel my fine, feathered friend?
'Sebastian'
(4:09 PM)
Just like coach Shannon says, short term memory. We're focused on Pitt. Watch us Thursday night, we're going north to get a win.
Steven (Huntsville, AL)
What are you going to dress up like for Halloween?
'Sebastian'
(4:11 PM)
I was thinking about dressing up like a Cavalier to celebrate a win over Virginia, but I think I might break out the firefighter suit from back in the day in Tallahassee.
Steven (Huntsville, AL)
Do you still have your cammo fatigues from year's past?
'Sebastian'
(4:11 PM)
Yes, that's another good option for Halloween this year.
Marc (Charlotte)
Gas or Charcoal?
'Sebastian'
(4:12 PM)
Down here in Miami, the best thing for our diverse tailgating crew is whatever works best. If it's hot dogs, probably propane. If we're throwing some BBQ on the grill, it's charcoal. And don't be surprised to see a smoker out there.
Jesse (Bryn Mawr)
Sebastian, I am inviting you to come tailgate before our Thursday night showdown in Station Square.. you in?
'Sebastian'
(4:13 PM)
Gimme a time and place. If it doesn't interfere with my pregame warmups and my coming out of the tunnel, we might be able to make it happen. The Ibis is a man of the people.
Winston (Coral Gables)
I saw you playing basketball at the gym on campus yesterday, you looked good, who taught you those skills?
'Sebastian'
(4:13 PM)
Coach, LeBron James and my boy D-Wade.
Mark (Coral Gables)
Sebastian, Over/Under 21.5: Hours per day you listen to "It's all about the U"
'Sebastian'
(4:14 PM)
Under. You forgot about the fight song.
Steven (Huntsville, AL)
Tell the truth...where do Ibises really go during a Hurricane?
'Sebastian'
(4:15 PM)
We head to the lockerroom, where we get a good halftime speech, get focused and come back out after the storm better than ever.
Donald (The Swamp)
What kind of duck are you?
'Sebastian'
(4:15 PM)
Obviously, anthropomorphic.
Jessica (Atlanta, GA)
Will you be at the Miami vs. GT game?
'Sebastian'
(4:16 PM)
I'm at every game. Football, basketball, baseball. I'm in the pool at swimming and diving. I'm doing the golf clap on the golf course. I'm everywhere.
Cane4Life (Memphis, TN)
What's ur road game travel schedule like? Who do u ride/fly with as a unit?
'Sebastian'
(4:17 PM)
If you're asking whether or not I have my game face on on the team airplane, yes. Do I ride in first class? No. That's where the seniors and our QB ride.
Adam (Miami, FL)
Is there a Mrs. Sebastian? We're all dying to meet the lucky girl.
'Sebastian'
(4:17 PM)
Pay attention to my ring finger on Thursday night.
Jason (Philly)
If an inferior mascot from an inferior school tried to jack you up, what would you do?
'Sebastian'
(4:18 PM)
Remind him, simple. It's all about the U.
Rick (Miami)
Sebastian, who is the greatest Cane QB of all time?
'Sebastian'
(4:18 PM)
They're all No. 1 in my book, but the Ibis has a political career down the line. We don't pick favorites.
Carlos (Coral Gables)
How much do you miss the Orange Bowl?
'Sebastian'
(4:20 PM)
I miss the Orange Bowl every day. It's a homesick feeling, that I will never be able to get rid of. But I'm looking forward to the day that we can win our first national championship at Sun Life Stadium.
'Sebastian'
(4:20 PM)
It's been far too long since we played a game. Sebastian's tired of practicing. The plane flies out tomorrow at 3. It can't get here quick enough. Cheer on the 'Canes Thursday night against Pitt.