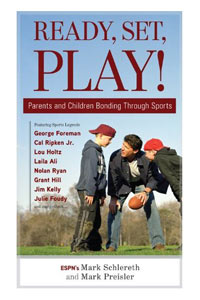 Welcome to SportsNation! On Wednesday, ESPN football analyst Mark Schlereth stops by to chat about the NFL season as well as his new book "Ready, Set, Play."
Schlereth, a former All-Pro guard, joined ESPN in 2002 as an analyst for NFL 2Night, now NFL Live. He brings 12 years of NFL playing experience to the role. Schlereth has also filled in on numerous ESPN radio shows.
In "Ready, Set, Play," some of the biggest names in sports share their philosophies on the challenges and rewards of parenting. The book will motivate all of us to make the commitment to our families to be healthy and happy through sports. Click here for an excerpt from the book in which Lou Holtz and his son Skip discuss these topics and more.
Send your questions now and join Schlereth Wednesday at 2 p.m. ET!
More Schlereth: Weekly NFL picks | @markschlereth
Mark Schlereth
(2:01 PM)
I'm here! Read for your question! How is everyone?
Jeremy Hays (Denver, CO)
Do you think Vick would have been this successful on other teams if they had taken a chance on him? Or is it somewhat unique to the Eagles system/personnel/coaching?
Mark Schlereth
(2:04 PM)
I think he would have been successful on a lot of teams. He has the skill set to be successful. But I think it helps that he is in Philly because of not only the personnel but the philosphy they use. That philosophy is essentially throw the ball. They are always one of the most unbalanced teams in the league with run/pass ratio. The thing that makes Vick uniquily gifted to run that offense is when things do break down, he will make plays with his legs. He is the most sacked QB in the league at this point, but he is also probably the biggest big play QB in the league right now. Philly has that two-step forward, one-step back philsophy. They don't mind taking a sack every now and then.
Jason (San Diego)
Is your son a better baseball player than you were a football player at his age?
Mark Schlereth
(2:05 PM)
Good question. I think yes. I think he is better right now. I went to the Pro Bowl at 25. He's 24 but I think he has the potential to be an All-Star reliever. He just needs reps and opportunities. I just got my opportunity earlier. In the last month he has been exceptional. I think he is going to be an All-Star and I can't wait to go to the All-Star Game! I hope I can get on the field!
Steven (Boulder, CO)
Curious what made you want to write this book? You could have written a book about lots of different things, like say WINNING A SUPER BOWL! THANKS FOR THAT! But what was it about this topic that struck a chord?
Mark Schlereth
(2:09 PM)
Playing with my kids and encouraging people to do the same has far greater impact than winning a Super Bowl. I'm proud of the things I accomplished in my career, but those things pale in comparison to the pride I feel in being a parent and watching my kids grow. People always ask me about quality time with my kids and my standard answer is anytime I've carved out an hour to spend some quality time, they do something to piss me off so my philosphy was quantity time. I was going to be involved. Coach their teams. Take them to school. In those moments of quantity, we found slivers of quality where we really connected. That's why this book is important to me. I want parents to be involved in their kids lives. That is the most important job you have.
Ryan (Milford, Ct)
Hey Mark do you think it is a good or bad thing the Cowboys are getting a bye week after getting out of the gutter?
Mark Schlereth
(2:13 PM)
I never liked having a bye this early. That said, it's always nice to win before your bye. The other thing is this is a football team that has heard the criticism about how much they throw the ball and really concentrated on running the ball. They were able to make those adjustments. But I always wanted our byes to be in the middle of the season.
sulaiman (new jersey)
steelers will be insanely good when ben is back right?
Mark Schlereth
(2:14 PM)
It's not that easy. I think first and foremost they are going to have to stay balanced on offense. They have really lost some balance over the years with Ben making so many big plays. The key to their success is Polamalu. If that guy can stay healthy, then the sky is the limit. He does things from the safety position nobody else can do. He can run support from 15 yards deep and he can cover from the line of scrimmage the deep third in the middle. He is crazy skilled and a very aware guy on the field.
Mark Smithson (Tampa)
I see you talked to Cal Ripken ... he obviously has a unique family sports tie with his father and brother ... what did he have to say?
Mark Schlereth
(2:18 PM)
Essentially he talked about what it was like growing up in a baseball family and what being around the game meant to him and his brother. Also the relationship with their father and what all of that meant to them. Another thing that resonated with me ... as a parent, the time committment that he made. When he was home, it wasn't about baseball. It was about being a dad. Taking the kids to school and finding time. We are all busy. But everybody functions on the same 24 hour a day clock and you have to make the commitment.
Gino Felino (Brooklyn, NY)
At what point is it important to steer a son that plays 2 or 3 sports toward one of them exclusively?
Mark Schlereth
(2:22 PM)
It's one of the biggest mistakes that we make in raising athletes. I think high school coaches do a disservice to kids by making them focus on only one sport. I think you have a better, more well-rounded athlete when they focus on the sport of the season. One of the compliments everybody paid my son before he got drafted was that he played baseball with a football player's mentality. I'm quite sure that would not have happened had I listened to the coaches and make him play baseball year-round. I think kids will naturally gravitate to the sport at which they have the most success. But why limit them early? There is a lot to be learned from all sports. My son and I had a conversation before he went to school. He had opportunities to play football and he also had opportunities to be an outfielder or to be a pitcher. At that point, we had this discussion. Do whatever you want to do ... whatever you feel will make you the happiest .. but if you aspire to be a pro athlete, then your best opportunity is going to be pitching. But that conversation came as he was going into second year of college.
Alex Kraft (TX)
If you had gone on a soap opera while you were playing, would you have had to pull a Dez Bryant and buy the team dinner?
Mark Schlereth
(2:23 PM)
No question! I wouldn't even have thought about doing that while still playing. That would have been career-threatening. I couldn't have afforded that fine. Plus at that point I was pretty chubby.
Troy T. (NY)
WHo did you talk to for the book that really left an impression?
Mark Schlereth
(2:26 PM)
Just talking to Lou Holtz is awesome. He has a quote in the book that basically says love is spelled TIME. Pretty much exactly what we talk about in this book is how important time is. I always love talking to Lou. George Foreman was great. He's an amazing man. His real father figure came later in life with somebody who befriended him, but it did not affect him. He did not harbor resentment for what he didn't have but rather what he did have.
Graig (New York)
Do you think Tom Coughlin is really losing control of the Giants or do you think most of the talk is just manufactured by the media?
Mark Schlereth
(2:28 PM)
I do think he might be losing some control. When you start hearing it in public, for it to become public, you know it has been festering behind closed doors for quite some time. It will be interesting to see what direction this team takes from this point forward. Are they going to go out and quit worrying about Coughlin's disicplinarian ways or will they go out and compete? When you hear guys talk about it publicly, you know things are not great in the lockerroom.
Mike (Ohio)
Mark, how are you physically? Do you still feel the aches and pains?
Mark Schlereth
(2:29 PM)
I do. I feel like crap. My knees hurt 24/7. My back is horrendous. I have to brace myself to sneeze. Both my shoulders need to be operated on. Yeah, my body has taken an absolute beating. It just seems to get worse all the time. But I'm not complaining. I'd do it all over again.
KD (Brunswick)
Do you think it's a good or bad thing to have a parent as your coach? Is their a certain age where it's unhealthy to live under the same roof as the person who yells at you during practice/games?
Mark Schlereth
(2:31 PM)
There are plusses and minuses to it. I know I was way too hard on my son and I apologized to him all the time about how out of control I was at points when he was just a little boy. I demanded a ton out of him. But that said, he wrote me a letter not too long ago and said he would not have gotten to where he is had I not constantly leaned on him. If I had to do it over again, I would have been a little bit more balanced.
Jake (Florida)
Hey Mark, if you were starting an NFL team right now, and had to start it with a running back, who would it be: Adrian Peterson or Chris Johnson? Thank you
Mark Schlereth
(2:33 PM)
I'd probably take Chris Johnson. Obviously he has unbelievable speed and breakaway ability. But he is a much better inside runner than people give him credit for. And he catches the ball well out of the backfield. And he helped me win both my fantasy leagues last year. I miss you, Chris!
Dr. Uwe Boll (Los Angeles)
Mark, what on-field advice have you passed along to Daniel despite the fact that he plays a different sport professionally than you did?
Mark Schlereth
(2:35 PM)
The biggest thing that I always held him accountable for was playing hard. Daniel had so much talent as a young player that he could cadillac and still be the best player on the field. That used to drive me crazy. That is what we fought about the most. I didn't care if he wasn't the best, he just happened to be. I cared about his effort. In any walk of life, there are two things you can control, your attitude and your effort. They both better be great.
Mr. Cox (Greenville, NC)
What are your thoughts on Dez Bryant's expensive bill? 55k? Are you kidding me? Think of the charities that could benefit from that money!
Mark Schlereth
(2:36 PM)
I think it would have been cheaper to carry someone's pads!
Mike (Ohio)
A 2nd question related to your health. In light of how you feel, do you think the league and/or players association should do more for guys who are no longer playing?
Mark Schlereth
(2:37 PM)
Absolutely. That is one of the reason's that we are where we are with the CBA. I find it incredibly hypocritical to preach safety and then go to a 18-game schedule. You can't tell me they truly care about the health of the athletes.
Andy (Florida)
Zone Blocking or Power Blocking - best for the run game?
Mark Schlereth
(2:39 PM)
What's best is executing. Don't be fooled. Everybody runs a form of zone and everybody has a form of power. And everything else. It's just what you major in. There are plenty of opportunities to be man in zone blocking based upon what the defense does. It's all footwork and hands and execution of blocks. I have OL videos you can watch on my website www.markschlereth.com. They are free.
Dave (LV)
Do you ever thank Elway and TD for making you famous?
Mark Schlereth
(2:40 PM)
How many Super Bowls did Elway win before I got there?! The answer is 0. I carried that bum!
Joe (Bakersfield CA)
Bears chances of winning the north and going 11-5?
Mark Schlereth
(2:42 PM)
I think that is going to be tough. Although I am pleasantly surprised by the way they have played. I still think they have deficiancies on the OL that will cost them as the season goes on. But Cutler and the receiving corp have been better than anticipated. Peppers has been a full grown man on the defensive side of the ball.
Chris D. (Capital City)
Mark, did you ever have to deal with your son playing two sports in one season? We tried it with our guy because he wanted to, but it was too much. He wound up hanging up the soccer shinguards.It's hard when coached push them to go year round, isn't it?
Mark Schlereth
(2:44 PM)
Daniel only played the sport that was in season up until high school. In high school baseball and basketball overlapped by a couple months so he couldn't do both.
eddie (el paso texas)
Do you think the cowboys will make the post season and win there divison
Mark Schlereth
(2:46 PM)
I do think the Cowboys will make the playoffs. If they can stay out of their own way. I think they are an exceptionally talented football team. Especially on the defensive side of the ball. Not sure if they will win the division. If they don't, they certainly will make it as a wild card. Thanks for the questions! I really appreciate it and hope we can do it again soon.