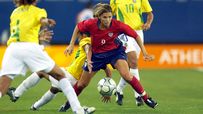 Hamm earned 276 caps in her career.
Welcome to SportsNation! On Wednesday, international soccer star Mia Hamm stops by to chat about next summer's FIFA Women's World Cup, soccer and her charity work.
In her career, Hamm won nine championships, including two Olympic gold medals and two World Cup titles. Hamm holds the record for the most international goals scored by either gender with 158. The 2004 Olympics in Athens, Greece was one of her last appearances and she was the first soccer player to carry the U.S. flag for the closing ceremonies.
Hamm is teaming up with GlaxoSmithKline to encourage adults to "Give Your Health a Shot" by staying up-to-date on vaccinations. Hamm and her husband Nomar Garciaparra have a pair of twins and they try to stay proactive with their doctors to make sure their family is getting the right exams and shots.
Send your questions now and join Hamm Wednesday at 3:15 p.m. ET!
Mia Hamm online: Mia Foundation | On Facebook
More Special Guests: Previous chats | SportsNation
Buzzmaster
(2:45 PM)
Mia will stop by in a couple of minutes to answer your questions about next year's FIFA Women's World Cup and her work with "Give Your Health a Shot."
Buzzmaster
(2:55 PM)
Mia will now be joining us at 3:15 ET! Keep those questions coming!
Buzzmaster
(3:21 PM)
Sorry for the delay folks. We hope to have Mia on here momentarily.
Mia Hamm
(3:22 PM)
I'm here and ready for you questions!
J.B. (Dunmore, PA)
Mia - Thank you for all you've done for women's soccer. I was inspired by you growing up and made me the huge women's soccer fan I am today. In a nutshell, what is the "Give Your Health a Shot" program about? We love you and Nomar in PA!!
Mia Hamm
(3:24 PM)
The campaign is about helping adults come up with an overall health plan and the importance of adult vaccinations. So much of our well being is about eating right, staying hydrated, working out, etc. But there are certain vaccinations you need as an adult. Most of us think we get what we need as kids but that is not true.
Kelly (VA)
How have you handled raising twins? Does it help having both you and Nomar being retired?
Mia Hamm
(3:25 PM)
It's definitely a juggling act, no pun intended. It's fun in every way imaginable. Challenging. Rewarding. Really everyday is a new adventure and you learn so much about yourself and about them. Just the simple things that are so important.
Scott (SoDak)
If you and the hubby were going to play "P.I.G." in the driveway, who wins?
Mia Hamm
(3:25 PM)
No question I would win that. No question.
Willie (SF)
Do you think as next year's world cup approaches that you'll start to get the itch to be out there like you were in the past?
Mia Hamm
(3:27 PM)
I still have former teammates that are playing. I love the game and want to see the U.S. succeed so in that respect, I want to be out there helping them. But I go around when I'm in town and I help out a club team and I have 15 and 16 year olds running past me, I realize my best days are gone. I should just be the best cheerleader I can be.
Steven (Houston)
How much of an honor was it to be inducted into the National Soccer Hall of Fame?
Mia Hamm
(3:28 PM)
It was a big deal. Anytime a Hall of Fame for any sport wants to include you, it is a big deal. I got to go in with Julie Foudy which was great. I grew up playing this game and never thought I would have those kinds of experiences. It was just a huge honor and thrill.
Chris Fiegler (Latham,NY)
Do you watch the Baseball telecasts on ESPN since your husband is one of the Broadcasters?
Mia Hamm
(3:29 PM)
I watch a lot more Baseball Tonight! I do. Obviously with Nomar I do watch a lot more baseball. Even though he is not playing, when I see a game it is a connection to him. I like watching and have learned so much just being around him. I've learned how tough a game baseball is and the physical grind.
Mia Hamm
(3:30 PM)
I practiced soccer every game but the focus is not the same as playing an actual game every day.
Tammy (LA)
Now that you're a "normal" mom like the rest of us, how are you juggling some of the things like doctor's visits and vaccinations with your kids?
Mia Hamm
(3:31 PM)
It's interesting. It's one of the reasons I was drawn to this campaign .. the fact that playing professionally I had access to some of the best doctors and trainers you can imagine. So if I wasn't feeling well I could just go right to someone who could take care of it. Now I'm just like every other mom out there and have to do it on my own. I have to be more motivated to be pro-active with my health and my families health.
Freddie (DC)
The women's world cup is coming up next year. do you hope that it is as exciting as the men's was this past summer?
Mia Hamm
(3:33 PM)
Yes, Freddie. Of course it will be as exciting. It will be amazing. Germany has done an amazing job of getting not just the people of Germany but all the surrounding countries excited. They have a lot of energy and momentum and are committed to the women's game. It will be a very top-notch tournament.
Sammy (Houston)
There are a lot of celebritiy marriages out there that get a lot of attention, many times for the wrong reasons. how are you and Nomar able to remain relatively normal?
Mia Hamm
(3:35 PM)
We are very boring people. To some degree we fight to be normal. We don't like being anything but who we are and that is who we are. I go to the grocery store in my sweats. I pick up dry cleaning. And so does Nomar. He is from a very modest upbringing and takes a lot of pride in doing that. In his new career, he is very dedicated to trying to improve and be the best he can be.
victor (monroe,la)
mia have you been in touch with abby womback lately?
Mia Hamm
(3:36 PM)
I saw Abby this past summer. But not since her season was over. She was obviously pretty busy. But I hope to see them in training in Southern Cali. She is a good friend. A great teammate. Just a really important part of this women's team national program. She has really helped set the standard for this team.
Mia Hamm
(3:38 PM)
Thanks for the questions and taking time out of your day. Please check out the campaign by heading to www.giveyourhealthashot.com!