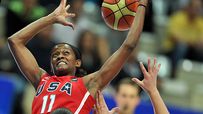 Cash won gold as a member of the 2004 Olympic team.
Welcome to SportsNation! On Thursday, Seattle Storm and Team USA forward Swin Cash stops by to chat.
Cash was named to USA's 2010 Women's World Championshp Basketball Team roster, after playing in the 2004 Olympics and 2007 World Championship teams. Swin is averaging 10.6 points and 3.8 rebounds per game as Team USA stays undefeated in pool play.
Cash is coming off her third WNBA Championship, her first with the Seattle Storm. The previous two came while a member of the Detroit Shock. In those three championship series, Cash averaged 13.6 points and 5.6 rebounds.
Swin Cash online: Swin Cash LIVE | @SwinCash
Send your questions now and join Cash on Thursday at 12:15 p.m. ET!
More Special Guests: Previous chats | SportsNation
Buzzmaster
(12:03 PM)
Team USA forward Swin Cash will be here shortly to answer your questions LIVE from the 2010 FIBA World Championships for Women.
Buzzmaster
(12:14 PM)
We've got Swin!
Swin Cash
(12:15 PM)
Hello to all the fans out there. I'm excited to get this chat started so let's go!
Brad (Gadsden,Alabama)
Swim, Do you have any pre-game rituals?
Swin Cash
(12:16 PM)
If at all possible, I like to eat the same meal before each game and I always listen to my music in a certain way. I start out with gospel, then a little R
Angela (vanwhoo22) (Renton, WA)
How does it feel to play against your storm teamates during Worlds?
Swin Cash
(12:18 PM)
(Laughing) It was a lot of fun. I got the chance to see Lauren right after our shootaround. I gave her a big hug and told her tonight we're enemies but off the court it's still all love.
kevin (macon ga)
What do you think of the Belarus skirt style uniforms?
Swin Cash
(12:20 PM)
(Laughing) Well from what my teammates said, the Belarus team think they are starting a new trend. But as my teammate Diana Taurasi said, it's been done before. I say if it looks good and feels good then go for it!
Chris Fiegler (Latham,NY)
What WNBA team do you look forward to face each year?
Swin Cash
(12:22 PM)
I love to play them all. I love playing this game and I appreciate each opportunity that I get to step on the court. Playing in Seattle, I would have to say our biggest rivalry is with the Sparks. Plus Los Anegels isn't a bad place to visit during the summer.
tollick (Seattle)
What are you planning on doing this winter? Playing ball anywhere?
Swin Cash
(12:24 PM)
Right now, I'm going to take a little bit of a rest. I'll focus more on television work, my charity Cash For Kids, and perusing different business ventures. But I haven't ruled out playing oversees before the start of the WNBA season.
Mark (Philadelphia)
How does it feel to play with so many of your Connecticut Alum and of course your college coach.
Swin Cash
(12:25 PM)
It's a comfort level that you have when you've played with these players before. So far, I think it has really helped us with the success of our team has had at the Worlds.
kevin (macon ga)
Liz Cambage of Australia is really big and did well against the US. Do you think she has what it takes to make it in the WNBA?
Swin Cash
(12:28 PM)
I think she's a phenomenal young talent. I think any WNBA coach would chop at the bits to get her. If she gets the opportunity to work with a coach that can help her skills grow on the court, I wouldn't be surprised if she ended up as one of the best players in the world at some point.
Adita (SF, CA)
How did you all celebrate the big win in Atlanta?
Swin Cash
(12:29 PM)
I didn't really have time to celebrate with teammates because the next morning we had an early flight back to Seattle. But the next day we had a team celebration in Seattle with our fans.
Swin Cash
(12:32 PM)
Thanks to all the fans for sending in questions. I like to send a special shoutout to all my Seattle Storm fans and everyone who follow me on Twitter, Facebook and at www.SwinCash.com. God Bless and Go Team USA!!!