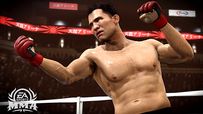 In addition to his UFC title, Shamrock also won the WEC light heavyweight and the Strikeforce middleweight belts.
Welcome to SportsNation! On Monday, legendary MMA fighter Frank Shamrock takes your questions on his career, the octagon and EA Sports' latest game "MMA" - which hits stores in North America Tuesday - where Shamrock is featured as both a playable fighter and commentator.
Shamrock, who announced his retirement from fighting in June, finished his 15-year career with a 23-10-2 record, including 17 wins by KO or submission. During his career he became the first ever UFC middleweight champion and was widely considered the best pound-for-pound fighter in the world during his prime, dominating the 90's. Shamrock is now a commentator for Showtime.
Send your questions now and join Shamrock Monday at 2:30 p.m. ET!
Frank Shamrock online: @frankshamrock | FrankShamrock.com | EA Sports' MMA
More Special Guests: Previous chats | SportsNation
Buzzmaster
(2:27 PM)
We've got Frank!
James (Terre Haute, Ind)
Are you doing any cornering for fighters or traing any guys? Im sure you have a lot of things to teach some young guys.
Frank Shamrock
(2:28 PM)
Right now, I'm only teaching basic self defense. I'm not training anybody.
Alex (Seattle)
Do you think we will continue to see MMA become more of a mainstream sport?
Frank Shamrock
(2:28 PM)
100%. This will be the biggest sport in the world in a short period of time.
Wilson (SF)
How much fun did you have working on the game?
Frank Shamrock
(2:29 PM)
It was fun. It was actually hard. The commentary was really hard. The other stuff, I just talked about fighting and advised on techniques.
Kevin (FL)
did you have any input into the game?
Frank Shamrock
(2:29 PM)
Absolutely. I did the AI for both of my characters, the classic Frank and modern Frank. And I advised on the striking and flows and submission combinations.
Tom (Kingston Ont)
Who hit you the hardest, and who do you hit the hardest? Also besides your brother what MMA fighter would you have liked to fight that you did not get a chance too.
Frank Shamrock
(2:30 PM)
The guy who hit me the hardest was a guy in 2007. The guy I hit the hardest was Phil. I hit him about 9 times that hard.
Segi (Brighton Beach NY)
Mr Shamrock who is in your oppinion best fighter in the world right now and why
Frank Shamrock
(2:31 PM)
I have no clue. I would say it's a toss up between GSP and Diaz. Pound for pound.
Maximo (NYC)
Frank big fan, any chance we will see you in the cage against your brother Ken one day?
Frank Shamrock
(2:31 PM)
I don't know. I would like to, but I don't know.
Phil (SJ)
Have you had a chance to play the game yet?
Frank Shamrock
(2:32 PM)
Oh yeah. It's amazing.
Stevie (St. Louis)
Did you have a good time recording for your commentary?
Frank Shamrock
(2:32 PM)
I did about almost 30 hours of it. It was really, really hard. I can say it's the hardest TV work I've ever done and I wasn't even on TV! Hardest stuff I've ever done.
Tommy (Queens)
Who was your toughest opponent?
Frank Shamrock
(2:33 PM)
Physically? Ortiz.
Adam R (Albany)
Frank, could you beat Anderson Silva?
Frank Shamrock
(2:33 PM)
Not today.
Tom (Kingston Ont)
In your opinion was Ken over rated as a fighter ?
Frank Shamrock
(2:34 PM)
I think he was over promoted. I don't think he was overrated. In the early days, we desperately needed an American star. He fit the bill, but he just never panned out.
Alex (Seattle)
best place to fight?
Frank Shamrock
(2:35 PM)
In your hometown, obviously.
Rook (Frisco)
could you beat Brock Lesnar in your prime?
Frank Shamrock
(2:35 PM)
I might have been too small. With his skill set, I probably could have, but I would have taken some awful damage. He's a giant dude.
kevin (Seattle)
will we see more states allow fighting?
Frank Shamrock
(2:36 PM)
I definitely think we will. We only have one state left, in New York and I think we'll have that one by 2011.
David (Seattle)
What do you think of the job Dana has donw tith the UFC?
Frank Shamrock
(2:37 PM)
He's done a great job. He's made it a global brand. When it comes to business, he's doing something right.
Marc (Charlotte)
Do you prefer the use of a gas grill or a charcoal grill?
Frank Shamrock
(2:37 PM)
I use propane.
Matt (Tulsa)
Matt Hamill is 4-0 in his previous 4 fights (if you can call the Jon Jones DQ a win). If Hamill defeats Ortiz, then is he 2nd in line for a title shot behind the Jones/Bader winner?
Frank Shamrock
(2:38 PM)
I think he's tough. I've only seen him fight Tito. I haven't seen him a lot, but I think he's tough.
Joe (Detroit)
Is there a steroids issue in MMA like some othter pro sport?
Frank Shamrock
(2:38 PM)
I wouldn't say it's a problem for our sport. I think it's a problem for our society and sports in general. I think our sport is like everyone elses.
David (Seattle)
why do you think MMA fighters seem to be much more humble than other sports' athletes?
Frank Shamrock
(2:39 PM)
I think the tremendous sacrifices to become accomplished in this sport, because it's physically challenging and diverse. It takes 10 guys to get you ready to get in there. It's a respect and comraderie that you have a respect for.
Frank Shamrock
(2:40 PM)
Just one thing. I want to say, don't forget that MMA is the first American martial art. Buy the damn video game.