Chat with Taylor Twellman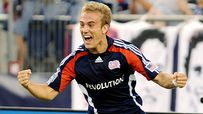 Twellman played two years in Germany after college before entering the MLS.
Welcome to SportsNation! On Friday, we'll be going on the soccer pitch to chat with Taylor Twellman, New England Revolution forward and ESPNU analyst.
Twellman, who has only played two games since 2008, after sustaining a horrible neck injury, has scored 101 goals in 174 regular season games for the Revolution. New England drafted him with the second overall pick in the 2002 SuperDraft and he has gone on to be a five-time MLS all-star and the 2005 MLS MVP.
Twellman, who played from 1998-99 at Maryland, will be working ESPNU's Harvard at Princeton men's soccer game Sunday (5 p.m. ET). The game is a part of ESPNU's soccer triple header, which also features LSU at No. 18 South Carolina (1 p.m. ET) and No. 2 Portland at No. 11 Santa Clara (3 p.m. ET) in women's soccer.
Send your questions now and join Twellman Friday at 2 p.m. ET!
More Special Guests: Previous chats | SportsNation
Buzzmaster
(1:59 PM)
Taylor should be here in a couple of minutes!
Scott Madden (Sudbury)
How's the neck/head and can we expect you back at the start of 2011?
Taylor Twellman
(2:02 PM)
As I've stated before, this is an injury that has been very difficult. It's not only myself, but athletes in all sports that have had concussions are having a difficult time with them. In the near future, I will sit down with the Revolution brass and make an educated decision with the doctors so everyone knows what's going on with the Revolution and the 2011 season.
dave (boston)
how excited are you for your ESPNU game this weekend?
Taylor Twellman
(2:04 PM)
Very excited. Any time you get a chance to promote the game of soccer for a company like ESPN, it's a great opportunity for myself and Glen Davis to have a great game and show that college soccer is a huge part of the growth of soccer in the U.S.
Westy (Dorchester)
Taylor, you heading to the American Football game on Saturday to watch your Terps go down?
Taylor Twellman
(2:04 PM)
Go Terps!
cooper (st. louis)
After the failure of the USA's forwards in the 2010 world cup, what can coach Bob do to bring a more potent offense to the next worldcup?
Taylor Twellman
(2:06 PM)
I think as with every country in the world, the No. 1 position you're looking for is forwards. I think the U.S. is no different. It's frustrating being a forward and watching the U.S. forwards struggle. But the U.S. has a bunch of young guys that Bob is going to have on the team.
Patrick Cook (marlboro,ny)
who do you having mls cup this year?
Taylor Twellman
(2:07 PM)
Clearly the favorites are Salt Lake and L.A. But I am going to go out on a limb and say whichever Western Conference teams end up in the Eastern Conference bracket has a chance. Colorado, Seattle are two teams.
kevin (va)
what sho9uld we look for in the Harvard-Princeton?
Taylor Twellman
(2:08 PM)
It's a rivalry, so when you look at a rivalry, especially in the Ivy League, it's a huge game. There's no conference tournament, so every game is important. It's going to be an intense game.
paul (la)
who do you think is the favorite?
Taylor Twellman
(2:09 PM)
I think Princeton is, because they're playing at hoome. Harvard is dealing with some injuries. Princeton who hasn't lost in 7 games would be the favorite, although a very close favorite.
Jeff (Quincy, MA)
Hi Taylor, been a huge fan of yours since your first season with the Revs. I hope you realize that we all wish you the best in your recovery. With the Revs season ending last night, what do they need to do for next season? They seem like they're missing a lot of pieces. Where do they start this off-season?
Taylor Twellman
(2:10 PM)
They're definitely missing a few pieces. They're a team that didn't score a lot of goals, I think it was 32 goals in 30 games. And it was a team that gave up 50 goals. The spine of the team needs to improve, forwards, defenders. I think that's what Steve Nichols will end up doing.
Brad (Gadsden,Alabama)
Taylor, Do you have any pre-game rituals?
Taylor Twellman
(2:11 PM)
I have too many to write down! Let's put it this way, I'm a baseball player at heart and superstition has been a part of my life since I was young. And, by the way, no one ever lets on to their superstitions.
Robert (St. Louis, MO)
Taylor, been a big fan of yours for many years think your an underated player. Do you think Stl will ever get an MLS team?
Taylor Twellman
(2:12 PM)
First of all, go Cards! What happened with AC St. Louis this year and all of the screw ups their ownership group had, I don't think St. Louis is the right site for an expansion site, even though I would love to be a part of an expansion team in St. Louis.
David (FL)
Players to watch this weekend?
Taylor Twellman
(2:13 PM)
With regards to the Princeton team, No. 9, Hoppeno. He's a goal scorer and one to watch. The Harvard goalie has 16 shutouts in his career, which is first or second in team history.
Peter (RI)
How is college soccer received around the country?
Taylor Twellman
(2:15 PM)
You see a lot of big crowds in college soccer this year, which I haven't seen before. There have been over 10,000 fans to watch soccer on the west coast. Maryland has had over 7,000. College soccer is the feeder program for MLS and they know that. I would like to see the season go longer than 2.5 months for players to become better and to get more of an education.
Junior Bill (St. Louis, MO)
Let's get to the important question... riding a current 8 game win streak, what's your call on if the Soccerbills are going to finish strong and take state this year?
Taylor Twellman
(2:16 PM)
They better. I've bet a lot of people in St. Louis that they would.
Evan (Michigan)
In your mind, who is the best collegiate team in the country right now?
Taylor Twellman
(2:17 PM)
It's difficult to pick the best collegiate team, but any team coming out of the ACC, Big East or Pac 10, you really have to watch out for. But let's be honest, I'd be remiss to not mention Akron as the team to beat, with what they've done.
Derek (Chicago)
Soccer has a weird season here, how is it playing in the cold?
Taylor Twellman
(2:18 PM)
Especially for college players, it's difficult because the season is so short. You start the season in the hot part of August and run into the cold in the Final Four. The cold is difficult because it's hard to get your muscles going. THe only way to combat it is to not stop running for 90 minutes.
Taylor Twellman
(2:19 PM)
Tune in Sunday. It should be a great game, as two Ivy League powers matchup on ESPNU. Follow me on Twitter: @taylortwellman.