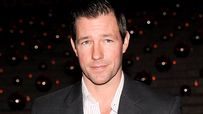 "Johnny" had a $25,000 budget, with the actors wearing their own clothes and doing their own hair and makeup.
Welcome to SportsNation! On Friday, veteran actor, director, writer and producer Ed Burns stops by as his latest project "Nice Guy Johnny" released Tuesday on DVD, iTunes Movies and Movies on Demand.
"Nice Guy Johnny," which Burns wrote, directed and acted in, features Johnny Rizzo, who is about to trade his dream job for a boring gig that will pay enough to please his fiancee. Enter Uncle Terry (Burns), a womanizer who wants to turn a weeked in New York into a fling for his nephew. Johnny's not interested, at first, but then he meets Brooke.
Burns now owns over 10 credits as a writer, producer and director. He made a big splash with his first feature "The Brothers McMullen," which won the 1995 Sundance Film Festival. He also had a part in Steven Spielberg's successful film "Saving Private Ryan."
Send your questions now and join Burns Friday at 2 p.m. ET!
Ed Burns online: Facebook | @edward_burns
More Special Guests: Previous chats | SportsNation
Buzzmaster
(1:54 PM)
Veteran actor Ed Burns will be here at the top of the hour to take your questions!
Gregory (RI)
Do you like making independent movies because you like the challenge or because of the freedom it allows you?
Ed Burns
(1:59 PM)
For me, it's always about creative control. Given that I tell smaller personal films, that's the most important thing. However, making any film, or getting it made, is close to impossible, so regardless of studio or independent, it's a challenge.
Tom (Brooklyn)
Ed, how cool has it been for you to have grown up in New York and having been able to work there for most of your career as well?
Ed Burns
(1:59 PM)
Getting to stay in New York and not have to move to L.A. has been the dream come true.
Ed Burns
(2:00 PM)
I still get to see my friends and family all the time. I get to stay home and root for my Knicks, the Johnnies, Mets and Giants.
Rodney (Orlando)
Ed, doesn't the equipment alone needed to shoot a movie cost $25,000?
Ed Burns
(2:01 PM)
Yes, it does, but given that I've been doing this for a while, I own the red camera that we shot on and we now edit the films on my Mac.
Nick (Port Washington, NY)
Eddie Burns! What's it like for you to see Fran Fitzpatrick pimping GEICO every 5 minutes on your tv?
Ed Burns
(2:01 PM)
I want to cal him today and hit him up and see if he'll finance my next film.
Ed Burns
(2:02 PM)
That said, we're planning on working together next year in a new film of mine. No, he won't actually be financing it.
Dave (Chicago)
What's the reaction been this week to the movie, considering your ground breaking distribution?
Ed Burns
(2:03 PM)
We couldn't be happier and more pleasantly surprised. Without spending one cent on marketing, no TV ads, no radio ads, no newspaper ads, we're at No. 7 on the iTunes rental chart and doing big business on demand.
Joe (Austin)
Ed, what's it like working on Entourage? Looks like it would have been a blast. How accurate is the agency life that is portrayed on that show? Do you really have to start in the mailroom or is that more just for show?
Ed Burns
(2:04 PM)
My brother Brian was a writer on the show for years and that's how I ended up doing those guest spots. They're all great guys, so hanging with them and getting an excuse to go to L.A. was a lot of fun.
Paul (Denver)
Whose idea was it to distribute the movie in the manner that you did?
Ed Burns
(2:05 PM)
It was my idea and my producer. Given that indie films have been having a harder and harder time in finding an audience theatrically and given how much it costs to market a film, we knew we had to try a new model. So far, so good.
David (Chicago)
How do you avoid the straight to DVD stigma?
Ed Burns
(2:06 PM)
Most indie films only get theatrical release in the top 2-5 markets. So, most people are used to seeing these types of titles first on Demand or iTunes or DVD. A lot of kids aren't even aware of the "straight to DVD" stigma.
Ed Burns
(2:06 PM)
So, it wasn't a concern of ours.
Willie (SF)
Do you ever think about doing what Vincent Chase didn't do - making a big blockbuster movie so you can afford to make your passion projects and other indie movies?
Ed Burns
(2:07 PM)
Much easier said than done. If they wanted me for Captain America, I would have been there in tights.
Chris (NYC)
Hey Ed, I saw you the other night at 92Y, I was the guy with the Geico crack about McGlone. Anyway, didn't get a chance to tell you after the event how much I like No Looking Back. Looking forward to Nice Guy Johnny it arrives today from Netflix.
Ed Burns
(2:08 PM)
I don't hear too many people that have even seen No Looking Back, so I appreciate the love for that film.
Nick (Port Washington, NY)
I think Jake Vig is one of the greatest movie characters of all time. When will we see you play a grifter again?
Ed Burns
(2:09 PM)
No plans to play a grifter any time soon. However, I wrote and directed a little web series called "The Lynchpin" which was definitely influenced by Vig and Confidence. You can find it on YouTube.
Dave (Apopka)
Was Five Towns ever the same after Drama left?
Ed Burns
(2:10 PM)
I'll let you know next season, if they write me back into the show.
Brad (Gadsden,Alabama)
Ed, Who is your favorite college football team?
Ed Burns
(2:10 PM)
Growing up in New York with two NFL teams, college football doesn't get much love. Therefore, most Irish guys in New York end up rooting for ND.
Ricky (NYC)
Hi Ed, Is there any truth to the rumor that you will be in The Price of Providence movie? If so, when does it start filming? I enjoyed the book and I am looking forward to this project with you being a part of it. Thanks
Ed Burns
(2:11 PM)
Yes, that is true. And like most indie films, it's taking much longer to raise the money than anyone expected, but hopefully soon.
Cindy Dougherty (Walnut Creek)
Ed - Love your work! Who do you like in the World Series? Giants or Rangers? The Rangers look like a collection of Dead Corpses. Perhaps you can write and direct Weekend at Bernies 3 and prop up the entire Rangers team as dead corpses for the film? I want to wish you a hearty good luck and congratulations! Go to the slate with power! Oy vey!
Ed Burns
(2:12 PM)
My wife is from the Bay Area and her family are life long die hard Giants fans. So, by about mid-July when the Mets season ended, our house has been rooting for the Giants.
Tayler (Houston)
Just how accurate is Entourage, in terms of the agent-actor interaction? Are things really that competitive in Hollywood?
Ed Burns
(2:14 PM)
They do a pretty accurate portrayal. While there is some exaggeration, a lot of the crazier conversations are pretty spot on.
Kyle (VA)
how many of your movies are from your own experience?
Ed Burns
(2:15 PM)
I would say that a number of them come from stories I've heard or witnessed. Some part of every script usually comes from some part of my life. But I've never taken a full story from my life.
Nick (Port Washington, NY)
Sell me on Nice Guy Johnny
Ed Burns
(2:16 PM)
As a sports fan and lover of sports radio, Johnny's journey should hit home. He's a sports radio talk show host in Oakland, working the overnights at a small station and making no money, but it is his dream job and he couldn't be happier. But he made a deal with his fiancee, that if he didn't get a substantial raise by the time they got married, they would return to New York and he would take a job with his future father in law and give up his dream.
Ed Burns
(2:17 PM)
He comes to New York, walks into his uncle's bar, which is the character I play, and I find out he's 24 and getting married, which I think is mistake No. 1. Mistake No. 2 is giving up what I think is the greatest job a guy could ever have. I invite him out to the Hamptons for the weekend to derail both of these plans. That is where the comedy ensues.
Matt (IN)
Ed, do you ever grill? If so, which do you prefer: Charcoal or gas?
Ed Burns
(2:18 PM)
I'm a gas grill guy. I'm lucky enough to have a little bit of outdoor space in NYC, so I get to grill 12 months a year.
Ed Burns
(2:18 PM)
Thanks for caring about indie film and if you dig the movie, spread the word, because that's how we're selling it.