Chat with Maryland's 'Testudo'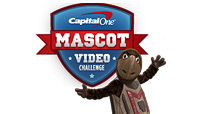 Welcome to SportsNation! On Tuesday, we look ahead to Week 9 of the college football season with members of the Capital One All-America Mascot Team, who will compete each week to be named the Capital One Mascot of the Year, awarded on Jan. 1 at the Capital One Bowl on ESPN.
Each week of the season, the 16 mascots will face off in eight matchups with fan voting deciding the winner. At the end of the season, the mascots with the best win-loss records advance to the playoffs.
But, why mascots? Why not! They are the unappreciated glue. Plus, the winning mascot earns $20,000 for the school and the praise of the United Coalition of College Mascots.
This week we've got Maryland's "Testudo." Currently in, um, last (16th) place, Testudo, of course, is a turtle. So while turtles run slow, they are steady, and in the end he may come from behind and whip a little Tiger tail or Bearcat steak. He also has some intriguing thoughts on if he's ever tried turtle soup, and which of his competition he'd most like to snap at.
Send your questions now and join "Testudo" Tuesday at 4 p.m. ET!
More Mascot Madness: Vote | Capital One Bowl | All-America Mascots | NCAA FB Index
Michelle (MD)
Do you plan on dressing as a ninja turtle for Halloween on Sunday?
Testudo
(4:01 PM)
Hello friends, this University of Maryland mascot extraordinaire Testudo. Looking forward to chatting with you and telling you why I'm kind of a big deal and why I'll make the biggest comeback since in modern history.
Testudo
(4:02 PM)
Now let me answer this Ninja question. We're actually playing the Demon Deacons of Wake Forest so I might dress up as a beaten down Deacon. Such silly Deacons. We will romp on them.
Testudo
(4:03 PM)
I'm a turtle. Slow and steady wins the race. I'm your guy. Or, think of this way. Give me the sympathy vote. Do it because I'm in 16th place.
Matt (IN)
Alright, Mr. 16th place. Why should we vote for you?
Testudo
(4:03 PM)
Sorry Matt.....that last answer was for you my friend. Slow and steady. Slow and steady. Sympathy vote my friend.
Armando (Baltimore)
How do you plan on making a comeback in the contest? Are you giving up yet?
Testudo
(4:05 PM)
Giving up? Armando, don't you understand the turtle race? Come on friend. Just like the 49ers owner said when they went 0-4....playoffs baby!
Pete (RI)
Are you allowed to eat seafood, since your family tree comes from the ocean?
Testudo
(4:06 PM)
We in Maryland prefer crabs, and I must admit to finding them quite tasty. Crabs and football....and a little hoops (2002 National Champs anyone?). But yes, I eat my own.
MIke the Tiger (LSU)
Testy, why are you so inferior to a Tiger?
Testudo
(4:07 PM)
My mother called Testy once. Once........But let's be clear, you must not of heard a turtle roar. We growl, we roar....just watch my new ESPN ad.
Paul (Boston)
how come with Maryland having such a successful season you are doing so poorly in this voting contest? Is it because the MD fans are so shocked with the good team that they've forgotten how to use the Internet?
Testudo
(4:08 PM)
Our fans have been preoccupied with attending games and therefore have forgotten to vote. But we're getting word out, and mark my word, down the homestretch I will make a little ruckus.
Paydirt Pete (New Mexico)
What about you and a mustache?
Testudo
(4:09 PM)
I've considered the mustache, but my shell provides the protective tissue that I need to generally dominate my foes. Even those with mustaches.
Ramon (Ramona, CA)
Is it true you are the only FDA-approved cure for a hangover?
Testudo
(4:10 PM)
We're still waiting on FDA approval, but there is a study at Appalachian State University that does, indeed, demonstrate turtles are the only FDA-approved cure for a hangover
Monte (Montana)
I am so much better than you dude. Freaking turtle. I poop on you.
Testudo
(4:11 PM)
Talk what smack you will my friend. And we need not bring that type of language in this chat. I snap at you sir....and by the way, I can smell you from College Park.
Jason (College Park)
TESTUDO! how pumped are you for the homecoming game on saturday. Gonna kick wakes you know what!
Testudo
(4:13 PM)
Thanks for the question Jason. Hoping for a sellout so we hope to see all of our fans. But needless to say -- we're thinking we'll pick up our 6th "W" of the season and look forward to stomping a little Demon Deacon tail.
Juan (San Juan Capistrano)
Tortoises are known to be exceptionally slow. How does that fit with your image as a mascot?
Testudo
(4:13 PM)
I'm one of the few turtles in the history of mankind to run a 4.3 40-yard dash.....with a 45 lb. weight on my back no less.
Harrison (Ford, Michigan)
If you win, will you put the money under your shell?
Testudo
(4:15 PM)
Let's not talk money. After all, this is college athletics. But needless to say, it's been a very, very good year for Maryland athletics. Five wins thus far in football, our #2 field hockey team just defeated the
Dave (LV)
Which ACC mascot do you hate the most?
Testudo
(4:16 PM)
Easy - the Blue Devil. Just ask Norman Chad.
Matt (IN)
So, turtle soup: Yay or nay?
Testudo
(4:17 PM)
I've sampled it, I must admit. And think about this - how many mascots have their own soup?
Bobby (Indianapolis, IN)
What was your greatest moment as a mascot besides meeting Gerald Ford?
Testudo
(4:18 PM)
Back in the day, intercepting a Boomer Esiason pass in practice. That was sweet.
Aaron (El Paso, TX)
Which mascot do you think is the most despised/revered in the 2010 Capital One Mascot Challenge?
Testudo
(4:19 PM)
Clearly, in spite of my won-loss record, my peers revere me most. And in sampling my 15 other Capital One All-America teammates, they concur the most hated is.....ODU's Big Blue. We're not big on Blue at Maryland.
Phillie (Philadelphia)
What career does being a mascot prepare you for besides politics?
Testudo
(4:21 PM)
A few careers: make-up artistry at a department store, dance coach, food taster, and Olympic swimmer. We at Maryland believe our degrees allow us to be whatever we wish to be in life. Even a Turtle.
Justine (Fond Du Lac)
Have you ever been recruited by the Teenage Mutant Ninja Turtles? If you were asked to join, would you consider?
Testudo
(4:22 PM)
I was, in fact, asked to join but declined as I realized they were modeling their athletic prowess after my own and felt they needed me more than I needed them.
Josh (College Park)
Testudo-- who has a better fist-pump-- Gary Williams, or The Situation?
Testudo
(4:23 PM)
I actually invented the fist pump and have tutored Coach Williams in the art. Therefore, without question, it would be Coach Williams as he's learned from the best.
Chris Fiegler (Latham,NY)
Which College Football Players who are Playing for Maryland will be in the NFL Next Year?
Testudo
(4:26 PM)
LB Adrian Moten has really caught the eye of the NFL scouts and we look forward to seeing him playing on Sundays next season and carrying on the great tradition of Maryland LBs like Randy White and EJ Henderson. Check out the sack Moten had against Navy this year. Pretty gangster indeed.
Boog (Baltimore)
In Ancient Roman warfare, the testudo or tortoise formation was a formation used commonly by the Roman Legions during battles, particularly sieges. Why (and be sure to cite your sources)?
Testudo
(4:26 PM)
Because I told them to. Source: me.
Seth (Boulder)
You were recently in a Sportscenter commercial...what was that experience like?
Testudo
(4:27 PM)
Yes, I just filmed it with my fellow Maryland graduate Scott Van Pelt. Not only is he tall, but he gives a very solid back rub.
Testudo
(4:28 PM)
This has been great folks. Thank you so much. And please come see us play Wake this Saturday in College Park at Capital One Field at 3:30. And yo! Vote for me at CapitalOneBowl.com. I deserve it.