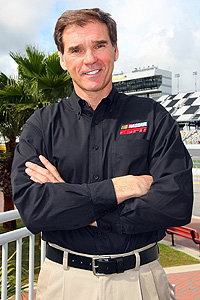 Welcome to SportsNation! On Monday, ESPN's NASCAR Now analyst Ray Evernham will stop by to chat about the Chase for the Cup.
Known for years as one of the best crew chiefs in the business, helping Jeff Gordon gain his championship foothold, Evernham has gone on to success as a car owner and on air with ESPN.
A true NASCAR insider with connections throughout the racing world, Evernham is the perfect guy to talk about the first two weeks of the season and everything else going on in NASCAR.
Send in your questions below and stop by at 1:30 p.m. ET on Monday!
More NASCAR: NASCAR index | Previous chat guests
Buzzmaster
(1:33 PM)
Ray is here!
David (Seattle, WA)
Ray, You always hear about the slightest bit of body damage ruining the aero of cars at tracks like Talladega so how was Harvick able to keep that car competitive and make that absurd charge to the front at the end? Blown away at his performance with a damaged car.
Ray Evernham
(1:36 PM)
Good question. That's going to be one of our main topics on NASCAR Now this evening. We do spend a lot of time working on small detail areas at superspeedways. With his car being torn up as much as it was, it still retained a shape that was condusive to not having a lot of drag. The team did a good job of taping up the front of it. Kevin kept the car in line so that the air wouldn't hit the nose of his car. At the end of the race, he used the two car draft to his advantage, with a damaged car. Some of it was the great job that his team did to repair the car and some was Kevin using heads up driving and experience.
David (Los Angeles)
Dale Jr. has been pretty frank that he has struggled to find the feel in the COT that he wants in order to be aggressive on the race track. What are the differences in car characteristics as they relate to driving style and how do drivers find what they need?
Ray Evernham
(1:37 PM)
The differences, being that it has a higher center of gravity and higher right side weight, they have to drive with a different feel. Not having driven, it's hard for me to know for sure. You just have to drive this new car without a lot of feel in the steering wheel. How do you fix that? It's different. The driver has to tell the team and that communication just comes from laps and experience.
Kevin (Waco, TX)
Did it look to you like Denny wasn't working very well with Rowdy during the race?
Ray Evernham
(1:38 PM)
No, it didn't look like that to me at all. It just looked like circumstances were keeping them apart. I think they would have worked together, but the opportunity didn't present itself during the race. Sometimes circumstances just keep teammates apart.
Eric (NC)
Why do loose racecars give Jeff Gordon such trouble these days? It seems like his dirt background would tend his driving style more in that direction, especially since it was his manhandling of an extremely loose Busch car that made Hendrick hire him. Any insight?
Ray Evernham
(1:40 PM)
First of all, again, I've not heard Gordon say that's what he struggles with. But I can tell you there's a difference in a car that struggles when it's loose on entry. There is a point to where when you are loose, or free, you can't put that throttle down or the car will spin out. A loose car will be slower than a tight car, because you can't put that throttle down.
David (Los Angeles)
I want to know if the Championship has become too big a deal. Jamie McMurray has won 4 huge races over the past 2 seasons, while Jeff Gordon has won 1 time in 3 years. And yet Jeff has had 2 consecutive tremendous seasons by anyone's standards. My feeling is that we used to have a "Championship" of sorts every week of the year and we have sacrificed that for the playoff system and Cup Championship. What are your thoughts?
Ray Evernham
(1:42 PM)
You can argue both sides of the point. That's a point well taken. But ultimately with any sport, your whole regular season is targeted to getting into the playoffs. Our sport, like the others, is targeted to getting into the playoffs. That doesn't keep the focus off of winning, because that's the best way to get yourself into the playoffs. But our sports has always rewarded consistency. Your goal is to make the playoffs. Some focus on consistency and others focus on the wins, but can sacrifice the consistency. It's one of those questions that can be debated forever.
Cory (Geneva, IL)
Ray, my three favorite things in sports are the Cubs, Notre Dame football and Dale Jr. Please help!
Ray Evernham
(1:43 PM)
Boy, I don't know how I can help you. Be patient and have thick skin.
Aj (Indy )
Can you explain why Kyle Busch wasn't penalized for passing below the yellow line in the truck race ? Sure he was forced down there (When he got sideways), but so was Regan Smith.
Ray Evernham
(1:44 PM)
Going back to Smith, there was no contact there when he went down there. For Kyle, he had contact and the truck turned sideways. He wasn't in control, put it under the yellow line. It was due to truck to truck contact.
Ray Evernham
(1:44 PM)
That was NASCAR's official comment on that.
Jose (Colombia)
If the race had stayed green, who might have won the race?
Ray Evernham
(1:45 PM)
I'm going to tell you Jose, I think we might have been doing the same kind of checking the film around the start/finish line. Bowyer had a car pushing him and the 00 had a car pushing him. It would have been a matter of what happened to the cars behind them. I think it would have been close.
katie (louisville)
Do you think Kasey Kahne will win with Red Bull?
Ray Evernham
(1:46 PM)
I think he has the ability to win wherever he goes, but these races are extremely hard to win. I think he and Red Bull will get into position to win. I've seen some great teams go through seasons without winning. Hoepfully the circumstances will fall where they can seal the deal.
Brian (Louisville, Ky.)
With rumors swirling that NASCAR's going to change the Sprint Cup cars in 2013 to increase manufacturer identity, I'm wondering: just how much can they change when they don't want to alter the aero properties?
Ray Evernham
(1:47 PM)
I think they'll use the success they've had with the new Nationwide car as an example. There are certain things you can do without altering the aero properties, but give a decent amount of ID back to the manufacturer.
Jake (Irving, TX)
As a team owner, how do you rate what Kyle Busch has accomplished with KBM?
Ray Evernham
(1:48 PM)
I think he's done a great job under difficult circumstances. Certainly not the best economic times to start a race team. Kyle is a racer. He lives to race and it's his priority. When you make something a priority and put all of your effort into it, it will be successful.
Dom (NJ)
Hi Ray, when Rowdy had contact with Burton at Charlotte, Burton threw a fit and when Harvick roughed up Burton at Martinsville, Burton threw another fit but yesterday when Dale stuffed him into the fence he was all smiles. How come?
Ray Evernham
(1:50 PM)
Good question. I don't know. The only thing that I can think of is that it's past history. How a driver races each other. Normally when two drivers get together, there's normally more to the story than we can see with the camera. Sometimes, it might look that one guy clearly took the other out, but it might have had something to do with something else. Normally we don't know the whole story. Good observation.
Craig (San Jose, CA)
Ray, how's your pupil Chad doing right now? I can listen to him and JJ all day on the radio. How similar is he to you when talking on the radio?
Ray Evernham
(1:51 PM)
Chad does a great job. He knows what he has to do as a leader of the organization. I think that they're confident. I think that worry and panic and nervousness are emotions that his team doesn't need to see. He's doing a great job of portraying confidence and they look at each problem with a solution. I hope he learned some of those things from me, but all in all, he's his own person and he's doing a great job of leading his team.
Ray Evernham
(1:52 PM)
Thanks for the great questions, as usual. I really believe that these next three races will be some of the most exciting of the whole season. I don't think we'll know who the champion of 2010 will be until the flag falls at Homestead.