Chat with UTEP's 'Paydirt Pete'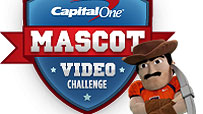 Welcome to SportsNation! On Tuesday, we look ahead to Week 10 of the college football season with members of the Capital One All-America Mascot Team, who will compete each week to be named the Capital One Mascot of the Year, awarded on Jan. 1 at the Capital One Bowl on ESPN.
Each week of the season, the 16 mascots will face off in eight matchups with fan voting deciding the winner. At the end of the season, the mascots with the best win-loss records advance to the playoffs.
But, why mascots? Why not! They are the unappreciated glue. Plus, the winning mascot earns $20,000 for the school and the praise of the United Coalition of College Mascots.
This week we've got UTEP's "Paydirt Pete," who's high on the leader board for Mascot of the Year. Keep in mind, Paydirt not only has the backing of the American Mustache Institute, but he's a firebrand known for his toughness who's not opposed to eating a Unicorn, snow leopard, or ODU's Big Blue. He does what he has to do to get the job done. So talk him up.
Send your questions now and join "Paydirt Pete" Tuesday at 4 p.m. ET!
More Mascot Madness: Vote | Capital One Bowl | All-America Mascots | NCAA FB Index
Buzzmaster
(4:01 PM)
We've got UTEP's "Paydirt Pete"!
D-man (VA Beach)
How does it feel being second to Big Blue?
'Paydirt' Pete
(4:03 PM)
We haven't had the chance to go head-to-head quite yet. We look forward to that matchup. We'll let the results do the talking.
'Paydirt' Pete
(4:03 PM)
We'll go out there with a little bit of swagger.
Holly Night (Texas)
Paydirt Pete, what did you dress up as for Halloween?
'Paydirt' Pete
(4:04 PM)
I was the ghost of all of my former opponents.
'Paydirt' Pete
(4:04 PM)
You can check it out on my Twitter page: @PaydirtPete.
Juan Mendoza (Texas)
Paydirt Pete, is there any truth to the rumor that you once saved 20 kids from a burning building and then went back in to get thier lunch boxes?
'Paydirt' Pete
(4:04 PM)
It was 30 kids. And an all-you-can-eat taco buffet.
David Chavarria Jr (El Paso, Texas)
What would it mean to you if you are able to win the mascot of the year award and what would it mean to UTEP! Keep going strong Pete best of luck.
'Paydirt' Pete
(4:05 PM)
First off, it would mean a lot to me, because it meant enough to my fans to keep on voting. And I can't thank them enough. As far as UTEP goes, it would be a statement that we mean business when it comes to being a competitor.
Joe (Texas)
When are you going to suit up and help the Miner defense?
'Paydirt' Pete
(4:06 PM)
There are still three games left in the season. A lot can happen. I will do my part and cheer on the Miners from the sideline.
Kev (VA)
What kind of steak sauce would taste best on Bevo?
'Paydirt' Pete
(4:07 PM)
I like my steaks natural. Wack them on the head, pull off the horns ...
Just Fred (Harlingen TX)
What sport gets you more excited football or basketball.
'Paydirt' Pete
(4:08 PM)
I love them both. Anything that has to do with UTEP, I get pumped up for.
devon (daniels)
Do you do halftime stunts, tumbling, slam dunks etc. during games?
'Paydirt' Pete
(4:09 PM)
I'm more of a dancer and a mover. I like to use large items with my sweet moves.
'Paydirt' Pete
(4:09 PM)
Every now and then I am known to put in a good cartwheel or backflip.
martin Armstrong (Dover delaware)
Pete, how do you keep that mustache so tight???? Give me your secret
'Paydirt' Pete
(4:10 PM)
I have a nightly regmient of 100 strokes with a fine brush. Before I go to sleep, I put on some olive oil to keep it moisturized.
'Paydirt' Pete
(4:10 PM)
Olive oil also does wonders to my skin.
Chris (ELP)
What do you say to the other TX schools since UTEP is the only school in the state that has a NCAA Men's D-I Basketball trophy?
'Paydirt' Pete
(4:11 PM)
I'm proud that we're the only school in the Lonestar state to have that distinction. It's time for us Miners to step it up and bring home another one.
'Paydirt' Pete
(4:12 PM)
The other schools can tag alone if they want.
Dave (LV)
Are you a fan of mascot on mascot violence, ala the Ohio Bobcat on Brutus of Ohio State?
'Paydirt' Pete
(4:12 PM)
I believe physicality has its place on the court and on the field, but I'm a lover not a fighter.
UTEPminermaniac (EPTX)
Do you miss your beard?
'Paydirt' Pete
(4:13 PM)
Not at all. I enjoy showing off my strong chin. People say I got it from my momma.
Alamo Miner (San Antonio)
How has the Tim Floyd era of basketball looking?
'Paydirt' Pete
(4:14 PM)
I think that it is quite possibly the most exciting time in UTEP basketball's recent history. Great stuff is going to happen.
Stephen (El Paso)
Is it true that you built the sun bowl with just your pick axe?
'Paydirt' Pete
(4:15 PM)
Yes, but at times I just would look at the rocks and they would just fall into place.
Tucker (California)
Paydirt Pete is the essence of the american dream. People like him have totally got it going on and that pickaxe looks mean. Who would want to mess with a guy like that?
'Paydirt' Pete
(4:17 PM)
I never get tired of hearing that. Pistol Pete up the street, used to think he could take me on, but I shut him down in our dance off.
Mary (SD)
Are you going to get around to telling us why we should vote for you?
'Paydirt' Pete
(4:18 PM)
I represent all of the hard working people out there. The underdogs. I'm hoping to show people through hard work and the support of great fans, anything is possible.
'Paydirt' Pete
(4:19 PM)
I can't thank all of the UTEP fans enough for voting week in week out. We have a few more weeks left. So keep up the hard work and we'll bring home a title to this sunny city, where we have 320 days of sunshine a year.