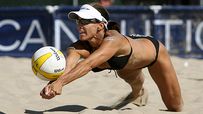 McPeak won a bronze medal in the 2004 Olympic Games.
Welcome to SportsNation! On Wednesday, ESPN volleyball analyst Holly McPeak stops by to chat about the college season.
McPeak is a three-time Olympian and will be a part of Wednesday night's women's college volleyball doubleheader on ESPNU. She will be at the St. Mary's at San Diego match that starts at 11 p.m. ET. The first game of the night pits Oklahoma at Texas A&M at 9 p.m. ET.
McPeak won the national freshman of the year in 1987 while at Cal, before transferring to UCLA in 1990. In her first season at UCLA, she helped the UCLA Bruins to a national championship.
Send your questions now and join McPeak Wednesday at 2 p.m. ET!
More Special Guests: Previous chats | SportsNation
Tina (El Paso, TX)
Which conference tournament are you most looking forward to?
Holly McPeak
(2:03 PM)
Well to be honest to you, I'm not a fan of conference tournaments. I feel teams beat up on each other all season long and making them play one another at the end of the season is tough. But I do think the Pac-10, Big XII and Big Ten will all be exciting tournaments.
James (Easton, PA)
Is this just a down year for Penn State?
Holly McPeak
(2:05 PM)
It's a rebuilding year for them. They still have a lot of talent but they lost a lot of All-Americans for last season. They dominated college volleyball for the past three years. I don't think they are having a down year; it's just a rebuilding year for them. They'll be back.
eric (california)
who is in your final four?
Holly McPeak
(2:06 PM)
This is the toughest year to predict a Final Four but if I had to pick right now, I'll go with Florida, Stanford, Cal and the last spot is between Nebraska, Texas or Hawaii.
victor (monroe.la)
Holly who wins the St. Mary's-San Diego match? Oklahoma at Texas AandM.
Holly McPeak
(2:08 PM)
I believe San Diego will win. They are the favorite. The last time these two teams met, San Diego won three straight. For the second match, A
Laura (Seattle, WA)
Who will win the Pac-10? Stanford, USC, UCLA?
Holly McPeak
(2:10 PM)
Well Cal is in first place right now. I'd have to say it's between Cal and Stanford. This is a big weekend in the Pac-10 because No. 2 Cal plays No. 10 UCLA and No. 3 Stanford plays No. 7 USC. All of which are ranked top-4 in the Pac-10.
Randy (Miami, FL)
With their record aside, is Florida really the best team in the counrty?
Holly McPeak
(2:10 PM)
I think Florida has proven to be a good team with some really good leaders. Right now they are playing great volleyball and are deserving of the No. 1 ranking.
David (Boston)
Won't this be the second time ina few weeks you've seen St. Mary's? What do you think of their squad?
Holly McPeak
(2:12 PM)
I think St. Mary's is a great balanced team. They run a great balanced attack but passing is the key. They need to pass the ball well to get their players the ball. They aren't a big team but they pass well. They have a chance to do well in their conference.
April (Ames, IA)
The Big East looks to have a tight race. Who wins it between Cinncy, Marquette and Louisville?
Tommy (Los Angeles)
Holly, have your thoughts changed about the power teams in the country this year over the last week of play?
Holly McPeak
(2:13 PM)
Right now it looks like Cincinnati is the favorite. They've had very big wins this year and I think they will take the Big East.
Holly McPeak
(2:15 PM)
No, my thoughts haven't really changed. There are a lot of really good teams out there with parity across the country. I think there will be a lot of good teams that will suffer losses before the tournament. This year's NCAA tournament will be the most interesting one in years because there are about 10 teams that have a chance to win it all.
Frank (Birmingham)
How big of a match is the Oklahoma-Texas A-M matchup tonight?
Holly McPeak
(2:18 PM)
Right now, Nebraska-Texas are one and two in the Big XII. It's important for Oklahoma to win tonight because they are only a game ahead of Iowa State for third place. Each win in the Big XII is important because it's a tough league.
April (Ames, IA)
Women's college volleyball was big news the past two seasons with Penn State going undefeated and winning back-to-back titles. What will be the big news story this season?
Holly McPeak
(2:18 PM)
I think the big news story this season is that there are about 10 teams that can win it all. In my opinion that's what makes this sport exciting. It's no longer, oh Penn State is going to win. Or who will knock Penn State out?
Holly McPeak
(2:23 PM)
Tune in to ESPNU at 11 p.m. ET tonight to see WCC No. 2 St. Mary's take on No. 1 San Diego. Talk to you again next week!