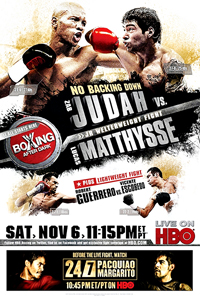 Welcome to SportsNation! On Thursday, we're going inside the boxing ring when Zab Judah stops by to chat about his light welterweight fight this weekend.
Judah (39-6, 27 KO) takes on Lucas Matthysse (27-0, 25 KO) in an IBF and WBO light welterweight eliminator bout. The fight will be live from the Prudential Center, Newark, N.J. Saturday at 11:15 p.m. ET/PT on HBO.
Judah returns to the ring after three straight wins, including the last two by knockout. He last fought in July when he stopped Jose Armando Santa Cruz in the third round. He won the first 27 fights in his career and eventually became the undisputed welterweight champion, along with the IBF and WBO junior welterweight champ.
Send your questions now and join Judah Thursday at 1 p.m. ET!
More Special Guests: Previous chats | SportsNation
Zab Judah
(12:58 PM)
I'm happy to be here, let's start!
john rivera (cleveland)
Are u feeling better at 140lb after being a welterweight??
Zab Judah
(12:59 PM)
I feel great at 140. I feel strong. I should have been campaigning here for a while.
Adam R. (South Bend)
Now that you are back on your A-game Zab, when you beat Matthysse do you plan on going after the winner of Bradley and Alexander?
Zab Judah
(1:00 PM)
As far as who I'm going to fight next, I don't really know. Right now I'm focused on Matthysse.
AW (PHX)
What will you do to really really test Mathysse and frustrate him?
Zab Judah
(1:02 PM)
I just gonna go into the ring and be me. I'm going to use my power and speed. I'm pretty sure that I won't even need to go to that second level. I'll only have to be in first gear the entire fight and if I do have to go to the second gear, put your seatbelts on because it going to be a ride.
Greg D (Raleigh)
how has the change affected your life from moving from New York to Las Vegas?
Zab Judah
(1:03 PM)
It was great moving from New York to Las Vegas. It had a lot to do with me finding God. They always say he never comes when you want him but he's always on time. And the move was the right timing for me and my family.
Courtney J (lindenwold, NJ)
Hey zab, how do you feel being back with your old promoter?
Zab Judah
(1:04 PM)
It's great. It's a great feeling being back with Main Events. I now have my own company called Super Judah Promotions too.
Tim (Pittsburgh,PA)
Zab, how does it feel to be back on HBO in your more natural junior welterweight division?
Zab Judah
(1:06 PM)
It feels good. You have to remember at junior welterweight, I didn't lose. It feels good to be back on HBO to show people that I'm the real deal. It's an exciting feeling.
john torres (ponce puerto rico)
do you think speed is going to be a factor in this fight vs a younger strong fighter??
Zab Judah
(1:07 PM)
Of course. I think speed is a factor in every fight and Muhammad Ali proved that. With the exception of Mike Tyson, no one has been able to walk right up to a fighter and just knock them out. So speed is always a factor especially when you fight with God's speed.
Shifty (Philippines)
Who do you have winning on Nov. 13, Pacquiao or Margarito? Why?
Zab Judah
(1:08 PM)
I think it's going to be a great fight and that the winner is going to win. I know I'll be watching.
Jay (Atlanta, GA)
Hey Zab, Matthysse looks like a legitimate puncher. Could he be the hardest puncher you've ever faced?
Zab Judah
(1:09 PM)
We have to wait until Saturday night to answer that. He might not even hit me so who knows.
steven (bronx, ny)
Hey Champ,You seem very dedicated and I think you have the ability to be the top light welter. When you beat all top guys in the division, would you consider moving back to welter for a second shot at mayweather or pacquiao?
Zab Judah
(1:10 PM)
I don't know. They are the two biggest fighters in boxing right now. If I were to move back up, I would want to fight one of them because they are the best out there right now.
Keiran (SYR)
Your knockout of Santa Cruz was sick. Can we expect the same thing of Matthysse? The left uppercut never gets old.
Zab Judah
(1:11 PM)
Yeah, Peter followed Paul so you can expect the same thing again. I'm not predicting anything but I'm ready to go in the ring Saturday night and fight.
R (Bay Area)
How involved is Eddie Mustafa in your camp? Or is your Dad still the leader in your corner?
Zab Judah
(1:12 PM)
Right now my dad and my Uncle Jimmie are in my corner.
Lou (Buffalo, NY)
Hey Zab, good luck Saturday! How much better do you feel at junior welter than you did at welterweight?
Zab Judah
(1:13 PM)
I feel good at junior welterweight. I feel more comfortable because its my natural weight.
Zab Judah
(1:15 PM)
Thank you to all my fans for chatting with me today. I would like to thank my Lord and Savior Jesus Christ because without him none of this would be possible. Tune in Saturday night because it will be a show.