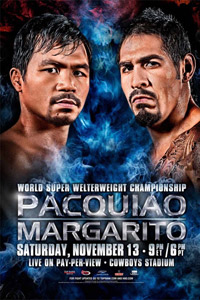 Welcome to SportsNation! On Tuesday, boxing trainer Freddie Roach will stop by to chat about the Manny Pacquiao-Antonio Margarito November 13 fight.
Roach currently trains Pacquiao, the No. 1 pound-for-pound fighter who has won nine world titles in seven different weight classes. Pacquiao (51-3-2) faces Margarito (38-6-0) Saturday, November 13 at 9 p.m. ET/6 p.m. ET on HBO PPV live from Cowboys Stadium. The fight, which will be for the vacant WBC junior middleweight title, is Pacquiao's second straight fight at Cowboys Stadium. He defeated Joshua Clottey via 12-round decision back in March.
Roach, a Massachusetts native, won the trainer of the year award in 2003, 2006 and 2008. As a professional boxer, Roach went 39-15 before retiring in 1986.
Send your questions and join Roach Tuesday at 1 p.m. ET!
More Special Guests: Previous chats | SportsNation
Darin (Los Angeles)
Freddie you have been great in predicting outcomes of fights--what is your prediction on this one?
Freddie Roach
(1:01 PM)
I think we'll knock him out inside of eight rounds.
Darin (Silver Spring, MD)
Hey Freddie, You know Margarito is going to come in about 20-25 pounds heavier than Pacquiao, how do you still believe that Manny can knock out someone that much heavier and possibly stronger?
Freddie Roach
(1:02 PM)
Weight doesn't make you have a better chin. The heavier he is, the better I feel. Gaining that much weight leading up to a fight is the worst thing in the world. It slows you down. He's slow enough as it is. It takes him two hours to watch 60 minutes.
Andres (Ventura, Ca)
Hi Mr. Roach, I was wondering if it is harder to keep focused on training when you have the HBO cameras following you and Manny around all the time?
Freddie Roach
(1:02 PM)
No, we're used to it. We're friends by now because we've had 24/7 around so many times. When we tell them to go home, they go home.
Kenneth B. (Atlanta)
Margarito knows how to attack the body well. Considering Pacquiao has been knocked out earlier in his career by body shots, does this worry you since Margarito can use his size to get those shots in?
Freddie Roach
(1:03 PM)
Pacquiao was knocked out at 112 a while ago by a body shot, but he's worked so hard that it'll never happen again. Margarito is so tall that he opens himself up when he goes for the body.
kevin (newcastle,uk)
Hey freddie, realistically how many fights do you think manny has left in his body - and if mayweather was next do you think manny would continue on after or call it a day?
Freddie Roach
(1:04 PM)
I'd like to end it there if Mayweather is next. I think he has another year in him, with his work ethic and the way he works. At least a couple more fights.
Nathan (Bay Area, CA)
Freddie, awesome work you've done with Manny throughout his career with him. How do you prepare Manny to take the punching power that Margarito possesses? Good luck & go Manny!
Freddie Roach
(1:05 PM)
I don't believe he's a good puncher. Victor Ortiz told me he can't punch at all. He's not a knockout artist at all.
Jon (San Diego)
If not Mayweather, who would you like to see Pacquiao fight next? I'd like to see him stomp either who ever emerges the best of the 140s or Andre Berto.
Freddie Roach
(1:06 PM)
I think the winner of the Santos fight would be a good matchup.
Mace (Denver)
Will this be the biggest speed advantage that Manny has had in the last couple of years?
Freddie Roach
(1:07 PM)
Yes, a hundred percent.
Marcus (Philly)
Did you guys work on anything different this time to shore up Manny's defense against uppercuts. Clottey busted him up a little bit with those.
Freddie Roach
(1:08 PM)
The reason that happened was because I instructed him to take that chance to try to get him over and up. In camp, we worked against that, because that was his best punch, but I told him to go into the pocket. They will not be successful in this fight.
Craig (New York, NY)
Hi Freddie...in one of the earlier episodes of 24/7, you noted that you were initially somewhat concerned about the fight, but in the last episode, you stated you no longer had such concerns. Why did your opinion change?
Freddie Roach
(1:09 PM)
The first part of training camp, Manny work-wise was fine. Condition-wise, he was fine. He wasn't focused completely on the fight. He was focused on politics. It took him a while to be focused on the fight. Everything's changed. He's 100 percent focused. I don't even have to explain it to him anymore. I'm very confident at this point.
Courtney J (lindenwold, NJ)
Hi freddie, how do you think manny is going to handle a long reach and powerful right hook from margarito?
Freddie Roach
(1:11 PM)
He has a big overhand right. His right uppercut is more dangerous. A reach advantage can be taken down by where you start from. You take it away if you start from shorter range. He doesn't have too much of a jab anyways, so it doesn't matter. We're going to beat him down the middle all night long.
John (Providence, RI)
Do you honestly think Mayweather will accept a fight against Manny? I still think Mayweather's meaningless undefeated record will prohibit him from taking on Manny.
Freddie Roach
(1:12 PM)
I agree. It's more important for him to keep the zero on his record so he can think he's the best ever. He can believe that. He won't risk losing that zero on his record, so he won't fight Manny Pacquiao.
Freddie Roach
(1:13 PM)
I look forward to the fight. The first four rounds are going to be very competitive, but after that, we'll break him down. Thanks for your questions!