Chat with Minnesota's 'Goldy Gopher'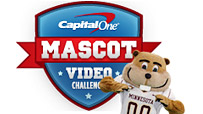 Welcome to SportsNation! On Tuesday, we look ahead to Week 11 of the college football season with members of the Capital One All-America Mascot Team, who will compete each week to be named the Capital One Mascot of the Year, awarded on Jan. 1 at the Capital One Bowl on ESPN.
Each week of the season, the 16 mascots will face off in eight matchups with fan voting deciding the winner. At the end of the season, the mascots with the best win-loss records advance to the playoffs.
But, why mascots? Why not! They are the unappreciated glue. Plus, the winning mascot earns $20,000 for the school and the praise of the United Coalition of College Mascots.
This week we've got Minnesota's "Goldy Gopher" -- the only mascot on the All-America team who is considering professional orthodontia services. Keep in mind, Goldy isn't just a mascot -- he was a stunt double in the epic film "Caddyshack" and was reported to have gotten into a few on-set scraps with Chevy Chase. Either way, he's a threat.
Send your questions now and join "Goldy Gopher" Tuesday at 4 p.m. ET!
More Mascot Madness: Vote | Capital One Bowl | All-America Mascots | NCAA FB Index
Buzzmaster
(4:01 PM)
We've got Goldy!
Adam Pietruszewski (Grand Forks, ND)
How much do you hate Bucky Badger?
'Goldy Gopher'
(4:03 PM)
On a scale of 1 to 10, I would say it's about 500.
Tom (Minneapolis)
What is it going to take to come back and win the CapitalOne Mascot of the Year title ? ? ?
'Goldy Gopher'
(4:04 PM)
We've been setting up for a very dramatic come back, so this is falling into our master plan. They're falling right into our hands. Mwahahahahaha.
Paydirt Pete (New Mexico)
I have a mustache. You do not. Would you consider living a Mustached way of life?
'Goldy Gopher'
(4:05 PM)
Here in Minnesota, we celebrate Movember if you view Nordy Wilds profile, you'll see a mustached Nordy and Goldy. We'll celebrate Movember with Carl Pavanao.
Tom (Kingston Ont)
Any relation to Goldie Rogers - the mediocre professional wrestler from the late 70's early 80's ?
'Goldy Gopher'
(4:05 PM)
He's an estranged second cousin. We don't talk to him much.
AR (MN)
Which sport do you like best: football, basketball, hockey, or other?
'Goldy Gopher'
(4:07 PM)
Seeing as I excell in all three of these, my favorite would be a combination of all three in "foo-basket-ocky."
Snoop Dog (Los Angeles)
Have you ever considered a gold tooth?
'Goldy Gopher'
(4:07 PM)
Fo' shizzle.
emily (new york)
goldy, what is your favorite mischevious stunt that you have pulled on another mascot?
'Goldy Gopher'
(4:09 PM)
Convinced the Nittany Lion that he was watching a 3D movie when we were actually throwing dangerous objects at him. Then we stole the victory bell.
Dobrila (Minneapolis, MN)
You do so many death defying stunts. How did you learn to waterski?
'Goldy Gopher'
(4:09 PM)
Learn? That's just what comes naturally. It's instinct.
Carole (Wayzata)
How do you stay so positive during football games when they are losing horribly?
'Goldy Gopher'
(4:11 PM)
I'm not touching that one with a ten foot pole.
Matt (St. Paul)
on a more serious topic...seeing the mascot on mascot violence in Ohio earlier this year...what is your response to it?
'Goldy Gopher'
(4:12 PM)
Real mascots are professionals and would rise above it.
Deb (Minneapolis, MN)
Which mascot is your fiercest competitor?
'Goldy Gopher'
(4:14 PM)
Probably Bucky, followed closely by the Creepy Bunny, the Cup and Sparty. (For more information go to Facebook for the Creepy Bunny and the Cup.)
J.B. (PA)
Did you cry at the end of "Caddyshack?"
'Goldy Gopher'
(4:14 PM)
Great movie. Should have won an Oscar.
AO (Minnesota)
Is there a lady gopher?
'Goldy Gopher'
(4:15 PM)
I like to stay free of the ol' ball and chain.
Sammy (Minneapolis, MN)
Does it hurt when you spin your head?
'Goldy Gopher'
(4:16 PM)
Once you get past the initial pop, it's smooth sailing.
Tom S (Minneapolis)
Where is your favorite place on the U of M campus to hang out ?
'Goldy Gopher'
(4:18 PM)
My favorite place on campus is watching a movie on the big screen at TCF Bank Stadium.
Jerome Hayes (Penn State)
Do you have all of your nuts stowed away for the winter?
'Goldy Gopher'
(4:18 PM)
Seeing as how the Buckeye harvest didn't go as planned, I'm still working on it.
'Goldy Gopher'
(4:20 PM)
Vote for the mascot who's in it to win it 24/7, 365 and one quarter days of the year. Keep voting for us so we can make the biggest comeback in Minnesota history. Peace love and Gopher-sion.