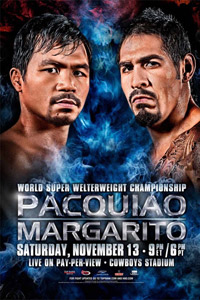 Welcome to SportsNation! On Wednesday, we'll go inside the boxing ring when boxer Manny Pacquiao stops by to chat about his upcoming fight.
Pacquiao (51-3-2, 38 KOs) squares off with Antonio Margarito (38-6, 27 KOs) in a junior middleweight title bout Saturday live from Cowboys Stadium in Arlington, Texas, on HBO PPV at 9 p.m. ET/6 p.m. PT.
It will be the second straight fight at Cowboys Stadium for Pacquiao. In March, he won a unanimous decision against Joshua Clottey in his last time at the billion dollar stadium. Pacquiao is currently ranked the No. 1 pound-for-pound boxer in the world by Ring Magazine. Margarito is presently unranked.
Send in your questions now and then join Pacquiao Wednesday at noon ET!
More Special Guests: Previous chats | SportsNation
Buzzmaster
(12:03 PM)
Manny Pacquiao will be here shortly to answer your questions about Saturday's fight against Antonio Margarito.
Buzzmaster
(12:16 PM)
We have Manny!
Manny Pacquiao
(12:17 PM)
Hey everyone! Thanks for joining me today in this chat, let's start!
Tim (Pittsburgh,PA)
Manny, what challanges does Margarito present you with?
Manny Pacquiao
(12:18 PM)
He's a bigger man, he's taller and his reach is longer. I had to come up weight for this the heaviest weight division that I've fought in. All those things present problems.
Shane Voyles (Kansas City)
Manny........I'm a huge fan, and can't wait to see you fight once again on Saturday night, do you believe you can end the fight with a KO? Best of Luck..........
Manny Pacquiao
(12:19 PM)
I don't predict the outcome of my fights. I always try to do my best. If that's how the win comes, then it will be a big bonus.
Manilathrilla (Manila)
What are your favorite pre and post fight meals?
Manny Pacquiao
(12:21 PM)
For this fight, I ate whatever healthy food we had on the table like veggies and fish. This is going to be the heaviest weight division that I've ever fought in so I really don't have to do weight deduction in order to make weight. After a fight, I eat anything I want.
kid dynamite (omaha)
Hi Pacman. In 24/7 you said you left out some of the strength and conditioning to keep your speed, what are some of the things you do for your speed ? Good Luck Saturday , hoping for a KO
Manny Pacquiao
(12:23 PM)
We've done biometrics in the middle of camp. We use the gym bags for help with speed. We built up weight with weight training and adding muscle. Outside of that, we just did different exercise in the gym.
Wally Cabungcal (Virginia Beach, VA)
Do you feel that you are 100% focused on the fight? From watching 24/7, it seemed that your role as a Congressman in the Philippines was getting in the way. It looked like it was having a big effect on the entire camp.
Manny Pacquiao
(12:24 PM)
I never lost focus on this fight. I'm still the hungry fighter I've always been. I still determined to win this fight and set a record for most wins in different weight divisions.
jjenks (md)
do you worry about his power and his speed? what you gone do to slow him down because we know he comes straight foward
Manny Pacquiao
(12:25 PM)
You have to watch the fight. Everything is still secret.
SteveFitz (Chicago, IL)
Pac Man, you're my favorite boxer of all time. Do you have an pre-fight rituals that you do and what boxer influenced your career the most?
Manny Pacquiao
(12:27 PM)
I've always been a spiritual person so the morning of the fight, I attend Mass. To be a good fighter, you not only have to be physically, mentally and emotionally ready, you have to be spiritually ready.
Manny Pacquiao
(12:32 PM)
Sorry I was late for the chat and that I have to cut it short but now I must run to get to my other engagements. Thanks to all my fans for all your support. Please tune in Saturday as I take on Antonio Margarito for the vacant WBC junior middleweight title. Hopefully this will be a record setting event as I go for another title in my eighth weight division.