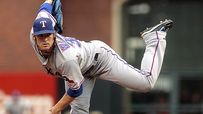 Wilson, who drove the pace car at Sunday's NASCAR race, was 1-2 with a 3.70 ERA in the postseason.
Welcome to SportsNation! On Tuesday, we'll be chatting with C.J. Wilson, pitcher for the AL champion Texas Rangers, about his breakout year this season, his trip to the World Series and his latest charity efforts.
After spending the first five years of his MLB career in the bullpen, Wilson transitioned, with great success, to the starting rotation in 2010. He won a career high 15 games with a 3.35 ERA, both of which were 10th best in the AL. His 170 strikeouts was 15th best in the AL.
Wilson's C.J. Wilson's Children's Charities serves the purpose of assisting all children and their families that are affected by chronic, life-threatening illnesses, and to support the goals of any other organization with which they concur is making a valuable contribution to society.
Send your questions now and join Wilson Tuesday at 12:50 p.m. ET!
C.J. Wilson online: LeftyLefy.com | @str8edgeracer
More Special Guests: Previous chats | SportsNation
Buzzmaster
(12:38 PM)
Texas Rangers' CJ Wilson will be here at 12:50 p.m. ET to take your questions!
Buzzmaster
(12:54 PM)
CJ is on his way folks. Just a couple of more minutes.
Buzzmaster
(12:58 PM)
He's here!
Rachel (Hattiesburg)
Hi C.J.! Congrats on a great season and what a job you did going from closer to starter. Seemed an easy process for you. What's the biggest challenge when going from closer to starter? Thanks!
C.J . Wilson
(1:00 PM)
Making it look easy is the biggest challenge I think. The hardest thing for me was to convince people that I could do it. The formula for being a good starter is you have to be in great shape. You have to be very prepared. I look forward to that part of it. It's expected.
eric (rome,ga)
Which was more fun pitching in the world series or being in the pace car at a NASCAR event?
C.J . Wilson
(1:00 PM)
Pitching in the World Series was more fun adrenaline wise, because they only let me go 45 in the pace car.
KC Aggie (KC)
Life long Rangers fan stuck in KC with the Royals. After going down 0-2 to the Giants, would you, Cliff, and Colby been willing to pitch on short rest? Thanks.
C.J . Wilson
(1:01 PM)
No, we never talked about that. I think all of us just felt that we had to go win our games. We just tried to stay positive with each other and say positive things to each other about our games.
Jeff (RI)
How did you decide what you wanted to do with your charity?
C.J . Wilson
(1:02 PM)
I was aimless for a couple of years, just donating to random stuff. Then I went to a children's hospital and it was emotional. I felt I had a philanthropic calling.
Darryl (Frisco, Texas)
Do you plan on being in on the wooing of Cliff Lee and will there be such wooing.
C.J . Wilson
(1:04 PM)
I think the fact that we went to the Series this year is a pretty good woo. The main thing is Cliff has to decide based on factors like winning, family issue, finances, everything goes into making a decision like this. I hope that he had a good time with us and the club will be a good influence.
C.J . Wilson
(1:04 PM)
I'm 0 for 1 on the wooing process, historically, they brought me in on the process with Barry Zito and he went elsewhere.
Jimmy (Austin, TX)
CJ, how do things change for the team and the rotation if Cliff signs with another team? Does JD look for another FA starter or go with younger farm system guys?
C.J . Wilson
(1:05 PM)
We have a lot of depth at the major and minor league level, but we could also use that depth to trade for somebody, which I think would be a more likely scenario than signing a free agent.
ray (dallas)
Going into next year, what do think your personal goals may be? 20 wins?
C.J . Wilson
(1:07 PM)
Personal goals are difficult to achieve outright. I experienced that this year, I set a goal to win 18 games and I fell short. But the higher you set your goals, the better you are on the field. I want to win more games and be better on the field. And walk less guys.
Chris Fiegler (Latham,NY)
How does it feel to drive a pace car in the AAA Texas 500?
C.J . Wilson
(1:08 PM)
It's nerve wracking. I've pitched in front of 50,000 people, but there were 150,000 at the race. The fact that I got an ovation before the race was cool. But having 43 guys behind me trying to warm up their tires behind me, I felt like I was trying to slow up the party. Though Sadler did tap my bumper as a gesture of good will.
Chris Smith (Dallas)
first off CJ huge fan of yours always supported you my question does losing in the world series make you and the rangers more determine to get back next year and win it
C.J . Wilson
(1:09 PM)
One hundred percent yes. That's all we talked about in our meeting after the game. After we lost a lot of the guys spoke individually and in a group setting. The thing that we talked about was that we can win next year. There's a level of optimism that comes with the achievement we had this year. It's momentum for 2011.
Alex (Prosper)
hey C.J., big fan. how are you going to come out even better next year? what do you think you need to work on the most? hope to see you get your first hit in interleague next year.
C.J . Wilson
(1:10 PM)
Physical condition is a big thing. The better shape you're in, the more tricks you learn to get into even better shape. The more you learn, the more you realize you don't know. But the most important thing is to solidify my pitching mechanics.
Jeremy (Fort Worth, Texas)
What's the most important thing you learned from watching Cliff Lee pitch this year?
C.J . Wilson
(1:11 PM)
First pitch strikes are the absolute rule. You have to minimize pitches in order to throw 8 or 9 innings in a game. That's the easiest way to do it, by putting hitters on the defensive.
Matt (Wisconsin)
My girlfriend watched the ALCS and the World Series with me and liked your hair....any tips?
C.J . Wilson
(1:12 PM)
Wash it every 2 or 3 days. But not every day.
Bryan (NY)
Do you think it's unfair to the rest of baseball that the Yankees have such a financial advantage? I'm speaking from a competitive standpoint only, not from the players themselves wanting to get paid more
C.J . Wilson
(1:12 PM)
It's fair to the rest of the league, because the large market teams contribute hundreds of millions to the rest of the league through revenue sharing and their players pay lots of extra taxes to the government. So, it's good for everybody.
Jay (SD)
Tips to get in shape for baseball season? running?
C.J . Wilson
(1:14 PM)
Periodization, in terms of running, weight lifting and coordination drills. It just gets your body ready. You learn more about that the more spring trainings you go through. Every body is different in terms of what it needs, so you have to learn yours as fast as possible and you're constantly tweaking your program.
Dan (San Francisco)
Where would you rate the Giants' pitching staff in terms of all the teams you guys faced this year?
C.J . Wilson
(1:15 PM)
They had a great effect against us in the World Series. A lot of their pitchers have a lot of accomplishments, Cy Youngs, etc. So, they definitely have the most rabid fan base of any pitching staff in baseball.
C.J . Wilson
(1:16 PM)
I'm stoked to be at a point in my career where we have bandwagon fans. I think it's awesome that we have fans of other teams because we beat their team. I want to say thanks to the fans for following me and interacting with me through Twitter.
Buzzmaster
(1:17 PM)
Thanks C.J.!