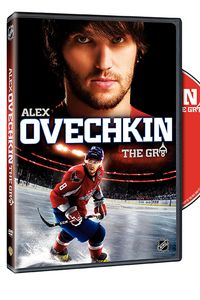 Welcome to SportsNation! On Tuesday, Washington Capitals left winger Alex Ovechkin stops by to chat.
In his first five seasons in Washington, Ovechkin led the Capitals in both points and goals, scoring over 90 points and 45 goals in each season. Ovechkin won the Hart Trophy as the NHL's most valuable player in the 2007-08 and 2008-09 seasons. Ovechkin and the Capitals are again fighting for the top spot in the Eastern Conference this season.
On Nov. 16, Warner Home Video will release "Alex Ovechkin: The Great 8" on DVD, an in-depth glimpse of behind-the-scenes footage of the daily life of the two-time NHL MVP. Follow him from picking up his first hockey stick at two years old in his native Russia to seeking redemption after his Capitals fell far short of the team's goal of winning the Stanley Cup, a wound that has inspired him to train harder and condition his body like never before.
Send your questions now and join Ovechkin on Tuesday at 12:30 p.m. ET!
More Special Guests: Previous chats | SportsNation
Buzzmaster
(12:24 PM)
Washington Capitals' Alex Ovechkin will be here at 12:30 p.m. ET to take your questions!
Buzzmaster
(12:33 PM)
Alex is here!
Scott (Germantown,MD)
Hey Ovie, how did this DVD come together & what made you decide that you wanted to do it? LETS GO CAPS!!!
Alex Ovechkin
(12:34 PM)
It's part of a demonstration to get the people to know who I am off the ice and where I grew up and how I grew up.
Dennis (Columbia, Md)
The Caps seem to be playing more aggressively this season. Do you feel there is something to prove this year?
Alex Ovechkin
(12:35 PM)
Yeah, I think we play more aggressive. We play OK. We haven't played our best right now, but we have time to improve and soon there will be more interesting games.
Andy (Virginia)
Do you love DC as much as everyone in DC loves you? You are a huge celebrity in our area!
Alex Ovechkin
(12:35 PM)
Yeah, I love the area. I love being here. It's a nice people and nice area.
Scott (South Dakota)
Alex! Thanks for taking my question. Big fan. Do you and Sidney Crosby really have a huge rivalriy, or is it mostly the media? I mean - if you were sitting in a bar with him, would you buy him a beer? Thanks - and good luck with the rest of the season!
Alex Ovechkin
(12:36 PM)
I think it's one of those things of the media. The league wants to make rivalries. We started playing against each other in our first years. It's good for the fans and for me too.
Jem (Farmington, CT)
What was the best part of making your new DVD?
Alex Ovechkin
(12:37 PM)
Just the summer time. I spent a lot of time with my friends and family and some time in my home town. It was pretty cool.
Aaron (Washington DC)
How are the rookies and other new guys and fitting in with the team this year? Do you, as the Captain, feel like you have a role in getting new guys aclimated with the rest of the team?
Alex Ovechkin
(12:37 PM)
I think we have very good chemistry with the guys. The new guys who have come have filled in. They feel pretty comfortable and joke around and do whatever they want.
Alex (NYC)
Hey Ovi, DVD looks awesome! When you get stoned on a breakaway (like Miller did to you on Saturday), is that something that stays with you, or is it easy to forget?
Alex Ovechkin
(12:38 PM)
You just forget it. You watch the replay and see what you have to do better.
Chris H (MD)
your passing has seemed to get a lot better, that pass you had to Sasha the other night was AMAZING. was that something you wanted to focus on in the off-season?
Alex Ovechkin
(12:38 PM)
No, I just try to make plays. Sometimes my passes are good and sometimes a guy gets a rebound and I get an assist.
Michael C. (Westport, CT)
Do you curse in Russian on the ice?
Alex Ovechkin
(12:39 PM)
No, not really.
Patti del P. (Culpeper, VA)
Reporters always talk about how you're constantly on your phone texting. Other than your phone, what's your favorite piece of technology to play with?
Alex Ovechkin
(12:39 PM)
Yeah, I have a Blackberry and I play some games. I play a computer and I bought Call of Duty that I'm going to play online. It's going to be nice.
Capsplusminus (DC)
How critical is it for this team to keep the other Alex? The also great 28 Alexander Semin
Alex Ovechkin
(12:40 PM)
It's always nice to have great players around you. He's one of them. We have some great young guys and skill guys on the team too.
Chris (D.C.)
Aside from the Capitals, who have the best record in the league, who do you think is the next best team in the NHL right now?
Alex Ovechkin
(12:41 PM)
It's pretty hard to say. I think Boston's playing good right now. Montreal. Detroit.
Dorothy (Hyattsville, MD)
How are you and the Capitals preparing for the Winter Classic in Pittsburgh this season?
Alex Ovechkin
(12:42 PM)
We haven't really thought about it. It's coming up soon. It will be a fun game and a good experience for us. I can't wait.
lexie (boston,MA)
Is there any defensemen you don't look forward to seeing in the NHL? the DVD looks awsome btw I'm getting it as a christmas present for my boyfriend hes a huge fan of yours!
Alex Ovechkin
(12:43 PM)
It's pretty hard to say what particular team. It's pretty hard to play against anybody.
Kevin (Atlanta, GA)
What's your favorite sport besides hockey?
Alex Ovechkin
(12:43 PM)
Soccer.
Mikey (Lackawanna,NY)
Were you a big fan of Pavel Bure growing up?
Alex Ovechkin
(12:43 PM)
Bure was one of the best Russian players who played. I liked Fedorov a lot.
Shaya (NYC)
What is your opinion on the shootout? Do you think it is good for the game?
Alex Ovechkin
(12:44 PM)
Yeah, I think it's nice. I think it's some fun for the game. I can't wait until it's shootout time.
Joe (DC)
made it to my first Caps game this past Sunday. I was already excited, but seeing you score in the first 1:30 was awesome. Thanks for being a part of the only good thing Washington sports has to offer.
Alex Ovechkin
(12:44 PM)
Thanks!
Peanut (Maryland)
Other than you, who do you think is the best player in the NHL?
Alex Ovechkin
(12:45 PM)
I don't think of one player as the best. The NHL is the best league in the world. There are a few players that are the best.
Jon (Pittsburgh)
Who would be your first selection if you were to be a captain at the all star game?
Alex Ovechkin
(12:45 PM)
I don't know yet.
Cory Twibell (Long Island)
What's up Alex? Do you have one moment in your career that sticks out above the rest?
Alex Ovechkin
(12:46 PM)
Yeah, when you lose in the playoffs. It sticks in your mind.
James (Rochester, NY)
What do you think about the NHL regulating hitting in the game? Do you think they are going to far? Are players second guessing themselves before making a hit now?
Alex Ovechkin
(12:47 PM)
Hockey is one of the most physical games in the world, like football. You don't want players to get hurt. When it happens, there's nothing you can do about it. It's very hard.
Alex Ovechkin
(12:47 PM)
Thanks for supporting the Caps and hockey. I'll see you at the hockey rink.