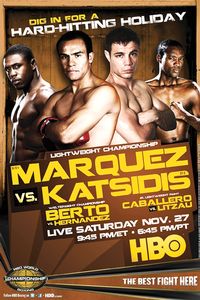 Welcome to SportsNation! On Tuesday, we will go inside the ring when WBC welterweight champ Andre Berto stops by to chat about his upcoming title fight.
Berto (26-0, 20 KOs) takes on Freddy Hernandez (29-1, 20 KOs) Saturday from the MGM Grand Garden Arena in Los Vegas, live on HBO at 9:45 p.m. ET.
Berto won the vacant WBC belt by defeating Miguel Angel Rodriguez via TKO in 2008 and he has made four title defenses in the last two years. In April, Berto defended his title with an eighth-round technical knockout win over Carlos Quintana.
With a win Saturday, Berto will join the list of ideal candidates to face welterweight titlist Manny Pacquiao. Berto's promoter Lou DiBella has said that any talks he has about a potential Pacquiao fight are strictly in the event that Floyd Mayweather either won't or can't take the fight.
Send your questions now and join Berto Tuesday at 4 p.m. ET!
More Special Guests: Previous chats | SportsNation
Buzzmaster
(4:00 PM)
We've got Andre!
Courtney J (Lindenwold, NJ)
hey andre, what's your gameplan for the fight cause hernandez has a tough chin?
Andre Berto
(4:01 PM)
Just stay focused and stay consistent. He might have a tough chin, but you want to put in as many shots as you take.
Matt (Plano, TX)
What do you do to prepare each time before a fight?
Andre Berto
(4:01 PM)
We get our gameplan together. Try the best we can to try and work that gameplan for each fight. We're going to carry it out for this fight.
rylandaniel (philippines)
who do you prefer to fight? pacquiao or mayweather? who would you think would be difficult to fight?
Andre Berto
(4:02 PM)
Right now, my focus is on Hernandez.
Roger White (Tacoma, WA)
Hey Berto where Do U see your boxing career five Years from now?
Andre Berto
(4:02 PM)
In the next five years, basically I would like to have given the fans what they wanted. Give them exciting fights.
Jimmy (Maryland)
If you successfully defend your title on Saturday against Freddy Hernandez, would you be willing to challenge Manny Pacquiao in your next bout?
Andre Berto
(4:03 PM)
All my focus is on Saturday night, but anything is possible. Right now we have to get through Saturday night to focus on the future.
AW (PHX)
Hey Champ who have you sparred with to prepare yourself for Bika's Style?
Andre Berto
(4:04 PM)
Sparring has been good. I had some tremendous sparring partners. We're in tip top shape and we're ready.
Courtney J (Lindenwold, NJ)
Hey andre, who was your favorite fighter as you was growing up?
Andre Berto
(4:04 PM)
Louis, Hagler, Mike Tyson, Robinson.
humberto hernandez (california)
hey Berto, im a huge fan of your speed and power, youre a physical beast... but how do you prepare mentaly for a fight?
Andre Berto
(4:05 PM)
I take a lot of time. I stay focused. I have a lot of time to myself. Do a lot of praying and make sure that I'm ready to go mentally and physically as well as spiritually.
Colaboy (Pensacola,FL)
Andre what's up ? I want to know why its so complicated to get the best to fight each other? I would love to see you fight Floyd or Manny or any other top fighter.Is it politics or are all these dudes just cowards?
Andre Berto
(4:06 PM)
There are a lot of different things that go on. There are two separate teams. Two separate management teams and two separate promotion teams. The money aspect has to be agreed on. There are a lot of things to negotiate before the fight happens. It's not easy.
Dan (Chicago)
Do you feel you need a big impressive win on Saturday to propel yourself to the front of the line in the Pacquiao sweepstakes?
Andre Berto
(4:07 PM)
I always try to make sure that I go in and impress, but at the end of the day, the only thing that matters is a win. But I do want to go in and win impressively.
Julio (DFW)
Andre, will we ever see you in a rematch with Collazo?
Andre Berto
(4:08 PM)
We'll see. Right now, the focus is all on Saturday night.
darius (evansville in)
do feel underrated at times some announcers during some other big name fights have said that your not that great as being known and promoted how do you feel about that
Andre Berto
(4:09 PM)
As of right now, I'm still the youngest fighter and champ in the top 10. I feel like the only competition that I really have is against the top top guys. I think it's more flattering to me actually, that they think the only ones that can compete with me are the top guys.
Manny (Riverisde,CA)
good luck on saturday. has your previous injury given you any problems during training camp?
Andre Berto
(4:09 PM)
No, actually, I went through some good rehab for my bicep. No complications and I'm ready to go.
chris (oklahoma city)
Andre, good luck this weekend and thanks for always putting on a good show. You're obviously very fast. Have you ever fought someone faster than yourself?
Andre Berto
(4:10 PM)
No, I don't think I have yet. I don't think I have yet. I think I have a good advantage. It's all about getting better.
Kid Tejano (Milky Way)
Has your stamina improved?
Andre Berto
(4:11 PM)
Yeah, I've definitely improved it. My conditioning has always been an important thing in our camp. I think that's the best weapon you have as a fighter. My conditioning is my number one weapon.
Julio (DFW)
what is your training routine like? do you train everyday for hours, or to you alternate days?
Andre Berto
(4:11 PM)
I'm pretty much going every day. The only day off I have is Sundays. We go three a days during the week.
malachi (Dade county )
Do you believe in olympic style testing and if so shouldnt manny take it if he has nothing to hide
Andre Berto
(4:12 PM)
I think Olympic style testing is fine. It's something different. I don't have a problem with it at all.
Jimmy (Maryland)
What did you think of the Martinez/Williams rematch?
Andre Berto
(4:13 PM)
I think it was a good fight. Both of them came ready to fight. Martinez had a gameplan and he timed his shot perfectly. That was definitely a good fight.
Andre Berto
(4:13 PM)
I appreciate all the fans and for tuning into the chat. Tune in Saturday night, it will be a blast.