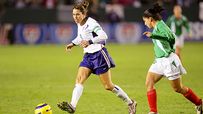 A Stanford graduate, Foudy played 18 seasons with Team USA.
Welcome to SportsNation! On Thursday, we'll be talking with Julie Foudy about the NCAA women's soccer tournament College Cup, which airs this weekend on ESPN's family of networks.
On Friday, ESPNU/ESPN2/ESPN3.com will air Notre Dame-Ohio State (4 p.m. ET) and ESPNU has Boston College-Stanford (6:30 p.m. ET) in the national semifinals. The national championship game is Sunday at noon ET on ESPN2.
Foudy, a three-time Olympic medalist, served as national team captain from 1991-2004, when she retired. She left the game with 271 international caps, the third most all-time by a male or female player.
Send your questions now and join Foudy Thursday at 3:30 p.m. ET!
More Special Guests: Previous chats | SportsNation
Buzzmaster
(3:30 PM)
We've got Julie!
Evan (Miami)
How cool is it that we have the ACC, Big East, Big Ten and Pac 10 represented this weekend? Kind of cool to have four different big time conferences out there.
Julie Foudy
(3:33 PM)
It is. It is cool. Especially cool too because two of them are newbies in BC and Ohio State. Going into this tournament, there were a lot of people who said that we might see some new teams this year. That was fun to see as well. We saw teams like Irvine, Washington, BC do well. It's all good. Parity is increasing.
Kevin (KC)
What do you make of a lot of the top teams being eliminted throughout the tournament?
Julie Foudy
(3:35 PM)
As is the case always with big tournaments, it's how you are when you get to that big stage. Are you healthy? Are you peaking? UNC had a slate of injuries to their key people. That's what makes a streak like UNC's so impressive. I think it speaks to the fact that there's an increase in parity this year.
at (ct)
how good is BC's Kristie Mewis? do you think she'll eventually be on the NT?
Julie Foudy
(3:36 PM)
I think she's really good. She can strike the ball with her left foot. Between her and Vicki, the two of them are doing very well. They switched formations at the end of the season and it seems to suit them quite well. Stanford plays a similar system. So who presses could dictate the game and set the tone.
Harry (LA)
Taking off your soccer analyst cap for a minute, as Stanford woman, how fun has it been for you to watch your alma mater make this great run this year?
Julie Foudy
(3:38 PM)
I'll probably get in trouble for saying this, because I'm supposed to remain objective, but you asked me to take my TV cap off. My dad picked me up from the airport the other day and I said how cool could it be that I could be commentating on the chance for Stanford to win their first title. This is a neat group of gals and they play a fun style of soccer.
Kelly (Houston)
Just how great has Christen Press been during this tournament?
Julie Foudy
(3:41 PM)
I think she's been phenomenal. She's leading the nation in goals with 26. She's broken all sorts of records. They had Kelly last year with Christen and now Christen has had an even better year. Really, the beauty of Stanford is they have quite a balance. If you're talking about just the tournament, she's only scored a third of the goals this tournament. They have a really complete team. But to put those numbers on the board for any player is phenomenal.
Will (Sacramento)
Do you still stay in contact with some of your former Team USA teammates?
Julie Foudy
(3:43 PM)
Oh yeah. They're stuck with me forever. I was just in Germany with Mia. We spent a few days for the World Cup draw. I'll see some at the College Cup this weekend. We all see each other quite often. I'm staying at Carla's right now at the College Cup. That's why we all played so long was we loved each other so much.
Rachel (Hattiesburg)
Julie, I want you playing soccer in the Bay Area again. Stanford was good times. Do you ever miss those Stanford days? Thanks!
Julie Foudy
(3:44 PM)
Oh yeah. I want to go back to college for sure! Who doesn't, right? All your bills are paid for. You're there with all of your friends. I was lucky enough with the national team to extend that period of my life for a while. We would all be living in a house, training together. Those were four of my best years. I loved it there.
Chris Fiegler (Latham,NY)
Who do you think will be the National Champion in NCAA Women's College Soccer?
Julie Foudy
(3:46 PM)
You've got some really interesting matchups. You've got some teams that overcame some adversity. Ohio State had some losses, so did BC. You have some teams like that that aren't as highly ranked, but you get past some adversity and they come in with the mindset that we have nothing to lose here. That's what you're hearing from those teams. The two you naturally point to are Stanford and Notre Dame, but that's what I love about collegiate athletics, anything can happen. That's why I said that UNC's run was so impressive that they're able to recreate that.
Julie Foudy
(3:46 PM)
Thanks for watching. Thanks for the great questions. Tune in on Friday and Sunday!