Chat with the Globetrotters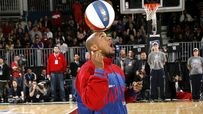 Christensen is Montana's all-time assist leader.
Welcome to SportsNation! On Thursday, we will have two of the newer members of the legendary Harlem Globetrotters, Dizzy Grant and Scooter Christensen, stopping by to chat. Grant, in his fifth season as a Globetrotter, and Christensen, in his sixth season, will be a part of the Globetrotters game that will be aired on Sunday on ESPN2 (7:30 p.m. ET). The game will debut the 4-point shot.
Grant played college basketball at College of New Jersey, winning the New Jersey Athletic Conference player of the year his senior season, and he compares all of the personalities on the Globetrotters with those in "The Office." Christensen, who graduated from Montana in 2002, owns two Guinness World Records. At NBA All-Star Weekend 2010, he spun a ball on his head for 7.9 seconds and spun a ball on his nose for 5.1 seconds.
Send your questions now and join the Globetrotters Thursday at 2:30 p.m. ET!
More Special Guests: Previous chats | SportsNation
Buzzmaster
(2:22 PM)
Our two Globetrotters, Dizzy Grant and Scooter Christensen should be here soon!
Buzzmaster
(2:25 PM)
The guys are here!
Greg (Boston)
So, does working on all those long distance trick shots help you out, now that there will be a 4-point shot in play?
Dizzy Grant
(2:25 PM)
Definitely it does. We practice a lot on our trick shots and being able to hit them consistently. To be able to shoot from halfcourt, it helps to being able to shoot from that far.
Derek (CA)
What have you learned from the guys that have been with the team a long time, guys like Curly?
Scooter Christensen
(2:26 PM)
Curly's the man. How can you not learn from him. You learn what he did as a Globetrotter and what he did off the court. He's one of the few that retired his jersey as a Globetrotter. He's a very good mentor to me. I'm blessed to just have him around to talk to.
Peter (RI)
Are we going back to MTV's Rock 'n' Jock games? What's next? Will you guys raise the hoop or instill the 25 foot, 25-point shot?
Dizzy Grant
(2:27 PM)
You never know! We've been around for 85 years. We've been innovators of the game to the alley oop, behind the back pass. You never know, 25-30 years from now, you never know what we'll be doing. The same excitement that Rock n Jock had when they lowered the hoop is the same we'll have with the four point shot.
DJ (Kentucky)
Is being a Globetrotter all you thought it would be or is it so much more?
Scooter Christensen
(2:28 PM)
It's probably been more. I'm doing something I love to do. I've been to 40-50 countries. I've traveled all over and seen all sorts of people I never thought I'd have that opportunity. I think everyone on the team feels blessed to be in the position we are today.
Rachel (Hattiesburg)
Hey guys! What city has been your favorite place to play? Which city seemed to enjoy it the most? Thanks!
Dizzy Grant
(2:29 PM)
We play 220 different cities on our domestic tour. Every night that city is our favorite. IT's hard to pick one. We play for the fans that enjoy being there. We get fun out of being there and giving two hours of joy to the fans.
Scooter Christensen
(2:29 PM)
Whatever city we're in is our favorite.
Matt (Plano,TX)
I love watching the stuff you guys do- what do you do before each game? any special routine?
Scooter Christensen
(2:30 PM)
We practice about 2-3 hours before every game, just like any other team, we run basketball drills, go through defense. Then we have some time to work on our tricks as well. We practice 2-3 hours a day, but the ball is probably in our hands 24 hours a day. We just try to be creative.
Stephen (adelaide)
Hey! do you guys plan on playing d? do you think the opponent will? thanks!
Dizzy Grant
(2:31 PM)
Stephen, yes, we do play defense. First and foremost, we're basketball players. Everyone is a good player. That's how we got on the team. We do play defense. With this four point shot coming up, it will be hard for the Generals to beat us. If you're down, you can make a comeback, if you're up, you can blow the game open.
Kevin (KC)
how will the shot work? will it always be in play or only at certain times?
Scooter Christensen
(2:32 PM)
The shot will be activated at the end of each quarter at the 3-minute mark. That's how it will be played.
Sara Bartolain (Avalon, NJ)
What % of 4-Point Shots do you think you'll make?
Dizzy Grant
(2:32 PM)
I'm going to say somewhere between 40-60%. We work hard on the four point shot. I think that's a reasonable percentage to make.
greg
will the generals have a chance to make some too?
Dizzy Grant
(2:33 PM)
Yes, they will. At the 3-minute mark when it's activated. It goes for both teams. I'm sure they're probably practicing right now. The Generals owner said "bring it."
Scooter Christensen
(2:34 PM)
They probably think that they have a better shot at winning now....but I don't think so.
Jamal (San Jose)
What's up everyone. Ive watched you guys many times here in San Jo and wondering whens the next time you guys come out here? San Jose always appreciates you guys.
Dizzy Grant
(2:34 PM)
We'll actually be out there Jan. 14 and Jan. 15 at the HP Pavillion. I hope you come out and check out the new four point shot.
bob (minnesota)
what's another thing to add to the game?
Scooter Christensen
(2:35 PM)
For now, we're not concentrating on that. We're just concentrating on the four point shot for this year. But for next year, I'm sure we'll have something new for you.
Kevin
How hard is the travel?
Dizzy Grant
(2:37 PM)
That's probably one of the toughest parts of it. We're on the road 8-10 months a year. But we wouldn't trade it in for the world. Being able to travel around the world and leave positive impressions is one of the most rewarding things you can do.
Jeff
Favorite country outside of US to go?
Scooter Christensen
(2:37 PM)
For me, I had the chance to play in Iraq for the troops. That was one of the most memoral for me.
Dizzy Grant
(2:38 PM)
I would have to say Dubai. The fans were great there. Great fans, great beaches.
kyle
How do you deal with injuries?
Scooter Christensen
(2:40 PM)
We try to deal with it as best we can. We play every day, sometimes twice a day. We try to teach the kids to be healthy, eat healthy. If we're at a hotel, we try to use the work out room there, or do something in your room.
Dizzy Grant
(2:40 PM)
we have great trainers on our staff to take care of us. It's like a car, make sure everything is maintained and running fine.
Jordan
After the experience of the Trotters, would you want to go to the NBA?
Dizzy Grant
(2:41 PM)
For myself, I love what I do. I couldn't imagine myself playing for another team. I love the chance that was presented to me. Not too many have had the chance to put on the red white and blue. I couldn't imagine myself playing for another team.
Dizzy Grant
(2:43 PM)
Check us out on Dec. 5 at 7:30 p.m. ET on ESPN2 for the 4-point shot. Go to HarlemGlobetrotters.com and check out our schedule. Come see us in a city near you.