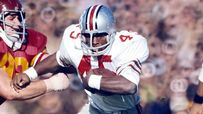 Griffin rushed for over 100 yards in 31 straight games, an NCAA record.
Welcome to SportsNation! On Friday, college football greatness stops by the 'Nation when Archie Griffin, the only two-time winner of the Heisman Trophy chats.
Griffin enjoyed a very successful career with Ohio State, becoming the first player to ever start four Rose Bowls. He left OSU as the NCAA all-time leading rusher and with a 40-5-1 record over four years, in addition to winning the 1974 and 1975 Heismans. Griffin played seven years in the NFL with the Cincinnati Bengals.
Griffin is working with Wendy's on the Wendy's High School Heisman Award. Two national award winners, one male and one female, are selected from 12 finalists and are honored during ESPN's Heisman Trophy presentation (Saturday, 8 p.m. ET). Each winner receives $10,000 for their school and a $500 Wendy's gift card. Wendy's High School Heisman can also be found on Facebook.
Send your questions now and join Griffin Friday at 3:30 p.m. ET!
More Special Guests: Previous chats | SportsNation
Buzzmaster
(3:27 PM)
Two-time Heisman Trophy winner Archie Griffin will be here in minutes to take your questions!
Buzzmaster
(3:32 PM)
Archie's here!
Vince (LA)
How excited are you be a part of the Wendy's Heisman every year?
Archie Griffin
(3:33 PM)
I am extremely excited. It's one of the things I look forward to every year and seeing the finalist for the Wendy's Heisman every year. Just to know what these young people are doing in their communities and schools gets me fired up.
Matthew (Columbia, NJ)
Hey Archie, do you think Terrell Pryor has a shot to win the Heisman Trophy next year?
Archie Griffin
(3:35 PM)
I think he does have a chance. If you look at him and Cam Newton, they are almost carbon copies. Cam may right now be a little better passer than Terrelle, but I think they're copies. They can do the same types of things. Certainly Terrelle has been very impressive for us this year. He's been the key to our offense.
Peter (RI)
A lot of people had high expectations this season for OSU...what did you think of the season?
Archie Griffin
(3:35 PM)
I think we ended up having an outstanding season. We had one loss. It's hard to go through undefeated. We played a tough Wisconsin team. I think you'll see how good they are when they play in the Rose Bowl. They got us. Because of that, I think there might be some people that think we didn't play up to our ability, but we did. We had a great performance.
Ryan (SD)
Would you vote for Cam Newton? Do you think he deserves the Heisman?
Archie Griffin
(3:36 PM)
I think he deserves the Heisman. All of the candidates in New York deserve it. They've all had those Heisman winning type seasons. If Cam is the one that gets it, he's deserving of it.
Kevin (CT)
How involved are you with the finalist selections for the Wendy's Heisman?
Archie Griffin
(3:37 PM)
I have a vote for the finalists for the Wendy's Heisman. I review applications and break it down to the different Heisman areas just like they do with the regular Heisman.
stephanie (cincy)
Archie, we were at Ohio State together and I consider myself very very lucky to have seen you play in the 'Shoe. Thank you for all you do for our alma mater. I have a picture of you, me and Demetrius Stanley I took on the Buckeye Cruise for Cancer. Go Bucks!
Archie Griffin
(3:37 PM)
Thanks! I hope to see you on the cruise again this year!
Randy (Cleveland, OH)
Are you excited for Nebraska to join the Big Ten next year?
Archie Griffin
(3:38 PM)
I am excited for them to join. I think they're a great fit for the Big Ten. I think it will add that much more excitement.
Randy (Akron, OH)
No one else has won the Heisman Trophy twice, but Tim Tebow came close to winning it for a second time in 2008. What was your reaction to knowing that some voters left him off their ballots entirely?
Archie Griffin
(3:39 PM)
I was surprised that they left him off their ballot, but if someone wins it twice I will be very happy for them. It doesn't matter to me if someone wins it twice. My belief is that if I can win it twice, then there's someone else out there that can do it too.
Wade (Newark, Ohio)
Archie, big fan. Just curious to what you think why a lot of Heismann winners have not had the same success on the football field in the pro's. I think they might be held to a higher standtard as in your case and my other co favorite Buckeye Troy Smith.
Archie Griffin
(3:41 PM)
Pro is different than college. It's a whole new ball game. It's a whole new level. A lot of the success that you enjoy is being in the right situation. For me, I say that for me to win the Heisman twice, I had to be in the right place with the right people. Timing and place all play a part in what happens in peoples' lives. I enjoyed my pro career and I think I had a successful career, but there was probably nothing that I could have done that would have been the same as what I did in college. I was on a running team in college and a passing team in the pros. I was fortunate to have my running skills displayed in college.
Ryan (Reynoldsburg,Ohio)
Can you give us younger fans a glimpse of what woody was like. could you share a favroite story.
Archie Griffin
(3:42 PM)
Woody was a great football coach. I don't care what anyone tells you. He was a great coach. He was a great leader. Most important to me, as a player, he was the type of coach that cared about people. You knew that he cared about you and if you knew that, you would be ready to go to war with him every Saturday.
Randy (Cleveland, OH)
How do you think the Big Ten will perform this bowl season? Some of the matchups are pretty tough...
Archie Griffin
(3:43 PM)
We do have some tough matchups. I think we'll hold on. It's going to be a tough bowl season for us. We have some SEC matchups, which I look forward to seeing. The game we have with Arkansas and Michigan State with Alabama will be good games. All around, there will be some great matchups there. The Wisconsin-TCU matchup will be one that a lot of people will be looking at.
Freddy (AL)
So, if you're working with Wendy's, do you get free Wendy's? I love that place!
Archie Griffin
(3:44 PM)
I love that place as well! No, I don't get free Wendy's, but I'll talk to them about it. I'm with a couple of people that have some of those free cards in their pocket, I'll have to talk to them.
Kirk (Hilliard, Ohio)
Prior to your arrival at The Ohio State University Coach Hayes was all about featuring the fullback. What caused him to change his philospy? Was it the talent he saw in you?
Archie Griffin
(3:45 PM)
That is an interesting question. I don't bring that up a whole lot. But you're right, the fullback was featured in that offense. How we became a tailback offense, my freshman year I had some success. My sophomore year, our fullback was outstanding and he had a knee injury. He was out for the rest of the year and we had to use a new fullback. He was a freshman. So during that time, I because the featured back. We become more tailback oriented. The reason that I think we got there was because our FB got hurt in that first game in 1973.
Logan (Maryland)
How does it feel to be the only two time heisman winner
Archie Griffin
(3:46 PM)
It's a wonderful feeling, no question about that. I certainly give the credit to my teammates and my coaches that put me in that position. I love the fact that I have two Heisman Trophies.
Archie Griffin
(3:48 PM)
First of all, I sure do appreciate all the questions. Thank you for looking at the Wendy's High School Heisman. It's a wonderful project that I've been involved with for 17 years. Every school in America has a chance to have a Wendy's Heisman winner.