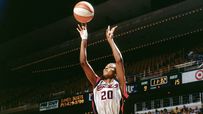 At Texas, Harris was a member of the first undefeated team in NCAA women's basketball history.
Welcome to SportsNation! On Friday, we'll visit with former WNBA champion turned life coach Fran Harris as she is competing for a spot on "Good Morning America."
Since retiring from basketball, Harris has moved her career into life coaching, which has led her to Good Morning America's Advice Guru Search. The contest has been narrowed down to 20 finalists and Harris has made her pitch to the show to win the job.
Harris won championships at the high school, college (Texas in 1986) and professional levels (Houston in 1997, the WNBA's first season). She also spent time with Team USA, winning a gold in the Pan American Games in 1987.
Send your questions now and join Harris Friday at 3 p.m. ET!
More Special Guests: Previous chats | SportsNation
Buzzmaster
(2:59 PM)
Fran's here!
Willie (SF)
What will the job entail with GMA, if you were to win?
Fran Harris.
(3:00 PM)
Yeah, it entails answering daily questions from viewers online and regular questions on TV. It's both in print and on TV daily.
Parker (CT)
When you submitted your application for the GMA job, did you think you had a chance to win out of 15,000 entries?
Fran Harris.
(3:02 PM)
HA! Great question. I knew there would be a lot of people writing in about it. We all love the sounds of our voices! But I thought I would be a strong candidate. Although I didn't know what they were looking for, but if I were the one picking, I thought I would have a strong candidacy. I have a diverse background and am opinionated. If that's what they're looking for, I though I would have a shot.
Penny (Chicago)
What was it like winning the first WNBA title?
Fran Harris.
(3:03 PM)
It was magical. It was magical for so many reasons. On a personal level because I hadn't played basketball in 8 years. It was such a triumph for me to even be in the league. From a team stand point, we were picked to be fourth out of four teams in the conference. It was so gratifying to be a part of the league's first championship and for the Comets to get there too.
Luke (orlando)
How hard was it to come back to play in the WNBA after taking years off after your college career ended?
Fran Harris.
(3:04 PM)
Well, Luke, as you might imagine, a lot of junk can accumulate in your trunk after 7 years. I did not have any shortage. It was a challenge to get back into elite playing shape. But I really wanted it. So I put out feelers to agents putting players overseas. In a month, I had a job and I was able to get a sense of where I was among those at the elite level. It was great. I felt like Rocky.
Henry (Florida)
What made you decide that you wanted to enter this GMA contest?
Fran Harris.
(3:05 PM)
Coaching has been the most consistent thread in my life since the WNBA. Since graduating from college, I started doing executive coaching. Then from there, I got certified to be a trainer, so I was a fitness coach. As a fitness coach, you're talking about life decisions, so I became a life coach. This job with GMA would just be an extension of the coaching I've been doing my whole life.
Beth (Houston)
Can you help get a WNBA team back to Houston? The Comets are missed.
Fran Harris.
(3:06 PM)
Wow...I was really saddened to hear about the demise of the Comets. It was hard to hear that. I think there is strong interest in Texas to have a WNBA team there. I've spoken to some people that would like one in Dallas. We'll see what we can do.
Izzy (VA)
How good is it for college players to have the WNBA to go to?
Fran Harris.
(3:07 PM)
Amazing. It's just amazing. I really hope the women and the girls in high school really appreciate the landscape of their sport. For us, there were so few jobs coming out of college and they were all 3,000 miles from home. I am excited that my nieces and the girls I coach in AAU can aspire to that level.
Denny (Houston)
Why do you want this job with GMA?
Fran Harris.
(3:08 PM)
Because I want to expand my coaching reach. The principles that I've used to help families across the country, with my HGTV show and speaking career have helped people change their lives. So, I want to help more people. The GMA opportunity would help me reach more people and have a greater impact.
Kelly (Texas)
You were on the first undefeated team, now we have UConn on the verge of 3 straight undefeateds. Do you think that's good or bad for the game?
Fran Harris.
(3:09 PM)
I love it. I love it. Because the world is paying attention to women's basketball for a good reason. The fact that I can get off the plane and my dad is asking me if I saw the game and I ask him which game. He tells me, hello, the UConn game! The men in my life are paying attention and for them to be telling me about this team, I think it's great for the sport.
Beth: (Dallas, TX) [via mobile]
I have a son who is 9 and I just remarried. And my son and husband are not connecting. How do I manage this and make it work because I love them both?
Fran Harris.
(3:11 PM)
That's a tough one. I would rewind and wish that I talked to you before you got married. I don't know what efforts were made prior to the wedding to connect, but what happens now between your husband and son is organic and not forced. It's up to the adults, to your husband, to make the effort and have the connection time around what your son likes to do, not what your husband likes to do. We need to get your husband on to your son's home turf and go from there.
Barry (Phoenix, AZ)
How do you think Coach G is doing with the Longhorns this year?
Fran Harris.
(3:11 PM)
I like this team! I like this team a lot. I think this team has a greater chance of success than the team did last year. I didn't think the chemistry was great last year. They work hard, they play hard. They have good chemistry. I'm looking forward to the big game this weekend. I think they have a shot.
pete (ri)
even when you were playing basketball, is this something you thought you could see yourself doing?
Fran Harris.
(3:13 PM)
Yes, because I've pretty much been in a leadership role most of my career. When you're a leader on a team, people come to you with their dilemmas. I've been in this role most of my life, even as a teenager. I didn't know what a life coach was years ago, but I could total see myself helping people with their lives, I just didn't konw what the title was going to be.
Fran Harris
(3:14 PM)
There is only one last thing to do and that's to go to GMAGuru.com and "like" me. That's it! Help me out. I look forward to seeing this year's WNBA season.
Fran Harris
(3:14 PM)
Thanks for taking time out in the middle of your day to chat!