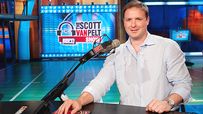 Welcome to SportsNation! On Wednesday, ESPN Radio's Ryen Russillo will be stopping by to chat.
Russillo is co-host of The Scott Van Pelt Show on ESPN Radio, which runs 1-4 p.m. ET. Listen live

He also hosts the NBA Today podcast on ESPN.com. He has covered the NBA draft since 2003 and prior to joining ESPN, he was a TV studio analyst for Boston Celtics games.
Send your questions now and join Russillo on Wednesday at 4:15 p.m. ET!
More Ryen Russillo: ESPNRadio.com | Chats | Search | SportsNation index
ESPNRadio.com
(4:14 PM)
Ryen and SVP are finishing up a recording in the studio across the hall and then we'll be underway. Keep the questions coming.
Dave (Chico, CA)
Your voice and sense of humor remind me a lot of Joel Murray's character Pete Cavanaugh from Dharma & Greg. Do you ever get that?
Ryen Russillo
(4:17 PM)
I don't get it enough, I don't think.
wes (chicago)
Hey Ryen, what do you think the ceiling is for the chicago bulls?
Ryen Russillo
(4:18 PM)
Three seed. Eastern Conference Finals appearance.
Nick (ct) [via mobile]
I hear pretty much Amare wanted to be the best player and his own team which hes in that situation now, but if Carmelo does come to NY how do you see that affecting Amare ?
Ryen Russillo
(4:19 PM)
It doesn't help defensively (although, I think defense is as much of a mindset as it is ability), but if you can add a top-10 player, you add him.
Rich (Chicago)
Hey Ryen, for better or worse, is there any argument that Brett Favre is at least the most popular football player that the NFL has ever seen?
Ryen Russillo
(4:19 PM)
You think he's more popular than Brady? I haven't seen Favre on the cover of Teen Beat.
Kory (San Diego)
You and Scott mention how you guys loved hanging out in Madison, WI but say you guys might be banned from there. What exactly happened?
Ryen Russillo
(4:20 PM)
It was more Van Pelt. He was out of control.
joe schroeder (the vineyard)
ryan,please check out you tube video of the oak bluffs vs west tisbury basketball game. A WT kid made a shot from his knees, at the buzzer, to win the game. Search oak bluffs vs west tisbury.
Ryen Russillo
(4:21 PM)
Is this my track coach? I definitely will.
J.B. (PA)
At what point is it acceptable in a friendship to ask someone to shave your back?
Ryen Russillo
(4:21 PM)
Hey J.B., Happy Holidays.
Zach (Greenville)
As a Tarheels Fan, I'm bittersweet about David Thorpe listing Henson as a Top 10 pick. I think he needs another year (based on 10 games this year, i know) to develop some legit offense. Do you think he stays?
Ryen Russillo
(4:22 PM)
I think everyone is going to leave this year. Everyone. Because of the concerns about the new CBA.
Ryen Russillo
(4:22 PM)
I need to watch him more. He's more than just a skinny kid running around.
AMR (Cleveland)
Did you and SVP exchange gifts this year?
Ryen Russillo
(4:23 PM)
I got him an Anthony for Men shave kit last year. He got me a spot on an afternoon show.
Megan (Akron)
Why is it that the Buckeyes are in a no win situation in their bowl game? If they win, they were supposed to. If they loose, it's another black eye for the Big Ten. Is there anything the Buckeyes can do to "send a message"?
Ryen Russillo
(4:24 PM)
I don't see it that way. Arkansas is good. If they lose, they lost to a really good football team. The problem with bowl games is we try to turn one outcome into a bigger statement about the game, conferences, programs. If TCU loses to Wisconsin, does that mean every non-BCS school stinks now? That's what people will think and it's wrong.
Marc (Charlotte)
Rank the recently single women: Scarlett Johannsen, Elizabeth Hurley, Vanessa Hudgens
Ryen Russillo
(4:25 PM)
I forgot who Hudgens was. I'll go Scarlett. I know a lot of guys argue that she's nasty. Let's all agree on this: none of these girls are nasty.
Dave (Chico, CA)
Will Great Britain ever get an NFL team(s)? I think they should get an AFC and an NFC team; and so should Australia. 18 games and 36 teams on three continents.
Ryen Russillo
(4:25 PM)
I don't care.
Boxing Trainer (Boston)
I have to say, I am quite impressed with your imitation of me Rutillo.
Ryen Russillo
(4:25 PM)
Thank you, sir.
Tomwit (NJ)
Will Brett Favre give us at least one more tear laced soliloquy before moseying off into the sunset. He cries more than Dick Vermiel and Dakota Fanning combined.
Ryen Russillo
(4:26 PM)
I just can't believe that after his last game this season, we're going to do it again. When does it end? When does it end? Let me know so I can get the day off.
Ryan (Stillwater)
Who is your favorite comedian?
Ryen Russillo
(4:27 PM)
I think Chappelle is a genius. Everything about him is so smart. His delivery, etc.
Jake (Huntsville)
Do you think Auburn is a one hit wonder? They are losing a lot of seniors (24) and possibly Cam and Nick Fairley, plus they have the toughest road schedule in the country next year. I see them as 8-4 maybe 7-5 next year. What about you?
Ryen Russillo
(4:28 PM)
Yes, I do, as a title contender one-hit wonder. Without Cam, they might have gone 7-5 this year.
Ryan (Upstate NY)
Legends vs Leaders. Who's your pick? Where does Joe Pa fit into this scenario?
Ryen Russillo
(4:28 PM)
I already forgot what teams are in what division.
Philip Allman (Charleston, SC)
Are you a leader, or a legend?
Ryen Russillo
(4:28 PM)
I'm not sure. I've been told seeking leadership without having the qualities of a leader is the worst thing you can be.
Tomwit (NJ)
You read Teen Beat?
Ryen Russillo
(4:29 PM)
Online.
Marc (Charlotte)
When are you going to co-host PTI?
Ryen Russillo
(4:29 PM)
Probably soon. After this Twitter explosion last night, dudes are starting to recognize.
Luke (South Bend)
Has SVP got you hooked on Breaking Bad yet? That show addictiveness is crac, Lost, and NFL Sundays combined-
Ryen Russillo
(4:29 PM)
I've already watched the first two seasons. Waiting for season three on DVD.
Raymond (Baltimore)
Now this is going to sound foolish or like hate coming out of my mouth. But do you think that Manning is a bit overrated? Reason is this: He's always had at least 1 elite reciever if not two on his team, not to mention an elite pass catching tight end. Now I'm sure Manning has helped them as well. But how many other QBs can say that? The year Brady had an Elite reciever he lit the world on fire. And whenever any of Mannings WRs get hurt everyone wants to make excuses for him. SO I'm not saying he isn't great, but do you ever wonder what he'd be doing if he was the QB of the Raiders?
Ryen Russillo
(4:31 PM)
I hear what you're saying, but I think sometimes we become contrarians when a team or player is accepted by everyone. So we try to find ways to say they're not as good. I'll take Brady over Manning seven days of the week. I don't think it's a huge gap, but I'd still take him. But Manning is going to go down as a top-five QB, so if he's on the Raiders, the Raiders are going to win some games.
Spalding (Columbia)
If you've seen them, how do you rank The Soprano's and The Wire? Any other suggestions for epic series to get in to?
Ryen Russillo
(4:31 PM)
Brotherhood on Showtime was pretty good.
Spalding (Columbia)
Will we ever see your Tom Brady again?
Ryen Russillo
(4:32 PM)
If he keeps slinging it, we'll keep honoring him. I'm trying to get a white cat to pet on set.
Thom (TX)
Who's your favorite band that you think no one has heard of but needs to?
Ryen Russillo
(4:32 PM)
Flickerstick.
Philip Allman (Charleston, SC)
I just want to thank you for being the only one in the media who is above the incessant Favre drama.
Ryen Russillo
(4:33 PM)
I guess the ratings are really good for the Favre pre-game. I guess people still watch it. I can't change the channel fast enough.
Matt (Spokane, WA)
If you were granted the power to fire any one ESPN employee, who would it be?
Ryen Russillo
(4:34 PM)
Someone in travel for making me stay in Jefferson City.
Greg (Chicago)
Ryen,SVP loves Madison, but you been visiting colleges everywhere. Whats your favorite in the Big Ten, SEC and PAC 10?
Ryen Russillo
(4:35 PM)
Big Ten - Madison. It's setup better than Columbus for a good night out. Big 12 - Austin. Not fair to the rest of the country. Pac-10 - Eugene. But I haven't been everywhere, guys. I'm sure I'd love Arizona State, but they need to win a few more games.
Eric (KC)
Should the chiefs hit the panic button after last weeks beat down?
Ryen Russillo
(4:35 PM)
No. Cassel didn't play.
Philip Allman (Charleston, SC)
If you passed Brett Favre in the hallway at ESPN do you A) stop and talk to him B) Act like you just got a text and ignore him C) Just ignore him ?
Ryen Russillo
(4:37 PM)
I've thought about this. If I ever interview him, what am I supposed to say? "Hey, I couldn't stand you for the last few years of your career, but what do you think about Aaron Rodgers?" It makes me look like a phony if I never address it, but it's kind of unprofessional to say, "You drive me crazy. Welcome to the show." I've told people that I got to know here that I've been critical of them. I know I wouldn't kiss up to him.
Pat Daddy (Las Vegas)
Doc Rivers....best NBA coach not named Phil? Where do you rank him, and does he return next season? I kinda see him walking away to watch his uber-talented son play for Duke next year. God, I hate Duke.
Ryen Russillo
(4:38 PM)
Right now he's the best coach. Phil has a better resume, Doc is the better coach. Just hope he's not coaching the Heat next year if you're a Celtics fan.
Trey (Augusta)
If you could absorb any ESPN personality and inherit their powers, who would it be?
Ryen Russillo
(4:39 PM)
Great question. Chris Fowler. No teleprompter, concise, confident, a commanding personality. Lot of people walk around here with a ton of respect for Fowler. I think SVP is the best anchor. The way his personality shines on the camera. When you watch him on TV, that's him, and that's hard to do for a lot of people. I'd like to be able to write like Wright Thompson, and I wish I was as sexy as Trent Dilfer.
Dwayne (Virginia)
Have you seen the MJ commercial directed at Lebron?
Ryen Russillo
(4:40 PM)
On YouTube? Yes. Really well done.
Wesley (Atlanta)
Aside from coaching 13 teams simultaneously what else do you think Jon Gruden will do in 2011?
Ryen Russillo
(4:40 PM)
Not coaching in college. Pay attention to Cleveland, but remember: owners aren't going to want to pay $6 million a year to a guy if they don't know when Week 1 of the NFL season is.
Joe (DC)
What size are your manly Uggs?
Ryen Russillo
(4:40 PM)
12.
Ian (Miami)
How does lebron play tonight?
Ryen Russillo
(4:41 PM)
Well, but Wade has been the difference from November to December. He's been great and they run more. And the Cavs are weak mentally.
Dave (St. Paul)
describe what you think of the NBA in one sentence.
Ryen Russillo
(4:42 PM)
An event with the best athletes in the world that frustrates me with the evolution of the way it is called.
Last Name (Knoxville, TN)
On one of the NBA Today podcasts the other day I noticed you referred to Blake Griffin as just Blake. I've noticed other analysts doing this too. What's going on there? Griffin doesn't have a unique first name or a difficult-to-pronounce last name. Why does the faux-familiarity with Griffin seem to be so prevalent?
Ryen Russillo
(4:43 PM)
I don't know what those other guys are doing, but I'm an investor in a beef jerky company with Blake. That's why I call him Blake.
Rich (Chicago)
Who's the toughest guy at ESPN?
Ryen Russillo
(4:44 PM)
Athletes included? I would rather be in charge of Brett Favre's biography than fight Chris Spielman. Non-athletes? Stanford Steve could mess some dudes up.
Philip Allman (Charleston, SC)
You got your start doing minor league baseball, any chance there are some lost tapes of Russillo doing play by play that will surface?
Ryen Russillo
(4:44 PM)
I have a few. I'm not sure I know where they are, though. It was all on cassette tape, so probably not. I wasn't very good, but I only did it for barely a season.
AC (Bayside)
Cask or Game On?
Ryen Russillo
(4:44 PM)
Cask.
MT (OK)
Although your sports analysis is top notch, do you think it's bad that I skim over every legit sports related question in the chat and only read ones about Twitter, Teen Beat, shaving other dudes backs and absorbing other personalities?
Ryen Russillo
(4:45 PM)
That is the struggle of this chat. I like talking every sport, but I also like the dumb stuff, too.
Matt (Houston)
Best Band no one has heard of: Losers Reunion. Seriously, check them out (and no, i'm not in/affiliated with the band)
Ryen Russillo
(4:45 PM)
Got it.
Rich (Chicago)
What professional athlete do you have a man-crush on?
Ryen Russillo
(4:45 PM)
Chris Long. His Christmas card he sent Van Pelt is the funniest thing I've ever seen.
Philip Allman (Charleston, SC)
More likely to happen.... A) SVP pulls a hammy playing pick up over Xmas at Murryland B) Andrew Bynum plays more than 20 games this year ?
Ryen Russillo
(4:46 PM)
Van Pelt hasn't touched a ball in like a decade. I'll go with Bynum, even though he will get hurt again.
Chris (Jersey)
speaking of minor league baseball, best KatManDu story from your days with the Trenton Thunder?
Ryen Russillo
(4:47 PM)
That's a weird place. Right next to the stadium. The players liked it a lot. I was in a bad spot. I was working all of the time, I lived in Princeton and I had a girlfriend, so it was just a weird combination of emotions. The point is I never had a super crazy night there with dudes from the team and now I regret that.
Last Name (Knoxville, TN)
Seriously? Beef jerky co-investors? Do you think that represents a conflict of interest as a journalist? It's not like Griffin warrants much criticism at this point, but his continued success is likely good for his business, which is good for you.
Ryen Russillo
(4:47 PM)
I'm kidding.
Mitch (Missouri)
Who will come to a labor agreement quicker: NFL or NBA?
Ryen Russillo
(4:48 PM)
NFL.
Nik (NC)
Blake Griffin rookie of the year?
Ryen Russillo
(4:48 PM)
No contest at this point.
Blake (Abilene, TX)
Should I ask for Boardwalk Empire the book for christmas or just wait for season 2 next year.
Ryen Russillo
(4:49 PM)
The show has gotten better. I would never read the book after I watched the show because I would just picture the show in my head as I read the book. Try the Jack Dempsey biography if you like that time period.
Mike (NYC)
Thoughts on the media making way to big of a deal out of it if the Knicks somehow win tonihgt. It still doesnt mean anything in my mind
Ryen Russillo
(4:50 PM)
Knicks hadn't had 10 wins entering December since '98 (I think, around that time), so it is a big deal that they're good again, but they're not in Boston's class, and if they beat Boston tonight, that's all it is - a regular season win against Boston.
Luke (South Bend)
Cross someone over nasty (they fall over) or drain a 26 footer in someone's face?
Ryen Russillo
(4:51 PM)
More of an up and under around the rim, or around the back ally-oop pass from halfcourt. Did that once in a game and got benched for the second half. Coach at the time couldn't handle my street game.
Philip Allman (Charleston, SC)
Better dunker in their day: Vince Carter or Blake (Griffin)?
Ryen Russillo
(4:52 PM)
Vince in his prime was better than everyone. I always say this, but SportsCenter used to show his misses. Sad how his career has gone. Compare him to Pierce: who would you rather have had? Who would you rather have now?
Rob (DC)
What was your welcome to ESPN moment?
Ryen Russillo
(4:53 PM)
Maybe sitting in the studio with Will Ferrell and talking to him like a normal person.
Tomwit (NJ)
Better nude scene. Buscemi in boardwalk. Kathy Bates in About Schmitt?
Ryen Russillo
(4:53 PM)
And with this, we're done.
ESPNRadio.com
(4:53 PM)
There you have it, folks. Thanks for stopping by. Until next time, godspeed.