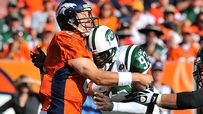 Pryce is a four-time Pro Bowl selection.
Welcome to SportsNation! On Wednesday, New York Jets' defensive end Trevor Pryce stops by to chat about his first season with the Jets, which ended with a loss to the Pittsburgh Steelers in the AFC title game.
Pryce, a 15-year NFL veteran, joined the Jets after nine seasons with the Broncos, four with the Ravens including the first three games of the 2010 season. In his first two seasons, Pryce won back-to-back Super Bowls and was named to four Pro Bowls.
Off the football field, Pryce has many different interests. He owns an independent label named Outlook Music and has also written several screenplays. Two of which he sold includes a children's picture to Sony Films. Pryce is also an avid soccer fan and has a younger sister, Nandi Pryce who is a member of the United States National soccer team.
Send your questions now and join Pryce Wednesday at 1:30 p.m. ET!
More Special Guests: Previous chats | SportsNation
Trevor Pryce
(1:25 PM)
Hello everybody!
Billy (Boston College)
Trevor, as a Jets fan I'm thrilled with Rex, how he has won & changed the mentality of the organization. What is it about him that makes players love playing for him?
Trevor Pryce
(1:26 PM)
He treats us all with a lot of respect, no matter if you're a practice squad guy or Darrelle Revis. He's of the mindset that if you're a pro football player, whether you're a practice squad guy or a Hall of Fame-type player, you should be respected.
Rick (Long Island,NY)
Trevor! We miss you in Denver, what do you think about what's going on there, and can Elway turn them around and make them winners again?
Trevor Pryce
(1:28 PM)
I think John Fox is the best choice they could have made as far as a coach. The whole young mastermind/genius thins is way out of line, and doesn't help when the men the young mastermind has to coach are all his age. I think Elway's playing de facto owner because of Pat's health problems, and he's doing a good job of it so far. They could have went with a fly-by-night, flavor of the month coach, and they didn't. You saw how that worked out last time.
Brice (CA)
What type of music is on your label.
Trevor Pryce
(1:28 PM)
It WAS all types -- mostly rock music, to tell you the truth. I found one hip-hop act worth signing that I liked, but everything else was rock and heavy-based.
Matthew (Columbia, NJ)
Trevor, what's the biggest difference between playing in New York compared to any other city?
Trevor Pryce
(1:29 PM)
Media. The media and the traffic getting to the stadium.
Brad (Gadsden,Alabama)
Trevor, Do you have any pre-game rituals?
Trevor Pryce
(1:30 PM)
Not really. I usually try to do a lot of stretching. Mostly, I try to find a way to work myself into a frenzy so I can play the game with an edge. Take some vitamins and as many carbs as I can fit in my body. I play a lot of Words with Friends.
Brice (CA)
what screenplay did sell to Sony Films
Trevor Pryce
(1:31 PM)
It's called "The Library", and it's now been changed into "The Lexicon". It's about a whole bunch of books and characters coming to life and the murder mystery that surrounds that. That's all I can tell you now because I already sold it -- they have a writer rewriting it.
Cole Bigelow (Utah)
Big Fan (denver could use you),Being a long time Bronco, Do you think Tebow is the guy to led Denver back or do they need to go somewhere in the draft?
Trevor Pryce
(1:33 PM)
I actually do think he's going to be the guy to lead them. The kid has intangibles. He needs to work on some football things, but as long as you can escape pressure in the pocket because of all the modern exotic blitz packages, you can succeed. He has that. Why criticize the kid's throwing motion if he can get out of the pocket, and not get killed like Jay Cutler.
Tevon (Seattle)
Is Roethlisberger as hard to bring down as everyone always says he is?
Trevor Pryce
(1:36 PM)
Yes. It's not so much because of strength, it's that he's flexible. He can twist his body and throw people off. His torso seems like it can twist 180 degrees. That is very much the truth.
Mike (PA)
What is the first enjoyable thing you do when the offseason begins?
Trevor Pryce
(1:37 PM)
Hug my kids and kiss my wife. Then I go get a massage. Then I go see my parents in Florida.
Matt (NYC)
On a scale of 1-10 how much do you hate the Patriots?
Trevor Pryce
(1:37 PM)
I am at about a seven. They weren't in my division for so long, and I wasn't there for the Jets beating them in the first game.
Kevin (Bristol)
If you could get one clean shot on any NFL QB who would you pick?
Trevor Pryce
(1:39 PM)
That's a good one. It would probably be Peyton Manning.
Petey (NJ)
Does the Jets trash talking get to other teams in your opinion? Does it give you any type of advantage?
Trevor Pryce
(1:40 PM)
It's only trash talk because people hear it. Trust me, what's said in locker rooms around the NFL is much worse than what people on the Jets say. It has nothing to do with advantage or disadvantage. Everyone from secretaries to owners says that. Don't think of it as just the Jets doing this, while every other team simply says "Well, I hope we win!", because they're not.
Mel (Baltimore)
Who is the biggest whiner in the NFL?
Trevor Pryce
(1:41 PM)
There's so many. It's too easy to pick a quarterback. I'd say Shane Lechler from Oakland.
Joe (Brooklyn)
Do you feel this season was a successful one for the Jets?
Trevor Pryce
(1:41 PM)
Absolutely. There were four teams left last week, and we were one of the four. That's a success. Would you rather have that season, or the one the Broncos had?
Trevor Pryce
(1:42 PM)
Thanks for taking the time. Wish I could answer all your questions, but they have me doing other stuff. When I get a Twitter account, I'll let you all know about it. And that's not me on Facebook!