Chat with Patrick McEnroe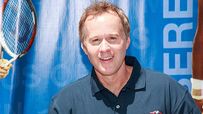 McEnroe won 16 titles as a doubles player.
Welcome to SportsNation! On Wednesday, former captain of the U.S. Davis Cup team Patrick McEnroe stops by to chat some tennis.
McEnroe, an ESPN anaylst, led the U.S. Davis Cup team for 10 years, winning the title in 2007. He took over the captaincy in 2000 from his brother John. As a Davis Cup player, Patrick compiled a 3-1 record while competing in doubles on the 1993, '94 and '96 teams.
McEnroe resigned from the Davis Cup team in September and Jim Courier took over. McEnroe and Courier will be chatting about Courier's new job and the state of tennis on Twitter Wednesday at 11 a.m. ET. McEnroe's book "Hardcourt Confidential," in which he tells many stories about his career, is in stores now.
Send your questions now and join McEnroe Wednesday at 11:30 a.m. ET!
More Special Guests: Previous chats | SportsNation
Patrick McEnroe
(11:35 AM)
As I'm freezing cold in New York City, I'm looking forward to the warm weather and the start of the season next month in Australia.
Nick D (White Plains, NY)
Better pure athlete: Nadal or LeBron
Patrick McEnroe
(11:37 AM)
(Laughing) That's a great question. LeBron is better suited because of his size to play basketball and Nadal is better suited because of his height for tennis. I think agility wise, they are even. LeBron still has something to prove as far as winning and Nadal has already proven himself in that aspect.
Master Ace (Alabama)
Who do you believe will win the Australian Open for the WTA since Serena can't go for three in a row because of injury?
Patrick McEnroe
(11:38 AM)
We are all disappointed that Serena can't be there to defend her title but I think we have to go with Kim Clijsters as the odds on favorite.
James (St. Louis, MO)
What made you want to write this book?
Patrick McEnroe
(11:39 AM)
First of all, I had a lot of great stories to tell. I've seen the game from more angles (analyst, brother, player and much more) than anyone else so I thought now is a good time to tell some good stories. And is doesn't hurt that tennis is really on an upswing right now.
Ryan B (Fairfield, CT)
Who do you think will have a better career when all is said and done...Ryan Harrison or Sam Querrey?
Patrick McEnroe
(11:41 AM)
Wow, that's a tough question. Sam is a top 20 players already and Ryan as the ability to become a top player. They are both pretty even but in the short run Sam has the better chance to become a top 10 players but Ryan has more variety to his game.
Chris Fiegler (Latham,NY)
What is the Best & the Worst Tennis Facility that you Played in?
Patrick McEnroe
(11:43 AM)
It's hard to say that there's a better facility than Wimbledon. I've played in some shaky place while playing in the Davis Cup. Some of my worst practices came on the beach; the ball doesn't bounce very well there.
Master Ace (Alabama)
Will Nadal complete the Rafael Slam or will Federer win his 5th AO title which I believe will be the most in the Open Era? If not Nadal or Federer, who will take the AO?
Patrick McEnroe
(11:44 AM)
I would have to say, that is the $64,000 question. I would say Nadal is the slight favorite right now. Federer beat Nadal in London and I think that is a huge boost for his confidence going into 2011.
Andrew (New York)
Which country was the biggest threat to you in Davis Cup?
Patrick McEnroe
(11:45 AM)
Serbia just won it, France is very strong and Spain led by Nadal is a top contender. I do think that the globalization of tennis has made it possible for countries to successfully compete in the Davis Cup.
Chris (NJ)
Pat, what's up with your brother? He was having a fit on the court in a match I saw against Michael Chang a few weeks ago. Does he realize he's 50 years old and the match didn't mean anything?
Patrick McEnroe
(11:48 AM)
(Laughing) I think he still thinks he's playing in the US Open or Wimbledon but that's part of his competitiveness. Even though I think a little bit of it was for show, he really loves to compete and you can see that with everything that he does.
Alex (Rhode Island)
Not being biased, how many years do you think it will realistically take to bring the United States back to David Cup prominence?
Patrick McEnroe
(11:50 AM)
I think we can win it next year. With Andy coming back and all the young talent they have in Mardy Fish, John Isner and Sam Querry we have a good of chance as anyone to win it.
Paula Ferrand (Colombia)
who do you think was the most improved player 2010 of USA and why?
Patrick McEnroe
(11:51 AM)
Mardy Fish, based on where he started the year and the transformation of his body. He showed that in your late 20's you can get your body in shape and play at a high level. Hands down I think that title goes to Mardy.
Ryan B (White Plains, NY)
With Brees winning Sportsman of the Year...seems like once again tennis gets no respect. What can the US do to make tennis more popoular in the eyes of the US?
Patrick McEnroe
(11:52 AM)
It will take someone with the stature of Nadal or Federer to be No. 1. The idea that Federer has never won Sportsman of the Year is just absurd.
Patrick McEnroe
(11:54 AM)
Thanks to everyone for coming on and chatting with me today. I see you next month from sunny Australia and the Australian Open. Have a happy holiday season!