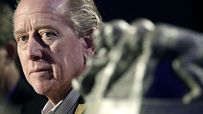 Manning has two sons in the NFL: Peyton (Colts) and Eli (Giants).
Welcome to SportsNation! On Wednesday, former NFL quarterback and Ole Miss great Archie Manning stops by to chat about the final stretch of the NFL season.
Manning played 13 seasons in the NFL, 10 with the New Orleans Saints. Despite playing on only one Saints team to finish over .500, Manning still threw for over 20,000 yards in his career and 125 TDs. He was the second overall pick in the 1971 draft coming out of Mississippi and was inducted into the College Football Hall of Fame in 1989.
Manning is working the Liberty Mutual Coach of the Year Award to honor excellence in coaching on and off the field. Fans are allowed to vote on the award through Dec. 28 and the winners receive $50,000 for the charity of his choice and $20,000 for scholarships at his school.
Send your questions now and join Manning Wednesday at 12:15 p.m. ET!
More Special Guests: Previous chats | SportsNation
Brad (Gadsden,Alabama)
Archie, what school would be Gus Malazn (Auburn's Offensive Coordinator) best fit to be a head coach?
Archie Manning
(12:19 PM)
I think he's very qualified to be a head coach. It was only a couple of years ago he was a high school football coach and he was very successful at that level coaching very talented players. He's coached this year on the highest level in the SEC for an undefeated team. He's a very qualified candidate for a head coaching position.
Matt (Sterling Heights, MI)
Archie, how likely is the possibility that either of your sons (especially Peyton) be able to reach 297 straight games?
Archie Manning
(12:20 PM)
Peyton has a good start at 205 but he still has five plus years to go and now a days its harder and harder to stay healthy in the NFL. I know he wants to stay healthy had continue to have a productive career.
Dave (Wayne, NJ)
I'm guessing the Super Bowl had to leave you with mixed feelings, but in retrospect, if the Colts had to lose, at least it was the Saints who won?
Archie Manning
(12:21 PM)
I guess so but it was still hard. When you have a son playing, you pull real hard for his team. He took it hard, so I took it hard.
Mike (Columbus,Ohio)
Who do you root for when the Giants and the Colts play? Be honest!
Archie Manning
(12:21 PM)
I don't root for anyone in that one. I jut root for the offense and hope that they both play well and stay healthy.
Leo (Pittsburgh)
Who do you think deserves to win the Liberty Mutual Coach of the Year Award?
Archie Manning
(12:24 PM)
We have 25 finalist and they are all canidates. It doesn't matter who I think will win; it's the fans choice to vote who they think is deserving of this award. These coaches have proved themselves on and off the field. Tune in Jan. 10 for the results.
Vincent (FredVegas, VA)
What is the best advise you've given your two sons over the years that have assisted them in not only their career but their personal lives? They are two respectable men in their career and they are arguably the best in their field, as their father you'd have to take some credit.
Archie Manning
(12:25 PM)
Just try to do what's right, make good decisions and work hard.
Ryan (Reynoldsburg,Ohio)
What's your take on Brett Farve overall? I think he was a legend and the game is better because of him.
Archie Manning
(12:26 PM)
No doubt, he's certainly a legend. He's been a great player and it's amazing on how long he's played at such a high level.
Chris Fiegler (Latham,NY)
Do you think that you will ever see your sons face each other in the Super Bowl?
Archie Manning
(12:27 PM)
I'd love for them both to get back to the Super Bowl but I prefer for it to be in different years.
Rachel (Hattiesburg)
Hi Archie! I was wondering if you'd share your thoughts about fantasy football? A fan of it or bad for the sport? Thanks!
Archie Manning
(12:28 PM)
I think it's good, it gives more people interest in the game. Sometimes it has fans expecting too much or looking for the wrong things from players on their teams but all in all it's all in good interest.
Rocco (NE)
Archie---How was your short stint with the Vikings remembered?
Archie Manning
(12:29 PM)
Just short. I actually treasure that experience. I had my family up there one year. Minnesota has good people so it was good.
J.B. (PA)
Speaking of the Vikes, can you suit up for Sunday?
Archie Manning
(12:30 PM)
I used up all my eligibility.
Archie Manning
(12:31 PM)
Thanks for taking the time out to chat today. Be sure to go to www.coachoftheyear.com to cast your vote for the Liberty Mutual Coach of the Year Award.