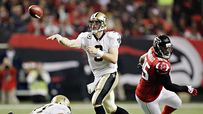 Brees set a record in 2010 by completing 20 or more passes in all 16 games.
Welcome to SportsNation! On Monday, we will have reigning Super Bowl champion quarterback Drew Brees of the New Orleans Saints to chat about Super Bowl XLV.
Brees led the Saints to the team's first Super Bowl win last season, winning a franchise-record 13 games in the regular season. In his five years with New Orleans, Brees has passed for at least 4,300 yards and 25 touchdowns every season. He has over 35,000 passing yards in his 10-year career.
Brees is teaming up with the NFL and Procter & Gamble in Play 60, a national youth health and fitness campaign focused on increasing the wellness of young fans by encouraging them to be active for at least 60 minutes a day.
Send your questions now and join Brees Monday at 3 p.m. ET!
More Special Guests: Previous chats | SportsNation
Drew Brees
(3:03 PM)
Wish we were still playing, but since we're not, I'm happy I get a chance to talk to you guys!
Jordan (New Orleans)
You think the Saints are a SB contender next year with the team you have now? Or, are some new pieces needed?
Drew Brees
(3:03 PM)
You're always looking to add talent and depth, but I love the group that we have right now. We're definitely poised to make a run at it next year.
trevor (bethesda, md)
Which QB will step it up from their last game and win, Ben Roethlisberger or Aaron Rodgers?
Drew Brees
(3:04 PM)
Both QBs are exceptional players. The fact that Big Ben has been there twice before will give him an advantage, but Aaron Rodgers has been waiting for this moment for a long time.
Casey (Boston MA)
Hey Drew, Aaron Rodgers has had a great playoff run so far, what aspects do you see in him that he may need to improve? What has made him so good recently?
Drew Brees
(3:05 PM)
He's very athletic with the ability to avoid sacks and make plays outside the pocket. I think the challenge for him will be to avoid the attention and accolades that will come his way.
Scott (Chicago)
Drew.. what's your take on all this criticize of Cutler.. A sprained MCL is not a small injury.. thoughts!
Drew Brees
(3:06 PM)
No it isn't. I've had one of those before, and sometimes it sidelines you for four weeks. No one knows the extent of his injury, and there are varying degrees of severity, but it's definitely something that could take you out of a game.
Jim (MA)
Drew, what's this about Play 60?
Drew Brees
(3:08 PM)
Proctor and Gamble has partnered up with NFL Play 60, and has donated 300,000 dollars in support of it. They've supported parks, hospitals, and wellness centers, and are the sponsors of the Community Blitz in Hawaii during the Pro Bowl. They'll also be donating $5,000 to the United Way in each of the players' cities who score touchdowns in the Pro Bowl.
colton (alabama)
do you have any particular choice as to who the Saints draft?
Drew Brees
(3:09 PM)
It's kind of the same thought every year: draft for depth on the offensive and defensive lines. At times, you draft the best available player regardless of position -- you figure they'll fit in somewhere.
Sunny (Los Angeles, CA)
What does your alma mater, Purdue University, need to do in order to get the football team back to its winning years?
Drew Brees
(3:10 PM)
Just patience. We had a lot of injuries this year. I think the young QB who played this year has a bright future, and we just need to get a few more players around him, rebuild the defense a little bit, and we'll be fine.
Daniel Darling (Round Lake, IL)
Drew, I've long admired your career. I'm wondering if you could talk about the intangibles of being a NFL QB--leadership, etc.
Drew Brees
(3:11 PM)
They're so important to playing the QB position. Leadership, your ability to inspire your teammates and get the best out of them -- you have to be charismatic and confident, and just show that you're willing to sacrifice for the good of the team.
Pete (Austin, TX)
Drew, what do you get up to in your down time in the offseason? Any sweet vacations?
Drew Brees
(3:11 PM)
Nowadays, with two little boys, I spend a lot of time at the house or at the park, just watching them grow up.
Blaine (Brusly,La)
Do you have any upcoming fund raising events for your foundation? If so will there be any more in Baton Rouge?
Drew Brees
(3:12 PM)
None planned at the moment in Baton Rouge, but we do have quite a few events planned in New Orleans and San Diego, and back at Purdue. Check out drewbrees.com for more information.
Michael (Nashville )
What was the biggest adjustment for you coming from college?
Drew Brees
(3:13 PM)
The speed of the game, the complexity of the defenses, learning a new offense.
Brett (Cleveland)
Drew You got quite of few NFL seasons left, but what will you do when you retire? Coach? Analyst? Or just walk off in the sunset with the family?
Drew Brees
(3:14 PM)
I hope I have quite a few more years to play. I'm going to try to play as long as I can. I'll stay involved with my foundation and get a lot of family time in. You miss a lot of that during the season.
Scott (Chicago)
Drew, just wondering how bad the surface is at Soldier Field. You obviously played there in Jan of '07 in the NFC Championship game. Is it really as bad as players make it out to be?
Drew Brees
(3:15 PM)
Any grass field in a place like Chicago where you get a lot of bad weather, the fields just get torn up. I don't know if there's anything you can do about. It's definitely hard to get your footing at times.
Smile (Iowa City, IA)
Who do you pick to win the Superbowl this year?
Drew Brees
(3:16 PM)
Both teams are really good, I could see both of them winning. Thanks for all your questions, great talking to you. Who Dat! Go Saints!