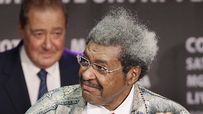 Don King is ready for your questions.
Welcome to SportsNation! On Friday, boxing promoter Don King will stop by to chat about the Timothy Bradley-Devon Alexander junior welterweight unification bout live on Saturday (10 p.m. ET, HBO) from Pontiac, Mich.
King has spent over 30 years in the promotion business. He started building his boxing empire by promoting the premier heavyweight bouts of the 70s. One of his first fights being the George Foreman-Muhammed Ali "Rumble in the Jungle" in 1974. King further enhanced his standing in the boxing circles the next year when he put Ali and Joe Frazier together for the "Thrilla in Manilla." >
Send your questions now and join King Friday at 2 p.m. ET!
Don King
(1:59 PM)
It's a pleasure to be here. I'm sitting here with Emanuel Steward; the famous HBO TV boxing analyst is Kronk Gym here in Detroit. Let's get started.
Brad (Gadsden,Alabama)
Don, Who do you think is going to win the super bowl?
Don King
(1:59 PM)
Devon Alexander is going to win on Saturday night and that's all that I can tell you.
Marvin (NYC)
Mr. King: Thank you for promoting some of the greatest fights ever. Question: looking back, did Ali have any business getting in the ring with Larry Holmes in 1980?
Don King
(2:03 PM)
You know, Marvin, contracts don't fight, fighters do and they make those decisions. I took a lot of heat for that. Later in my career, I told a famous World Champion that I thought it was time to retire and he left me to go fight for somebody else. So the answer to your question is it's up to the fighter, not me to decide.
Vincent (Atlanta)
Mr. King, why do you think the Heavyweight division is so weak right now?
Don King
(2:05 PM)
I couldn't agree with you more, Vincent. Boxing is a world sport and it seems like the Europeans have stolen the heavyweight thunder right now. The reasons for this are many. But I am convinced that many American athletes who could be heavyweight champions are currently playing football in the NFL. We need a new American hero in the heavyweight division.
AW (PHX)
With the rumblings of tickets sales and given the expectations of the fight have you had to do anything differently to promote this fight in Michigan?
Don King
(2:08 PM)
I've been here all week banging the drum for this incredible world championship unification. This event is a co-promoting with Tim Bradley's promoter and it was decided that this event should take play is a natural location because both fighters are undefeated world champions. Detroit is the beneficiary of that decision. Everyone here knows about the fight and media coverage has been incredible. We're expecting a good turnout. Thanks to ESPN for helping us get the word out via this chat!!!
Jas (England)
Can you share your views on Devon Alexander's ability to stay focused on boxing despite the bad influences that were around him in St. Louis?
Don King
(2:10 PM)
Devon is a tribute to the American spirit, Jas. He comes from a place in North St. Louis they call "The Black Hole" because almost nobody gets out. Devon's parents and his trainer Kevin Cunningham pointed him in the right direction and he never strayed. It's a beautiful story of perseverance and hard work.
Zeke (Michigan)
Respect to you Don! This is off topic, but who would win in a fight with both in their prime, Iron Mike Tyson or Muhammed Ali?
Don King
(2:11 PM)
I can't tell you who would win that fight but I would have loved to have seen it.
Tyler (SLC)
Don, What is Devons biggest advantage heading into tomorrow nights bout?
Don King
(2:13 PM)
His family, his trainer and the entire city of St. Louis. He carries them all with him wherever he goes. If he executes his game plan like I know he can and will, there is no doubt he will be the victor.
Dickie (North Las Vegas, Nevada)
What happened to the Don King TV site? Will you release your library of fights in any other form in the coming years? A actual TV network perhaps?
Don King
(2:15 PM)
We still have www.donkingtv.com but I've been doing a lot of fights with HBO and Showtime lately. As for my library of fights, we try to put up stuff on special occations so stay tuned.
Sean (Hudson)
Went to one of your fights at Mohegan Sun and had the time of my life! Thanks! What does boxing have to do to challenge the rise of MMA?
Don King
(2:17 PM)
MMA is the same thing as boxing was when it started out. Then the English added the Marquee of Queensberry rules, like not being able to hit someone while they are down on the ground. MMA is boxing back at its roots, sophisticated barbarism. I like both sports and think there is room for both.
Rick (UK)
You where the master of the undercard - these days the undercards aren't even worth watching. What caused the death of the great undercard? Was it just plain simple greed or are promoters much lazier?
Don King
(2:19 PM)
Thank you for the compliment, Rick. I like to give boxing fans a good value for their entertainment dollar. I hear other boxing promoters saying they want to put on cards like Don King used to do. After Devon wins this fight, he'll be moving to PPV and you'll be seeing more of my televised fights. It's not bragging, it's just a fact. Nobody does it like I do it.
Don King
(2:21 PM)
Thanks for the great questions. Tune in Saturday night at 10 p.m. ET on HBO for the junior welterweight unification bout between Timothy Bradley-Devon Alexander.