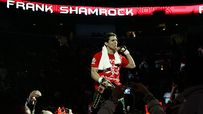 In addition to his UFC title, Shamrock also won the WEC light heavyweight and the Strikeforce middleweight belts.
Welcome to SportsNation! On Friday, legendary MMA fighter Frank Shamrock takes your questions on his career, the octagon and the upcoming Strikeforce fight matchup of Fedor Emelianenko-Antonio Silva on Feb. 12 on Showtime.
Shamrock finished his 15-year career with a 23-10-2 record, including 17 wins by KO or submission. During his career he became the first ever UFC middleweight champion and was widely considered the best pound-for-pound fighter in the world during his prime, dominating the 90's. Shamrock is now a commentator for Showtime.
Send your questions now and join Shamrock Friday at 4 p.m. ET!
Frank Shamrock online: @frankshamrock | FrankShamrock.com | EA Sports' MMA
More Special Guests: Previous chats | SportsNation
Buzzmaster
(4:00 PM)
We've got Frank!
joe (Illinois)
In your Prime how do u think u would have done against Anderson Silva??
Frank Shamrock
(4:01 PM)
Wow. In my prime, I think I would have matched up well with him. He's kind of the right style for me. His height may have given me some trouble.
jeff (ri)
how psyched are you to see fedor?
Frank Shamrock
(4:02 PM)
I love it. Besides watching him fight, which is ridiculous, but just his whole personna, with his 1980s track suit. It's like out of Rocky.
Eric (New Jersey)
Legend, Will you ever fight again if its the right price, opponent, circumstance?
Frank Shamrock
(4:03 PM)
Probably not. My days are done. I might come back to fight my brother or something, but I'm done.
Duff (Minnesota)
Hi Frank, what are you thoughts on UFC/Strikeforce's approach to marketing and do you think MMA is being brought to the mainstream in a way that will appeal to the masses?
Frank Shamrock
(4:04 PM)
I think we have some work to do on the presentation of MMA. From both ends. From Strikeforce and the UFC. I know every time the F-bomb is dropped it takes our sport back about a year or so. When Dana does that type of stuff, it brings the sport back.
joe (Illinois)
Lesner - Dos Santos............your winner and why??I say Lesner comes back angry to prove a point and dominate(like Lesner vs Mir 2)
Frank Shamrock
(4:05 PM)
I have never seen Dos Santos fight, but I hear that he's really tough. I would probably give the edge to Santos in that. I did watch Lesner's last fight. I don't think he wants to get hit. He doesn't react well.
kevin (ct)
when will you head out to the Silva fight?
Frank Shamrock
(4:06 PM)
I'm going on the 6th, I think, a week early. I'm also speaking to all of the legislatures in Albany about MMA being legalized.
Dontae Kirksey (Montevallo, AL)
What technique in Mixed Martial Arts do you personally think is the most effective against an opponent who is an expert on the ground (BJJ, Catch-wrestling, Judo, etc.)?
Frank Shamrock
(4:06 PM)
That's a tough one. I would say don't go to the ground if he's an expert. You'd need some wrestling skills. Or a stop and take down. Tough question.
Mark Andrews (westville, Indiana)
I am a huge Fedor fan and believe he is still the best heayweight in the world!! I would like to know how, you think, Silva can try to negate Fedor's explosive speed and punching power? and Who do you pick to win this fight?
Frank Shamrock
(4:07 PM)
He's got to get his hands up quick. He has to trap him on the cage or put some ground and pound on him to slow Fedor down. If he doesn't, he's going to get pounded.
Cody (North Dakota)
Hey Frank, Do you think that Silva vs St. Pierre ever going to happen?
Frank Shamrock
(4:08 PM)
No. I don't think so.
joe (Illinois)
Fedor????????????????Does he make excuses not to fight the best in his division around the world???? No Overeem,no couture,no lesner,no valasquez,no Dos Santos,no Barnett,no Mir........OVEREEM and COUTURE have both tried very hard in the past to get a fight it never panned out is he ducking the Biggest names????????????????????????????????
Frank Shamrock
(4:09 PM)
No, he has fought the biggest names in the world. He just hasn't fought the biggest names in the world in the UFC because he doesn't want to fight in the UFC.
Steve (Richmond, VA)
Frank, I wanted to say I loved the end of year show you did with Al Bernstein and Mauro Ranallo. It was great to see MMA and boxing together, instead of butting heads. That being said, who do you like for Roger Gracie / Trevor Prangly tomorrow?
Frank Shamrock
(4:10 PM)
Thanks for the shout out. I enjoyed working on that show. That's a tough one to call. If I were to bet money on it, I would be money on Gracie. I think he has more money to lose and more to gain. It's his time. There is a lot riding on him winning. I think he'll be carried out on the stretcher if he doesn't win.
Josh (Richmond, VA)
Frank, what are your thoughts on the Heavyweight tournament?
Frank Shamrock
(4:11 PM)
I think it's amazing. I think it will be a re-birth of MMA in a way. This is how we got started, who is the best? I want to find the greatest heavyweight fighter on the planet.
Matt (NJ)
Frank, who is the toughest guy that you ever fought?
Frank Shamrock
(4:11 PM)
Enson Inoue. I thought he was going to kill me. That's why he was so tough.
nik (germany)
hey frank, who do you think is THE best p4p fighter in the world?
Frank Shamrock
(4:12 PM)
Pound for pound? I would say it's a toss up with Diaz.
Billy (Toronto)
Do you regret never having the match with your brother Ken?
Frank Shamrock
(4:13 PM)
Yeah, I do. I always thought that we'd get it done. I thought it would be a great way to tell the story. That's my one big regret in this thing.
Matt (NJ)
Frank, do you think Fedor could beat Overeem at this point in his career?
Frank Shamrock
(4:13 PM)
I don't know. I honestly don't know. I think that Overeem might be unbeatable at that weight, but I don't know. That's what the tournament is all about.
Frank Shamrock
(4:14 PM)
Thanks for supporting MMA. Don't miss the fight! Make sure you break a sweat every day.