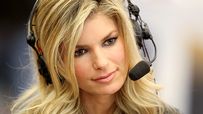 Miller appeared on the cover of the 2008 SI swimsuit issue.
Welcome to SportsNation! On Friday, we'll class things up a bit here in SN when supermodel Marisa Miller stops by to chat about the Super Bowl and her latest charity work.
Miller, who grew up a big San Francisco 49ers fan, is best known for her work as a Victoria's Secret model and appearances in Sports Illustrated's Swimsuit issue. In 2010, she was named FHM's global winner in its "Sexiest Women in the World" poll. Since starting her modeling career at 16, Miller has worked on many projects, including being named a spokesperson for the NFL for the 2010 season.
In her latest work, Miller is Captain Morgan's First Mate. Working with Captain's One Million Poses challenge, Miller is helping to benefit charities that support responsible drinking. Funds raised in Dallas during Super Bowl week will benefit Gridiron Greats.
Send your questions now and join Miller Friday at 3:15 p.m. ET!
More Special Guests: Previous chats | SportsNation
Buzzmaster
(3:06 PM)
Marisa had some scheduling issues, so she'll be here at 3:15 p.m. ET to chat.
Buzzmaster
(3:16 PM)
We've got Marisa!
John (NY)
Any big Super Bowl plans?
Marisa Miller
(3:19 PM)
I'm attending the game, which is awesome. I've been to six Super Bowls, but this one I'm really excited about because I know the game is going to be really intense. It will be a tough game with two teams with a long history in the NFL.
Tim (Seattle)
What is the coolest location you've had a photoshoot at?
Marisa Miller
(3:20 PM)
Turks and Cacos is beautiful. The sand is poweder white. It's the postcard beach. And I did one of my SI bodysuit paintings down there.
Matt (IN)
Although it should be obvious, how did you become involved with Captain Morgan?
Marisa Miller
(3:22 PM)
I always like to partner with brands that are fun. One of the big things I liked about them is their social responsibility aspects. That's one thing that I talked about them in depth. They started the First Mate Fund in my honor. In all of February, we're donating all of the proceeds to the Gridiron Greats, which helps NFL players in hardships post-NFL careers. We're asking fans to submit their Captain pose pictures. For every pose, we're donating $1.
Scott (SoDak)
Marisa! Are our 49ers going to turn it around next year? I am quietly optimistic that they are on the way back. I sure hope so!
Marisa Miller
(3:23 PM)
Hell yeah! We have some amazing talent on the team. We just need the leadership. With the changeup and the new coach, I think it will be a really good thing for the team. We just need to find a groove again. You always have to have faith in your team no matter what.
Adam R (Albany)
Marisa, how do you deal with the constant attention of being one of the most beautiful woman on Earth?a
Marisa Miller
(3:25 PM)
I'm so flattered that I have fans out there. But for me personally, I'm more of a shy person, which is very strange that this is my job. I'm more of a tomboy and I don't really like to be the center of attention. This job has made me explore those sides of myself. I probably get more embarrassed when I hear those kinds of things, but I'm very flattered and humbled by the fans.
Tom (West Loop)
Marisa, which campaign have you had more fun with? Captain Morgan or Harley Davidson?
Marisa Miller
(3:26 PM)
That's really hard. The reason I loved both is that they're both physical, in the sense that with Harley, it was all about breaking down stereotypes, I got to do a burnout on a motorcycle. For Captain, I got to do some sword fighting training. People might think of me as this girlie girl, but I've done these things that were so much fun. It's fun to tell a story like that.
Clay (Charlotte)
What's your Super Bowl pick?
Marisa Miller
(3:27 PM)
I know how good Pittsburgh is. They are a very very good team. They have so much experience. They've won more Super Bowls than any team in the league, but I'm going for Green Bay. To see them come from the wild card and see them play a lot of good teams. They're the underdog. It's fun to root for the underdogs. I think it will be 24-10.
Marisa Miller
(3:28 PM)
I want BJ to get another interception, because I want to see him dance again.
JAYPERS (IL)
When can we expect you to join the Twitterverse?
Marisa Miller
(3:29 PM)
I'm really active on my blog and my Facebook page. I really like communicating with my fans. It's important to stay in touch with them and their support. I think I have a few fake accounts out there. The legit pages are my blog and Facebook page.
Fabrizio (New York)
How long do you want to continue modeling?
Marisa Miller
(3:30 PM)
It's funny because I've taken my career in another direction the last couple of years. You always hope as a supermodel that you get those chances to branch out and I've been given those opportunities. I'm blessed. To work with the NFL and Captain Morgan and these brands is incredible. I know I want to have a family some day, but I definitely need to focus on what I'm doing and enjoy it while it's there.
Scott (Nothglenn, CO)
Who is your favorite football palyer?
Marisa Miller
(3:31 PM)
Jerry Rice. The reason is he was my childhood hero. I got a chance to meet him at a mall in San Jose when I was 11. You always hope that your childhood hero is amazing as you hope him to be and he was. I hosted the Broncos-49ers game in London and I got to meet him again and told him the story. It was so funny to see him so many years later and we had a good laugh about it. He was such a good guy and in good shape and funny.
Marisa Miller
(3:33 PM)
Thank you for submitting your questions. I always enjoy communicating with my fans. Go Packers!