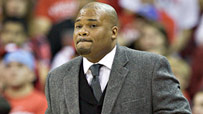 Welcome to SportsNation! On Friday, Prairie View A&M men's basketball coach Byron Rimm II stops by to chat some hoops as part of ESPN.com's tribute to Black History Month.
Rimm was named the head coach of Prairie View A&M last spring after serving as an assistant coach for three seasons. His Panthers are currenly in seventh place in the SWAC, six games behind the conference leader Texas Southern.
Send your questions now and join Rimm Friday at 3 p.m. ET!
More Special Guests: Previous chats | SportsNation
Kerry (Atlanta)
Which school do you see as your biggest rival? Who do you look forward to playing?
Byron Rimm II
(2:57 PM)
Texas Southern is our biggest rival. We live to play that game every year no matter if we have one win or 100 wins, we look forward to playing TSU.
Sean Benton (Houston)
In a conference like the SWAC, can players get a chance to develop and show their skills to pro scouts?
Byron Rimm II
(2:58 PM)
Yes. We had a game last week against Texas Southern and a couple of NBA scouts came out to watch Kevin Galloway of TSU. If you are good enough they will find you.
Andy (Greenville,SC)
How do you feel about the competeition in the SWAC this season?
Byron Rimm II
(2:59 PM)
This might be one of the most competitive seasons that we've had in the SWAC in a while. We have kids that have transferred from BCS schools and the coaches are doing a great job of recruiting top players.
mike (cali)
What do u feel your weakness is this season? What will you change with your team next year? Who will be your key players in the next two years?
Byron Rimm II
(3:01 PM)
Our weakness this year is by far our free throw shooting. Next year we are looking for Mike Griffin and Tim Meadows to step up and lead us. We are also looking to recruit post players for next season.
jordan (FL)
WHO HAS SIGNED WITH YOUR PROGRAM THIS 2011 CLASS?? AND HOW DO YOU FEEL ABOUT THE CLASS
Byron Rimm II
(3:02 PM)
We don't have anyone signed but we do have some verbal commitments. We aren't allowed to say before they sign but they are looking very promising.
Mick (Grand Prairie)
Why do we struggle to get a winning record? Has the level of comptetition in the SWAC gotten that good?
Byron Rimm II
(3:04 PM)
We gave away about four games this year in conference that we should have won. The competition is good but we haven't always done our part to get the win. We have to knock down more free throws and rebound to get more wins.
PV Panth (Dallas)
Coach we're not quite where we anticipated, what are you gonna do to get our guys back on track?
Byron Rimm II
(3:05 PM)
We have to start by winning tonight against Grambling University. Basketball season comes in three parts - preseason, regular season and post season. We need to finish the season strong and we will be right where we need to be.
Charles ( Portland, OR)
If you could have any college basketball player in the country on your team, who would it be?
Byron Rimm II
(3:06 PM)
Good question. I guess you can't go wrong with having Jared Sullinger from Ohio State on your team.
Ivory (Jacksonville, TX)
How much does your team miss Darnell Hugee & Chris Jones this season?
Byron Rimm II
(3:06 PM)
A lot, we miss those guys a whole lot. Like they say you don't what you have until its gone.
OTM (San Jose, CA)
whats your 2011 prediction for how far this team will go?
Byron Rimm II
(3:08 PM)
I think we will be very competitive. I'm excited about these young men that we have coming in next year. Our senior leadership will play a big part and I see us at the top of the conference next season.
Byron Rimm II
(3:10 PM)
I think tonight's game aginst Grambling on ESPNU at 9 p.m. ET will be a very hard fought game. Thanks for the questions.