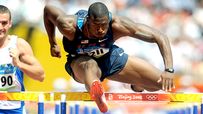 Oliver won a bronze medal in the 110m hurdles at the 2008 Beijing Olympic Games.
Welcome to SportsNation! On Friday, USA Track and Field Olympian and current USA 110m record holder David Oliver stops by to chat as part of ESPN.com's tribute to Black History Month.
Oliver competes in the 110 meter hurdles during the outdoor track and field season and the 60 meter hurdles during the indoor season. In his 2010 campaign, he had a runner-up finish at the USA Indoor Championships and won the 2010 USA Outdoor title. He finished the season unbeaten in 15 finals races and posted the top five times in the world and eight of the nine fastest times globally.
Oliver will look for another outstanding start to the season at the 2011 USA Indoor Track and Field Championships Feb. 26-27 in Albuquerque, N.M.
Send your questions now and join Oliver Friday at 3 p.m. ET!
More Special Guests: Previous chats | SportsNation
David Oliver
(2:57 PM)
I'm over here in Germany hanging out ...let's chat!
David Oliver
(2:57 PM)
I'm over here in Germany hanging out ...let's chat!
Brad (Gadsden,Alabama)
David, Who is your favorite sports teams?
David Oliver
(2:57 PM)
I like a lot of sports teams. The Miami Dolphins and Denver Nuggets are my two main teams.
Mo (Cali)
You were recently in Europe, right? Did you compete there?
David Oliver
(2:58 PM)
Yes, I competed in a couple of indoor competitions. I set a personal best in two races and I'm getting ready for my outdoor season.
Chris Fiegler (Latham,NY)
Will you compete in Track & Field for the 2012 London Olympic Games?
David Oliver
(2:59 PM)
Of course that's the goal for next season. If I keep doing what I've been doing for the last couple of seasons I'll be in great position. Hopefully I'll stay healthy and I'll be perfectly fine.
Janez (Minneapolis)
If you weren't running track, what other sport would you be doing?
David Oliver
(3:01 PM)
I would have taken a stronger interest in playing football. It's still my favorite sport.
Erin (DC)
I think you're gorgeous! What other events do you have coming up this year? where can we see you compete??
David Oliver
(3:03 PM)
Appreciate the complement. I'm competing in the Samsung Diamond League Series and the World Championships this summer. Check your local listings because we're on ESPN a lot more these days.
Damian (Miami)
I really enjoy watching you, you were the best track athlete of 2010, can you keep performing at that level this season?
David Oliver
(3:04 PM)
I do believe so. All I have to do is maintain my health and should be able to compete at a strong level hopefully for the rest of my career.
Trey (Jacksonville, Fl)
You've accomplished a lot since graduating Howard University and competing professionally. How do you stay so focused?
David Oliver
(3:06 PM)
It's very easy. You have to have dreams and aspirations and you have to believe in yourself. Believe that you can accomplish anything you want to do and I do all those things. They said I wouldn't make it far in track and field coming from Howard, a school that doesn't produce a lot of track athletes but look where I'm at now. So I just stay positive and focus on the things I want to accomplish.
Nick (Chicago)
What do you think about the rising number of track & field athletes who have been caught taking steroids? Is this still a big issue in the sport or have the cracked down?
David Oliver
(3:08 PM)
That's a good question but there haven't been a raising number of track and field athletes caught taking steroids. Personally, I make sure I take the proper steps. I clear everything before I take it. People don't understand what our bodies go through competing at this level. I don't think you will see a raise in steroid use in track and field athletes.
iain meldrum (glasgow, scotland)
I was lucky enough to see you compete in glasgow! well done. My question is, what is a usual day consist for David Oliver. Stay safe!!:)
David Oliver
(3:09 PM)
Not very much. I practice in the morning for a few hours. I might do some treatment afterwards and after that I just chill out a watch TV. Those couple of hours at the track are harder than anyone can imagine.
Pat (Orlando)
So as a Nuggets fan, do you think Melo is going to the Nets?? Be honest!
David Oliver
(3:10 PM)
I think he's going to be somewhere other than playing with the Nuggets. He's one of my favorite players and it will hurt to see him go but he wants out of Denver. They say the grass isn't always greener on the other side but I wish him luck wherever he lands even though I hate to see him go.
Brianna (Denver)
Who was your idol growing up?
David Oliver
(3:11 PM)
My mom. No sports figure of anything like that. Just watching my mom and everything she did, she's my idol for sure.
Walt (Briarwood NY)
Sounds like you're not competing at next week's Indoor Nationals--is that correct?
David Oliver
(3:13 PM)
I'm not really 100% sure yet. That's a decision that I don't usually make. If my coach feels like I need to be there then I'll go. But I'm coming off my best indoor season and I'm getting ready for outdoor. But I would definitely love to be out there in New Mexico competing.
David Oliver
(3:15 PM)
Thank you for taking the time to chat with me. Check out ESPN.com's Black History Month page. It has some great articles and videos. I know I've learned a lot from visiting. Thank you again for chatting.