Chat with Fernando Montiel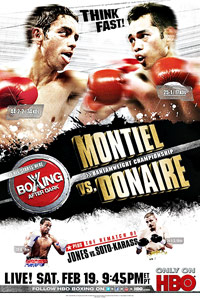 Welcome to SportsNation! On Wednesday, we're going inside the boxing ring when Fernando Montiel stops by to chat about his WBC/WBO bantamweight title fight this weekend.
Montiel (44-2-2, 34 KO) takes on contender Nonito Donaire (25-1, 17 KO) for Montiel's bantamweight belts. The fight will be live from the Mandalay Bay Resort & Casino in Las Vegas Saturday at 9:45 p.m. ET/PT on HBO's Boxing After Dark.
Montiel will be looking to make his fourth straight successful defense of his belts. His last five wins have all come via knockout, including his last fight in December, in which he needed only two rounds to defeat Jovanny Soto. Montiel will be making his sixth fight appearance in Las Vegas.
Send your questions now and join Montiel Wednesday at 3 p.m. ET!
More Special Guests: Previous chats | SportsNation
Buzzmaster
(2:52 PM)
Boxer Fernando Montiel will be here at the top of the hour to take your questions!
Buzzmaster
(3:04 PM)
Fernando is here!
Buzzmaster
(3:11 PM)
Just kidding. We're tracking him down. Hang on a minute.
Buzzmaster
(3:38 PM)
OK, sorry about the delay folks. I think we have him now.
Alex (Boston)
Do you feel this fight can open peoples eyes when it comes to the smaller weight classes as far as popularity ?
Fernando Montiel
(3:39 PM)
Yeah, without a doubt. Sometimes people don't realize how good these fights can be. Often at these classes, you don't have the two best in the world fighting. We can show off our talent.
Jorge (Phoenix)
How much confidence did you get by winning so many fights in a row early in your career?
Fernando Montiel
(3:40 PM)
It's just a question of preparation. It's being prepared for the fight and being the best that I can.
Ryan (FL)
Do you prepare any differently for a title fight than a regular fight?
Fernando Montiel
(3:42 PM)
We did prepare differently. A lot more intensity. A lot more put into this training. When you have a fight of this magnitude, you have to change the things that you need to.
Alex (Utah)
Fer, How high do you think you can go up on weight and still be at your best?
Fernando Montiel
(3:42 PM)
I think I can go at least to 122, that's my next step. I think I can get to 126 and still be successful. That would be my highest weight.
Rob (Texas)
Has there been any word on what the crowd will be like Saturday night ?
Fernando Montiel
(3:43 PM)
I think it will be great. There are two great nations being represented here. There will be many Filipinos. Many Mexicans. There will be a real good crowd.
Boston (MA)
How comfortable do you feel fighting taller fighters ?
Fernando Montiel
(3:44 PM)
Most of the guys I've fought have been taller than me. I'm used to it. He's a great fighter. Even though he's taller, I have some abilities to work with.
flipmodesquad (nj)
what do you think nonito strengths are? what do you think his weakness are?
Fernando Montiel
(3:45 PM)
I truly believe he's a complete fighter. He's smart, fast, strong, but I think he's fighting a guy with the same qualities as him.
Rick (Valencia, CA)
Is there a re-match clause, whether you win or lose?
Fernando Montiel
(3:46 PM)
I think it will depend on the fight. On how good it was. But you never know until you get into the ring. There have been other fights where we thought it would be real good, but it didn't turn out that way.
Carlos (CA)
Fernando, what do you think are Donaire's weaknesses?
Fernando Montiel
(3:48 PM)
He hasn't fought the level of fighters like myself. He's used to throwing punches and having the other guy get hit and not getting hit. We'll see what happens when he throws punches and I'm not there and throwing punches from other angles.
andy (toronto)
is boxing fun?
Fernando Montiel
(3:49 PM)
To me, it's still a lot of fun. I love my job. It is a job afterall. When you prepare yourself for a big fight like this, it just makes it extra good.
Greg (LA)
What's allowed you to be so successful in your career?
Fernando Montiel
(3:50 PM)
I just think hard work. I have a great team. My brothers, my father. My father told me that if you become a good fighter and don't get hit too much, you can have a long career. That has come true.
Tom (Reading, United Kingdom)
Fernando best of luck for Saturday. Do you think this fight is the key to having your name listed among the great Mexican Fighters such as Julio Chavez, Salvador Sanchez, Marco Antonio Barerra etc.?
Fernando Montiel
(3:51 PM)
My aspirations are to be thought of the best. But when you're talking about Chavez, no one can get to that level. Everyone else can settle for second best.
Fernando Montiel
(3:52 PM)
Thank you very much to all of the fans for all of the support. For giving me the good vibes. I look forward to the fight Saturday night.