Chat: Daytona 500 winner Trevor Bayne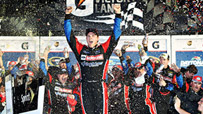 Trevor Bayne is the second youngest driver to ever win a Sprint Cup Series race.
Welcome to SportsNation! On Monday, we'll celebrate Trevor Bayne's unbelievable win at Sunday's Daytona 500 as the 20-year-old stops by to chat.
In just his second Sprint Cup Series start, Bayne held off Carl Edwards to take home top honors in the Great American Race. It makes the Wood Brothers driver the youngest winner in the 53-year history of the Daytona 500.
Send your questions for Trevor Bayne now and join the chat Monday at 1:20 p.m. ET!
More Special Guests: Previous chats | SportsNation
Buzzmaster
(1:21 PM)
2011 Daytona 500 winner Trevor Bayne should be here in minutes to take your questions!
Buzzmaster
(1:41 PM)
Hang in there folks. Sorry for the delay. Trevor's flight must have gotten tied up with this poor weather we're having in the Northeast today.
Buzzmaster
(2:06 PM)
Trevor's here!
Jamey (Columbus, OH)
On the restart near the endwhere David Ragan switched lanes too early, at the time was it clear to you that he actually violated the rule or were you surprised he was black-flagged?
Trevor Bayne
(2:07 PM)
I knew when it happened that it was going to be edgy and risky. I didn't know what they were going to do about it.
William (Charlotte NC)
How excited are your friends for you? Was that them with you after your burnout in the grass?
Trevor Bayne
(2:08 PM)
Yeah! They were excited. They came running out there. They were so stoked. They were about to lose it.
Colt (East Palestine, OH)
Do you find it weird that you just won the Daytona 500 but cant rent a car?
Trevor Bayne
(2:08 PM)
It's crazy. I had to convince a guy in Jackson Hole to let me rent a car when he wasn't supposed to. It's crazy.
Harlan Holmes (Nashville, TN)
Besides the black on your front bumber from drafting, how did your car come out looking brand new?
Trevor Bayne
(2:09 PM)
Our cars were so fast that we were able to stay up front in front of all of the crashes. We were able to come out pretty good.
Brandon (Indiana)
If David Ragan did not get black flagged would you have pushed him to a potential win?
Trevor Bayne
(2:09 PM)
I think so. My plan was to push the whole time. My plan was to try and pass at the end if we had enough room, but I don't think that would have happened.
Kevin (Buffalo)
Trevor, get any sleep yet?
Trevor Bayne
(2:10 PM)
Not at all! I slept for the 2 hour flight to Connecticut, where we are now. That's the first sleep we've gotten.
Avi (NJ)
Trevor,Congratulations on your first ever NASCAR Series win at Daytona. Will the experience you got during Speedweeks carry over to Phoenix and beyond in the Nationwide Series?
Trevor Bayne
(2:10 PM)
I think the confidence will. The way that you drive at Daytona has nothing to do with Phoenix.
harry (ohio)
hey trevor, what was going through your mind during the last few laps? Also did you ever think that this would happen to you?
Trevor Bayne
(2:11 PM)
No, I didn't think this would happen. I thought we were in trouble there when we were leading the last lap. Even when we won, I didn't think we had won it.
Dylan Kaplan (Cleona,PA)
What was it like growing up watching your hero Jeff Gordon, and then the next second your competing against him.
Trevor Bayne
(2:12 PM)
Man, it's so cool to be out there on the same stage as my childhood hero. To have him congratulate us on Victory Lane. Have him out there helping us and pushing us during the day. It's really a dream come true.
Dylan (California)
How many press events you have in your calendar now?
Trevor Bayne
(2:12 PM)
Well, I haven't slept, and that wasn't because we were celebrating! It's crazy, that's for sure.
Brandon (Manchester College, IN)
Do you still plan on competing for the Nationwide Series title or will you try to switch to the Cup Series?
Trevor Bayne
(2:13 PM)
Right now, we are. Our goal is to run for the Nationwide championship. To get a full sponsorship.
Rick (Iowa City)
Congrats! How long have you been racing? and was your dad or anyone else in your family a driver?
Trevor Bayne
(2:14 PM)
I started racing when I was 5. My grandfather used to race. He was around for the first part of my career before passing away with a brain tumor when I was 9. He was very supportive.
Caleb Geary(Henderson,Tn) [via mobile]
how does it feel to be the youngest driver to win the daytona 500 I mean is it still like a dream to you?
Trevor Bayne
(2:14 PM)
It really is a dream. Jeff Gordon came over and they told him that I broke his record. He said, well, they make records to be broken. He took it better than I ever would.
Willo (Indianapolis)
How does it feel to be carrying on the legacy of success at the 21 Wood Brothers team?
Trevor Bayne
(2:15 PM)
Man, nobody deserves this more than those guys. To bring that to them, I couldn't ask them for a better group. To get that win, you could see them soaking it up and getting back to their old days.
Sarah (Vernon, NJ)
First congrats, I was rooting for you! Any sponsorship offers come in yet for a full season?
Trevor Bayne
(2:16 PM)
We've heard a little bit of a buzz going on for it. Hopefully something will come up for it. We need sponsorships on both sides.
Geoff (Warrington, PA)
Trevor..congrats! How much did your time in the Duel on Thursday help you for Sunday?
Trevor Bayne
(2:16 PM)
That made a ton. Jeff working for me in the Duels gave people confidence to work with me. That really helped me in the 500.
Curtis (Champaign, IL)
After the second place car tried to go around you, did the next two cars push you across or did you cross before they got up behind you?
Trevor Bayne
(2:17 PM)
Bobby gave a great push to get on the lead. I was able to get down on Carl as he was coming up. Then I got a pick on the outside. It just worked out perfect.
Joel Gutzmer (Waukesha, WI)
Trevor, what do you say to those people who say you won by "default" with all of the crashes taking place?
Trevor Bayne
(2:18 PM)
That is true, but we were able to stay out of those crashes. They had the same chances as we did. That's part of racing, with all of the craziness in it. That's part of winning the race.
Joe (Simpsonville, Sc)
Great move coming down to Edwards coming to the finish line. Were you watching the mirrors or did your spotter tell you to move down?
Trevor Bayne
(2:19 PM)
The spotter was looking inside. He was looking for both cars. Once he got committed to the lane, I was able to go for the block. I was able to pull down as he got near the 47.
Jonathan (weirton, wv)
trevor, heres a simple question...has it set in yet that you won the DAYTONA 500?
Trevor Bayne
(2:19 PM)
No! Not at all. Last night I was scared to go to sleep because I might wake up and it wouldn't be real. When I stop to think about it for a second, I almost lose it. This is a big deal. This is it. This is really the Daytona 500.
Joey (Nazareth, PA)
Congrats.... Who was your favorite driver to work with out there yesterday?
Trevor Bayne
(2:20 PM)
David Ragan was good to work with. We were also able to work with Bobby Gordon as well.
Katie (Natchitoches, LA)
What do you say to the even younger kids that can only dream of what you did yesterday?
Trevor Bayne
(2:21 PM)
Just stay focused. Don't lose sight of what your goals are. That's what it's going to take, dedication and time. But if you want to have success that's what you have to do.
Trevor Bayne
(2:22 PM)
Thanks for logging in and talking with me. Hopefully we get to do it again soon!